#372: Her Town Too by James Taylor and J.D. Souther
Peak Month: May 1981
11 weeks on Vancouver's CFUN Chart
Peak Position ~ #2
Peak Position on Billboard Hot 100 ~ #11
YouTube: "Her Town Too"
Lyrics: "Her Town Too"
James Vernon Taylor was born in Boston in 1948. From the age of three, he lived with his family in North Carolina. Taylor would say later "Chapel Hill, the Piedmont, the outlying hills, were tranquil, rural, beautiful, but quiet. Thinking of the red soil, the seasons, the way things smelled down there, I feel as though my experience of coming of age there was more a matter of landscape and climate than people." During his childhood he took cello lessons, and picked up guitar at the age of 12. James Taylor got to know people in the folk music scene on Martha's Vineyard, where his family had a vacation home. In 1963 he was playing coffeehouses on the island as part of a duo named Jamie & Kootch. But in 1961 he was enrolled in a boarding school in Milton, Massachusetts. The pressures of the school were too much for the very sensitive James, even though he was doing well academically. Back in North Carolina he became depressed and by 1965 was sleeping for 20 hours a day.
In 1965 James Taylor committed himself to McLean Hospital, a psychiatric facility. As he was becoming old enough to be drafted for the Vietnam War, this ended up being fortunate. Taylor received a psychological rejection from Selective Service System when he appeared before them with two white-suited McLean assistants and was uncommunicative. After nine months at McLean, James Taylor got a high school diploma through a school in Arlington.
Once out of school, Taylor moved to New York City and began to play in a band with regular gigs at the Night Owl Cafe in Greenwich Village. However, he also developed a heroin addiction. His father had to come to Manhattan to rescue him, and James was back in a facility for half a year to recover. Taylor would say later in an interview about this time in his life, "I learned a lot about music and too much about drugs."
In 1967 Taylor moved to London, England. He met the Beatles and was signed to Apple Records. In 1968 he recorded his first album, James Taylor. The album featured "Carolina In My Mind" with Paul McCartney on bass guitar and George Harrison on backing vocals. The song was inspired from Taylor's homesickness while living in London. Another song on the album "Something in the Way She Moves". It – "something in the way she moves" – provided the lyrical beginning which inspired George Harrison to write "Something" in 1969 for the Abbey Road album.
While he was in London, Taylor began using heroin again and was treated in a British psychiatric facility. He was sent back to America and entered the Austen Riggs psychiatric treatment facility in Stockbridge, Massachusetts. Due to Taylor's hospitalization, he was unable to support his debut album. Consequently, sales of the album flagged. And in 1969 "Carolina In My Mind" stalled at #118 where it failed to crack the Billboard Hot 100. However, James Taylor did climb to #12 on the Australian album chart.
In 1969 James Taylor got well enough to perform for six nights at the Troubadour in Los Angeles. And in July he appeared at the Newport Folk Festival the same evening it was announced that there had been a landing on the moon. Rolling Stone wrote about it in August '69:
"Given a chance, Taylor could have smashed through. But, relegated to closing non-prestige daytime 'Young Performers' concert on Sunday, he was cut off by a Festival official after eight numbers. When Taylor walked off after "Carolina," the entire drizzle-soaked audience stood for a five-minute ovation. To no avail. Impresario George Wein lumbered out and announced that the astronauts had landed on the moon: now top that. Then, smirking: 'The concert's over.' Taylor, unaligned with any power group at the Festival, looked down backstage and murmured: 'I waited all weekend for this … and they only let me play 15 minutes.' But those 15 minutes set a standard for clarity, wit and magnetism that was never equalled during the four days of the Festival."
In August 1969 Taylor had a motorcycle accident and broke both his hands and feet. However, he was signed to a record deal with Warner Bros. Records in the fall. And in February 1970 he released the album Sweet Baby James. It featured his hit single "Fire And Rain". The song was about Taylor's efforts to get over his drug habit; And the suicide of his friend, Suzanne Schnerr, mentioned in the line "Suzanne the plans they made put an end to you….but I always thought that I'd see you again."
On October 16th, 1970, a crowd of 10,000 people attended the Pacific Coliseum in Vancouver. The line-up consisted of Phil Ochs, Chilliwack, James Taylor and Joni Mitchell. The concert had been organized by the Don't Make a Wave Committee, to finance what would become Greenpeace's first action — sending a dozen activists on a fishing trawler to Amchitka, an island in southwest Alaska, in an effort to stop a nuclear weapons test. The concert was released in 2009 as a 2-CD album titled Amchitka.
On March 1, 1971, James Taylor appeared on the cover of Time magazine. Time said "Taylor's use of elemental imagery—darkness and sunlight, references to roads traveled and untraveled, to fears spoken and left unsaid—reaches a level both of intimacy and controlled emotion rarely achieved in purely pop music." It also referred to his look as that of "a cowboy Jesus." In April '71 Taylor released his third album, Mud Slide Slim and the Blue Horizon. Among the tracks on the album was "You've Got A Friend", which featured Joni Mitchell on background vocals.
In 1972 Taylor won a Grammy Award for "You've Got A Friend" in the category for Best Pop Vocal Performance, Male. Later that year he released another album titled One Man Dog. The lead single from the album, "Don't Let Me Be Lonely Tonight" was a Top 20 hit in the winter of 1972-73. And on November 3, 1972, James Taylor and singer-songwriter Carly Simon got married. The couple had guest appearances on their subsequent albums, and their duet "Mockingbird" was a Top 5 hit on the Billboard Hot 100 in early 1974.
In 1975 Taylor, with backing vocals from Carly Simon, released a cover of the Marvin Gaye song "How Sweet It Is (to Be Loved By You)". The single climbed to #5 in Vancouver (BC) and on the Billboard Hot 100. Several more albums – Gorilla and In the Pocket, produced the Top 20 hits respectively "Mexico" and "Shower The People". A Greatest Hits album was released in late '76 and eventually sold over 20 million copies.
In 1977 Taylor won a Grammy award for "Handy Man" in the category for Best Pop Vocal Performance, Male. His cover of the 1960 Jimmy Jones hit peaked at #4 on the Billboard Hot 100, and number-one in Vancouver for the last two weeks of August '77. At the end of the year Taylor was a backing vocalist on Art Garfunkel's cover of the 1960 Sam Cooke R&B classic "Wonderful World".
On December 7, 1980, Taylor had an encounter in the 72nd Street subway station at Central Park West with Mark David Chapman who would assassinate John Lennon the next evening. Taylor told the BBC in 2010: "The guy had sort of pinned me to the wall [in the subway station] and was glistening with maniacal sweat and talking some freak speak about what he was going to do and his stuff with how John was interested, and he was going to get in touch with John Lennon. And it was surreal to actually have contact with the guy 24 hours before he shot John." On December 8th, Taylor, who lived in a building next-door to the Dakota where Lennon and Yoko Ono lived, heard the assassination take place. He recalled, "I heard him shoot—five, just as quick as you could pull the trigger, about five explosions."
In March 1981, James Taylor released an album titled Dad Loves His Work. It included a track that would become his final Top 40 hit record, "Her Town Too".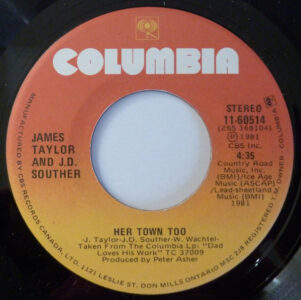 "Her Town Too" is a duet sung by James Taylor and J.D. Souther. The song was cowritten by Taylor, Souther and session musician "Waddy" Wachtel. John David Souther was born in 1945 in Detroit, and was raised in Amarillo, Texas. He collaborated with Norman Petty, Ritchie Furay of Buffalo Springfield, and Glenn Frey who later joined the Eagles. J.D. Souther later wrote "Best Of My Love", "Heartache Tonight" and "New Kid In Town" for the Eagles. In 1979 he had his own Top Ten hit titled "You're Only Lonely".
J.D. Souther subsequently appeared in a number of films, including the 1990 Postcards From the Edge. He perform on the 1987 Roy Orbison and Friends concert & video, and sang the Platters' classic "Smoke Gets in Your Eyes" for the 1989 film Always. Souther also wrote the theme song for the late 80s-early 90s TV sitcom Anything But Love. He recorded his eighth studio album in 2015.
"Waddy" Wachtel was born in Queens, New York, in 1947. He got an acting part in a band that plays in a dining room hall during a Christmas celebration in The Poseidon Adventure. And in 1975 was a session musician on some tracks for the self-titled album Fleetwood Mac. Later in 1981 he was a session musician on Stevie Nicks Bella Donna album which featured the hit singles "Leather And Lace" and "Stop Draggin' My Heart Around". Other appearances of note for Wachtel as a session musician include "Short People" by Randy Newman, "Bette Davis Eyes" by Kim Carnes, "Shame On The Moon" by Bob Seger, "The End Of The Innocence" by Don Henley, "Werewolves Of London" by Warren Zevon; And Linda Ronstadt's covers of "Back In The U.S.A.", "Ooh Baby Baby", "It's So Easy", "That'll Be The Day", "Blue Bayou" and "Poor, Poor Pitiful Me".
"Her Town Too" is written about the aftermath of a breakup of a long term relationship. Taylor said the inspiration was about "the ex-wife of a mutual friend." Author Sheila Weller, in her book Girls Like Us: Carole King, Joni Mitchell, Carly Simon–and the Journey of a Generation, wrote that the subject James Taylor knew was Betsy Asher, who had recently divorced from Taylor's longtime manager and producer Peter Asher. The song addresses the unravelling circle of friends, as people who used to know the couple going through divorce choose sides: "She always figured that they were her friends but maybe they can live without her." In the song the narrator (singer) locates themselves as resident of the town singing "Lord knows that this is just a small town city, yes, and everyone can see you fall. It's got nothing to do with pity, I just wanted to give you a call."
"Her Town Too" peaked at #2 in Vancouver (BC), Bangor (ME) and Halifax (NS), #3 in Syracuse (NY) and Minneapolis/St, Paul (MN), #4 in Providence (RI) and Winnipeg (MB), #5 in Regina (SK) and Denver, #6 in Peoria (IL), #7 in Milwaukee (WI), and #8 in Dallas and St. Cloud (MN). It stalled at #11 on the Billboard Hot 100.
A few months after "Her Town Too" was on the pop chart, Carly Simon and James Taylor were separated. Simon said in a press release "Our needs are different; it seem[s] impossible to stay together." They were divorced in 1983. In an interview with Rolling Stone in June 1981, Carly Simon said of Taylor "James is a dreamer. He dreams a lot about being where he's not, doing things he isn't doing, seeing things he hasn't seen. He's not well organized and usually lets people plan his day for him, especially in the city, though in the country he'll get up and say, 'Okay, I'll sail or row today,' or 'I'll ride my bike or swim.' He is an odd mixture of dependence and independence–quite a paradox. He seemed to be independent as a child because he could, and still can, be aloof and closed off. But when James was sent away to school, his great need to be connected to a home and his parents became critical and traumatic."
Meanwhile, Taylor was on methadone and only quit his drug habit in 1983 after his friends John Belushi and Dennis Wilson, both who had struggled with heroin addictions, died.
In 1985 Taylor released a cover of the Buddy Holly song "Everyday", which topped the Adult Contemporary record chart in Canada. However, his albums from the mid-80s into the 90s – That's Why I'm Here,Never Die Young and New Moon Shine – yielded no notable pop hits.
On June 19, 1992, James Taylor appeared in concert at the Pacific Coliseum in Vancouver.
In 1998 James Taylor won a Grammy Award for Best Pop Album with Hourglass, his first album in seven years. In 2001 Taylor was a guest artist on the saxophonist Michael Brecker's album Nearness of You: The Ballad Book. He subsequently won a Grammy Award in 2001 in the category for Best Male Pop Vocal Performance on his re-recording of "Don't Let Me Be Lonely Tonight".
On January 18, 2009, James Taylor appeared in concert as one of the guests for the We Are One: The Obama Inaugural Celebration at the Lincoln Memorial. He shared the stage with Bruce Springsteen, Stevie Wonder, Herbie Hancock, Usher, Sheryl Crow, John Legend and others. Taylor also performed at the second inauguration for Barak Obama in 2012.
On July 18, 2008, and eight years lager on June 11, 2016, James Taylor appeared in concert at Rogers Arena in Vancouver. The latter concert was in support of his first number-one album on the Billboard 200 album chart Before This World. His previous peak on the album chart in the USA was with Mud Slide Slim and the Blue Horizon at #2 in 1971. At the time, Carole King's Tapestry album kept him out of the number-one spot.
Taylor says he's been mildly depressed his whole life. He is on his third marriage and lives in the Berkshires in western Massachusetts. In 2020 he released an audio memoir titled Break Shot: My First 21 Years: James Taylor. Also in 2020 Taylor's album American Standard was nominated for a Grammy Award in the category of Best Traditional Pop Vocal Album, for the forthcoming 2021 ceremonies. The album salutes the Great American Songbook. James Taylor is scheduled to perform at the Rogers Arena again on October 2, 2021, providing the pandemic is over.
December 23, 2020
Ray McGinnis
References:
Jan Hoddenfield, "Newport 1969: The 10th Annual Folk Festival Lacked Excitement and Direction, Though James Taylor Nearly Broke Through," Rolling Stone, August 23, 1969.
Timothy White, "Interview: James Taylor," Rolling Stone, June 11, 1981.
Christy Ferguson, "Amchitka Concert – A Walk Down Memory Lane," Greenpeace.org, October 16, 2020.
Marc Eliot, To The Limit: The Untold Story of the Eagles, (Little Brown, 1998).
"Lennon's Death: I Was There," BBC, December 8, 2010.
"2021 GRAMMYs: Complete Nominees List," Grammy.com, November 27, 2020.
"President Obama Names Recipients of the Presidential Medal of Freedom," Whitehouse.gov, November 16, 2015.
Amy Kaufman, "At 71, James Taylor Has a New Audio Memoir, Loves Watching 'Blue Bloods' and won't Dish on Carly Simon," Los Angeles Times, January 31, 2020.
James Taylor, Break Shot: My First 21 Years: James Taylor, (Audible Originals, 2020).
Jim Farber, "James Taylor Opens up About His 'Crazy and Dangerous' Streak: 'I'm Really Lucky to Have Survived'," Parade, March 14, 2020.
"Celebrating Seniors – JD Souther Turns 70," 50Plusworld.com, November 2, 2015.
Sheila Weller, Girls Like Us: Carole King, Joni Mitchell, Carly Simon–and the Journey of a Generation, (Simon & Schuster, 2008).
David Cans, "Waddy Wachtel: Confessions of a "Mafia" Guitarist," BAM, March 7, 1980.
"CFUN Top 30," CFUN 1410 AM, Vancouver, BC, May 30, 1981.
For more song reviews visit the Countdown.