#882: Here's To You by Hamilton Camp
Peak Month: June 1968
7 weeks on Vancouver's CKLG chart
Peak Position #8
Peak Position on Billboard Hot 100 ~ #76
1 week Hitbound CKLG, April 20, 1968
YouTube.com: "Here's To You"
Lyrics: "Here's To You"
Bob Camp was born in London, England, in 1934. His family moved to the United States during World War II. At the age of twelve he got his first part in a motion picture called Bedlam, a B-horror movie starring Boris Karloff. Camp got cast as a shoeshine boy in Outrage in 1950, the second film out of Hollywood concerning a plot about rape. He played in the film noire classic from 1950, Dark City, and in another horror film, The Son of Dr. Jekyll. Over a career in film from 1946 to the mid-2000's, he played in sixty movies. Some of the actors played alongside over his with include Errol Flynn, Robert Preston, Charlton Heston, Jack Webb, Olivia de Havilland, Richard Burton,Barbara Stanwyck, Robert Wagner, William Holden, Fredric March, Shelley Winters, Tony Curtis, Janet Leigh, Tommy Sands, Pat Boone, Anne Bancroft, Dustin Hoffman, Jim Backus, Ryan O'Neal, Tatum O'Neal, Burt Reynolds, Sally Field, Jackie Gleason, Billy Crystal, Joan Rivers, Warren Beatty, Julie Christie, Christopher Plummer, Art Carney, Barbra Streisand, Gene Hackman, Julie Andrews, Larry Hagman, Stockyard Channing, David Carradine, Demi Moore, Nick Nolte, Ed Harris, Tim Robbins, Clint Eastwood, Madeline Kahn, Mickey Rooney, Forest Whitaker, Al Pacino, Madonna, Catherine O'Hara and others.
In 1960 Bob Camp appeared at the Newport Folk Festival. He and fellow folksinger, Bob Gibson, had numerous concert dates at the Gate of Horn, a folk club in Chicago. In 1961 the album was released titled Bob Gibson & Bob Camp at the Gate of Horn. By 1963 Bob Camp changed his name to Hamilton Camp was after he got involved with the World Subud Association, a Muslim sect focused on prayer. Hamilton Camp released a folk album in 1964 titled Paths Of Victory. A second folk album, Welcome to Hamilton Camp, was released in 1967.
As a songwriter, Hamilton Camp had his songs recorded by Judy Collins, Gordon Lightfoot, The Seekers, Simon & Garfunkel, The Brothers Four, Glen Yarborough, Peter, Paul and Mary and others. His most recorded song is "Pride Of Man", a minor hit for the Quicksilver Messenger Service in 1968. While the "Pride of Man" was being recorded by a number of pop stars, Camp released his first solo single titled "Here's to You" from his third album, also titled Here's To You. The album ventured into a folk-rock sound. "Here's To You" was a shift away from straight up folk tunes like "A Satisfied Mind", "Girl From The North Country", "I Shall Be Released" and "Tomorrow's A Long Time", featured on his earlier albums.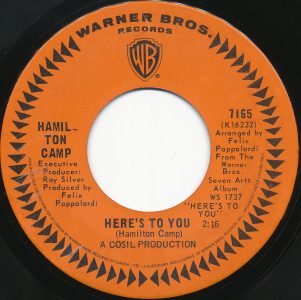 "Here's To You" was a straight forward effort by Hamilton Camp to write a pop hit. It had a lot of the elements that pop songs have. It was about being in love and perceiving that life without the one you love is worth nothing. Other songs on the radio, like the Temptations' "You're My Everything" and The Righteous Brothers "(You're My) Soul And Inspiration" offered similar sentiments. The Righteous Brothers confessed "you're all I got to get me by…without you, baby, what good am I?" The Temptations sang about a guy whose life was dull and ordinary before a woman who is "everything good" walked in and who is "all that matters." The Temptations lead singer pleads "I can't live without you."
In Hamilton Camp's case, "Here's To You" suggests that even if he "had it all" or "did it all" life wouldn't be worth it. He could have all the experiences he could ever dream of and acquire all the possessions he could imagine. Yet, without the one he loves, he'd be broken down and have nothing.
On the one hand it can be helpful to a relationship to feel very passionate about someone and that person alone. It is a turn-off for most people to think they are easily replaceable. And most women don't want to think of their boyfriend or husband as a tom cat. On the other, swearing that you can't make it without the person you are dating can be a warning sign. It may be just flattering embellishment to let someone else know how much your heart has fallen for them. But, it can also feel like a weight if the other person thinks you could never carry on or make it without them. Most people want a special person they meet to seem to be able to stand on their own two feet. Of course, if a choice is being made to partner up with someone who will be high maintenance or be the one who leans on us, and not the other way around – that should be a circumstance we go into with our eyes wide open.
"Here's To You" charted to #5 in Cincinnati and Columbus, Ohio, #6 in Boston and #9 in Denver. It peaked at #76 on the Billboard Hot 100 in the summer of 1968. In Canada the song at #8 in Vancouver on CKLG, #9 in Fredericton, New Brunswick, and at #20 on CHUM-AM in Toronto. After "Here's To You", Hamilton Camp released just two singles. One was a cover of the Bob Dylan song, "This Wheels On Fire". The other was a regional hit in California called "Oklahoma City Times".
In addition to ongoing work as an actor in Hollywood, Hamilton Camp also made over forty guest appearances on TV shows. These include M*A*S*H, Soap, The Mary Tyler Moore Show, The Twilight Zone, Starsky and Hutch, Cheers, The Andy Griffith Show, Bewitched, Gomer Pyle and Lois & Clark: The New Adventures of Superman. Camp was also chosen to add his voice to numbers of animated movies including the Flintstones, Scooby Doo, Doctor Doolittle and others. Camp co-wrote a Broadway play titled Paul Sills' Story Theatre which won several Tony Awards in 1971.
Hamilton Camp died in 2005 at the age of 70 after enjoying a marriage for over 41 years until his wife died in 2002. He is survived by his six children.
February 21, 2018
Ray McGinnis
References:
Hamilton Camp – Singer, Songwriter, Actor – Biography, Hamilton Camp.com
Quicksilver Messenger Service, Pride of Man, YouTube.com
Outrage (movie clip), Youtube.com, RKO Radio Pictures, 1950.
Bedlam (movie clip, YouTube.com, RKO Radio Pictures, 1946.
"Boss 30," CKLG 730 AM, Vancouver, BC, June 1, 1968.
For more song reviews visit the Countdown.