#589: (He's A) Big Man by Kathy Kirby
Peak Month: February 1963
10 weeks on CFUN's Vancouver Chart
Peak Position ~ #5
Peak Position on Billboard Hot 100 ~ did not chart
YouTube.com: "(He's A) Big Man"
Lyrics: "(He's A) Big Man"
Kathleen O'Rourke was born in suburban London, UK, in 1938. She was raised by her single mom after her father left the family when she was very young. Her singing talent became apparent early on and she took singing lessons with a view to becoming an opera star. She was discovered by British bandleader Bert Ambrose in 1954 when she was still 16. He was one of the highest-paid musicians in Britain. He performed every Saturday night on BBC radio, recorded countless singles, and was renowned for having an unerring ear for a hit. Bert Ambrose made Kathy Kirby a featured singer in his band from 1956 to 1959. Ambrose went on to become her manager and her lover until his death in 1971 at the age of 74. Because of her looks Kathy Kirby was referred to as the 'British Monroe.'

In 1960 Kathy Kirby got a contract with Pye Records and released several singles. Though they didn't sell many records, she was able to get a six-month contract at the Blue Angel nightclub in Liverpool. In 1962 Kirby got a record deal with Decca and released "(He's A) Big Man".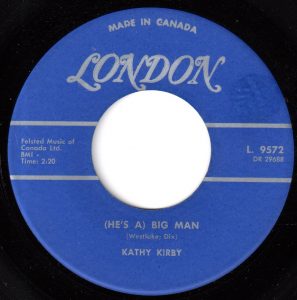 "(He's A) Big Man" climbed to #5 in Vancouver, British Columbia, and made the Top 30 in Boston. However, it got almost no radio airplay elsewhere. And though the song sold steadily in the United Kingdom, it never made the singles chart in her home country. Perhaps the sexual innuendo was too stark for many DJ's to play the song.
Kathy Kirby sings from the perspective of a woman who lives with a man who is just one among millions of men working nine to five. Her man is a "little man" at work just "trying hard to survive." The plight of the working class in England in the 1960's reflected a country still recovering from World War II. The Kinks recorded "Dead End Street" in 1967. Their song concerned an unemployed couple stuck in a spiral of poverty with the wolf at the door. They admit they are "deep in debt and now it's much too late." They want to work hard but, whatever jobs they are applying for, are getting passed over. There are a number of basic problems with their rental accommodation: ceiling cracks, leaking kitchen sink and not sufficient heating. They've run out of options and face a bleak future with the rent collector at their door. The song was Ray Davies neo-Dickensian portrait of the misery and poverty that plagued many in the lower classes of English society.
But when he comes home he grows ten feet tall and a lot of feet wide. She brags about the way he holds her tight and reveals "When the sun goes down/Oh he's the big top master/Not the circus clown, oh he's a big, big man/He's as tall as they come." At night when a man and a woman typically go to bed, when the sun goes down, "he's a big, big man." Were the DJ's at CFUN in Vancouver unaware of the double-meaning? Or did they just think the man in this woman's life ruled the roost when he came home from work and decided what he wanted for dinner, what TV show to watch and how many beers his gal should bring to his man cave? Whatever the DJ's at CFUN thought they were spinning, the "homosexual" community in Liverpool and across the UK were enthralled. Kathy Kirby was at once a gay icon in jolly old England from 1962 onward.
"(He's A) Big Man" was written by Welsh songwriter Clive Westlake. He wrote a few other hits including "All I See Is You" for Dusty Springfield, "Here I Go Again" for The Hollies and "Constantly" for Cliff Richard.
In 1963 Kathy Kirby had her first hit single on the UK singles chart titled "Dance On". The tune peaked at #11 on the UK national chart. Her hit was aided by her regular appearance on the musical TV show Stars And Garters. She was also a regular guest on Ready, Steady, Go, Thank Your Lucky Stars and Sunday Night at the Palladium. Later that fall she did a cover of the 1954 hit by Doris Day titled "Secret Love". Kirby reached #4 in the UK and was voted 'Top British Female Singer' in a New Musical Express poll at the end of '63. "Secret Love" spent 8 weeks on the C-FUNTASTIC FIFTY peaking at #20 in February 1964. Subsequently, she had another Top Ten hit in the UK with a cover of a #1 hit in the USA in 1955 by Joan Weber titled "Let Me Go Lover". Kathy Kirby's cover climbed to #10 on the UK singles chart in early 1964. She had another Top 20 hit in the UK with "You're The One", a cover of the Mexican tune "Malagueña Salerosa".
Kirby also had a TV show from 1964 to 1966. In 1965 she represented the UK in the Eurovision contest singing "I Belong". She came second to the Luxembourg entrant. She had only one song crack the Billboard Hot 100, "The Way Of Love", peaking at #88. In Vancouver the song climbed to #20 in October of '65. One of her last songs to chart anywhere was in the spring of 1967 in Tasmania titled "No One's Gonna Hurt You Anymore". She got a record deal in 1967 with Columbia Records. However, none of the ten singles released between 1967 and 1971 were a success.
In a rare interview with the Sunday Express in London in 2009, Kathy Kirby recalled "What finished me was my six-month affair with Bruce Forsyth. Bruce was in love with me and wanted to marry me but although we were very close, I still loved Bert. In my heart I knew I could never leave him, so it had to come to an end. Eventually, Bert found out the truth and was so hurt by it that it made him almost insane with jealousy. We would go to a restaurant and everything would be fine and then suddenly he would scream out: 'Bruce Forsyth, that goddamned son of a bitch!' and a lot worse. This anger over our affair was always bubbling up inside him and he just could not get over it. This went on for five years.
"When I first met Bert he was married but his wife was in America and he never saw her. He talked about marrying me but after the affair there was no more talk of marriage." Bert Ambrose was Kirby's manager and live-in lover. He received offers for her daily. Before he found out about her affair, Ambrose had always sought to advance her career. But after he found out about Kirby's liaison with Bruce Forsyth his judgments were fused with irrational jealousy.
Kathy, 70, recalls: "I discovered that a Hollywood movie producer was offering me a three-picture deal. They thought I could become the British Doris Day or Monroe. Like Doris Day, I was not a trained actress but they said I could sing and I had presence. I had appeared on the Ed Sullivan Show in the US and had some big hits there and I was keen to break into Hollywood but Bert decided not to go through with it. I was also doing the Kathy Kirby Show for the BBC and had offers from other television companies but all that began to dry up, too. Bert was turning down work for me because he thought I would leave him after having the affair with Bruce Forsyth but he should have known I never would."
On 31 December 1976, she performed her hit song "Secret Love" on BBC1's A Jubilee of Music, celebrating British pop music for Queen Elizabeth II's impending Silver Jubilee.
After her manager and lover, 42 years her senior, Bert Ambrose, died in 1971 while she performed on TV. Kirby's life spiraled out of control. She discovered that Bert Ambrose had been gambling at casinos and clubs and had lost over five million pounds of her money. She was briefly married to a police officer and then, in 1975 Kathy Kirby lost her fortune and went bankrupt. She was homeless, penniless and friendless. She went from singing at a Royal Variety performance to sleeping in a shop doorway. She suffered a much-publicised nervous breakdown and was eventually diagnosed with schizophrenia. A lesbian affair with a fan, Laraine McKay, accompanied by scandalous tabloid headlines ended with McKay being jailed for fraud and forgery.
From the 1980's onward Kirby lived on welfare benefits. As a gay icon, she continued to play the diva. Kirby was often identified by members of the public, even though she sought Garboesque obscurity. One of her friends confided when Kathy Kirby was perplexed that the public recognized her when she was out and about, "Perhaps, Kathy, it's got something to do with the turban, the sunglasses and the fur coat."
In 2006, biographer James Harman wrote "Kathy Kirby – the UK's highest paid girl singer of the swinging sixties – was ofter referred to as Britain's answer to Marilyn Monroe because of her close resemblance to the Hollywood icon. Hopefully it won't be ungallant to state however she sang much better than the American star. It is generally agreed that the busty glamour girl possessed one of the finest female singing voices the United Kingdom has ever produced. Nicknamed 'The Golden Girl of Pop' and 'The Queen of British Television,' she dominated both BBC and ITV with her spectacular shows. Unfortunately… the seventies brought much personal heartache and screaming headlines about her private life, and it has been said that she out Garland Judy, but unlike the Hollywood legend survived it all. For the last quarter of a Century she had lived a virtual recluse at her home in London turning down all the frequent offers of work that still come her way. Her fan base is still huge, with a still massive gay following."
A stage show about her life, Secret Love (based on James Harman's biography), opened in Leeds in May 2008. Kathy Kirby died in 2011 at the age of 72 of a heart attack.
June 26, 2019
Ray McGinnis
References:
James Harman. Secrets, Loves and Lip Gloss. (Best Books Online, 2006).
"Kathy Kirby 1938-2011," AstaBGay.com.
James Murray, "EXCLUSIVE: Kathy Kirby Breaks her 26-year Silence," Express, March 1, 2009.
"Kathy Kirby," Telegraph, May 20, 2011.
"C-FUNTASTIC FIFTY," CFUN 1410 AM, Vancouver, BC, February 2, 1963.
For more song reviews visit the Countdown.