#503: He's A Rebel by Vikki Carr
Peak Month: October 1962
12 weeks on Vancouver's CFUN's chart
Peak Position #7
Peak Position on Billboard Hot 100 ~ #115
YouTube.com link: "He's A Rebel" Vicki Carr
YouTube.com link: "He's A Rebel" The Crystals
Lyrics: "He's A Rebel"
Florencia Bisenta de Casillas-Martinez Cardona was born in 1941. Her parents were both from Mexico, and she was born in El Paso, Texas. Her parents moved to the San Gabriel Valley in California, where she grew up. She began performing at the age of four. In an interview many years later, she remembers "my father, being Mexican American, was very, very strict. He never allowed us to hear rock 'n roll or anything on the radio. Anything that had to do with music was the Big Band era with the records they had and / or the ranchera Mexican American music and the Mexican artists." By her late teens she was performing at Florence Cardona, because her birth name was too long for people to remember or fit on a marquee. She next went by the name of Carlita, a female version of her fathers' name, Carlos. In 1959, Florencia Cardona turned eighteen. She decided to pursue a career as a singer in the music business.
She was hired as a singer of a Mexican-Irish band led by Pepe Callahan. Her competence in both English and Spanish got her the job. Callahan's band appeared often at at a venue in Palm Springs called the Chi Chi Club. After it closed in 1961, Cardona continued to perform at various locations in southern California, and in Reno and Las Vegas casinos. By the fall of 1961 her stage name became Vikki Carr after a bunch of musicians at a bar in Nevada told her she had to stop billing herself as Carlita. They explained that it didn't make much sense to audiences, since she wasn't singing many songs in Spanish. So she decided to call herself Vicki and came up with her own spelling V-I-K-K-I. And at the time there was a comedian named Frankie Carr. So she decided to shorten Cardona to "car" and add an extra "r" to make her stage name Vikki Carr. But she wasn't satisfied to just be singing for live audiences. Vikki Carr wanted to be a recording star. She made an audition tape of four songs and mailed it to multiple record companies, hoping for a break. Though she got many rejections, she got the attention of Liberty Records who signed her to their label in the winter of 1961.
In the spring of 1962 she had her first single release titled "I'll Walk The Rest Of The Way", a country-latin fusion. It became a minor hit in San Bernardino (CA). Her second single release was a song penned by Gene Pitney titled "He's A Rebel". Pitney originally wrote the song for the Shirelles, but they declined to record the song.
But new Liberty Records recording artist, Vikki Carr, was interested in taking the song into the studio.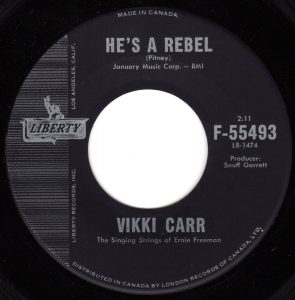 On a Wikipedia article about Vikki Carr, it is written "Producer, Phil Spector, heard Carr cutting the song in the studio and immediately recorded a cover version which reached No. 1 in the United States, billed to the Crystals, although this was in fact incorrect as the actual recording artists were the Blossoms." To add to the confusion, in a separate Wikipedia article about "He's A Rebel", they state: "Pitney wrote "He's a Rebel" for The Shirelles, but they declined. Spector learned Vikki Carr was to record it for Liberty Records as her debut, and wanted his own version on sale first. The Crystals were touring on the east coast of the USA at the time, so Spector had The Blossoms, a Los Angeles group, record the track with the agreement that the record would still be credited to the Crystals." In this latter statement, it is left unclear if Spector got to the studio ahead of Carr. Had he heard Carr sing the song in a studio? Or just heard a demo of the song, or even a live rendition at Liberty? But, as comments below indicate, there is high confidence that Carr beat the Crystals (aka Blossoms) to the recording studio.
So, I fact-checked Fred Bronson's The Billboard Book of Number One Hits, for more background. In 1962 Phil Spector had been hired as an A&R man with Liberty Records by Snuff Garrett. Bronson writes, "While at Liberty, Phil heard a song written by an old friend, Gene Pitney, that Garrett was planning to record with Vikki Carr. Phil abruptly resigned and headed for the west coast with Pitney's demo….The only people he didn't have were the Crystals, who were still in New York. But it was a race against time, with the Vikki Carr version already completed and about to be released on Liberty.
"He's A Rebel" is a song about a guy who doesn't get his cues from what the rest of the crowd is doing. He holds his head up high when he walks down the street. He has a positive self-image. He thinks outside of the box, doing things that most people don't try, or are even aware of. His independent, rebel, streak has resulted in being disliked by the establishment. They complain that he'll never be any good. They fault him for doing things that are outside societal norms. The rebel has a woman in his life. She determines that the talk about him around town is undeserved. The objections of the establishment about her boyfriend become a catalyst for her defending him even more.
In 1962 the word "rebel" brought to mind the 1955 film Rebel Without A Cause, starring James Dean, Sal Mineo and Natalie Wood. The film portrayed differences and conflicts between the generations, and the moral decay of American youth. The film was also a critique of parental choices. The film was released in late October 1955, a month after James Dean broke his neck and died when his Porsche slammed into a Ford. And so, "He's A Rebel" got interest from not only teenage girls but also from young men who identified with the rebel in themselves.
The composer of "He's A Rebel", Gene Pitney, was born in 1940 in Hartford, Connecticut. He was a songwriter who became a pop singer, something rare at the time. Pitney fronted a doo-wop group in his teens at high school called Gene & The Genials and for his next group called The Embers. He was signed up with to songwriter Aaron Schroeder's new label, Musicor, in 1961, Pitney scored his first chart single. The disc climbed to #39 on the Billboard Hot 100. The self-penned "(I Wanna) Love My Life Away", on which he played several instruments and multi-tracked the vocals, climbed to #5 in Vancouver. Some of the songs he wrote for other recording artists include "Rubber Ball" for Bobby Vee and "Hello Mary Lou" for Ricky Nelson.
Next, Gene Pitney scored a #5 hit on CFUN with "Town Without Pity" in the winter of 1961. He followed up in the spring of 1962 with "(The Man Who Shot) Liberty Valance," which peaked at #4. In 1962, Pitney's highest-charting hit in the USA, "Only Love Can Break a Heart", was kept out of the #1 position by The Crystals recording of Pitney's composition, "He's A Rebel". And in the spring of 1963, Gene Pitney had his highest charting song in Vancouver titled "Mecca".
Pitney was more popular in Vancouver than in his native America. Over his career he charted 14 songs into the Top Ten in Vancouver, while he only charted four songs into the Top Ten on the Billboard Hot 100. Curiously, only two of these songs overlap: "(The Man Who Shot) Liberty Vallance" and "I'm Gonna Be Strong". Surprisingly "Only Love Can Break A Heart", which peaked at #2 in the USA, stalled at #14 in Vancouver, and "It Hurts To Be In Love" stalled at #11 in Vancouver while it peaked at #7 south of the border. He died while on tour at the age of 66 in 2006.
When Phil Spector wanted to record "He's A Rebel", the Crystals were on tour on the East Coast of the United States. So Spector brought in a local Los Angeles trio named the Blossoms, had them record "He's A Rebel", but credit it to the Crystals. While the Crystals were on their East Coast tour they heard a radio station DJ announce the new Crystals disc "He's A Rebel". The Crystals' Mary Thomas recalled that "our mouths fell open" when she and other members of the Crystals heard a disc jockey announce "the new Crystals song." The quintet was then compelled to include "He's a Rebel" in their live set list. However, the Crystals lead singer Barbara Alston could not mimic Blossoms lead singer Darlene Love. Consequently, 15-year-old Dolores "LaLa" Brooks became the lead singer the following year with the follow-up "Then He Kissed Me".
The Blossoms were backing vocalists for "Johnny Angel" by Shelley Fabares, the "Monster Mash" by Bobby "Boris" Pickett, "Be My Baby" by the Ronettes, "Poor Side Of Town", "Baby I Need Your Loving" and "The Tracks Of My Tears" for Johnny Rivers. Phil Spector wanted to get a recording of "He's A Rebel" released quickly because he heard Vikki Carr recording the song when he was visiting his old record label, Liberty.
"He's A Rebel" by Vikki Carr peaked at #5 in Halifax (NS), #7 in Vancouver (BC), #8 in Cedar Rapids (IA), and #13 in Portland (ME). In Australia Carr's version of the song peaked at #3 in Sydney, and #9 in Brisbane. But it was the Crystals (Blossoms) version that climbed to #1 on the Billboard Hot 100 in the USA. Meanwhile, Vikki Carr's version went to #3 on the national charts in Australia.
After "He's A Rebel", Vikki Carr continued to record and release singles, as well as albums. Liberty Records had her release a novelty tune called "Submarine Race". Though it was not a hit, Carr headed to Australia to go on tour. Her next sixteen singles were commercial flops. She'd get a local hit with one song in Montreal, another in Oceanside or Long Beach (CA), another in Wisconsin, Kansas or Missouri.
Meanwhile, in 1963 Ray Anthony gave Vikki Carr a spot on The Ray Anthony Show for 27 episodes between January and June 1963. On May 12, 1964 Vikki Carr, along with Trini Lopez, was nominated for Best New Artist at the Grammy Awards. She lost out to a Paris, France, group of eight vocalists called The Swingle Singers. In 1965 Vikki Carr appeared on The Bing Crosby Show on ABC-TV.
Though Vikki Carr wasn't having any success with a pop hit, Liberty Records decided to market her as an album singer. After all, a new singer named Barbra Streisand was selling albums at an impressive rate without any need for hit singles. Between 1963 and 1967 Carr released eight albums. In 1966 Carr provided the vocals for Cyd Charisse in The Silencers, a Matt Helm spy film starring Dean Martin. In 1966, Carr toured South Vietnam with actor/comedian Danny Kaye to entertain American troops.
One of the songs Vikki Carr released with little commercial response was "It Must Be Him", a local hit in Washington D.C. in October 1966. The song was the B-side to "Summer Samba (So Nice)", a modest Top 40 hit. Carr included "It Must Be Him" in her set list while on tour to the UK in early 1967. Based on the audience response, Liberty Records decided to re-release the song in the summer of 1967. This time "It Must Be Him" climbed to #3 on the Billboard Hot 100, #2 in the UK and #1 in Australia. It became Vikki Carr's only Top 30 hit in the USA and her signature song.
In February 1968 Vikki Carr received a Grammy Award nomination for "It Must Be Him" in the category of Best Female Pop Vocal Performance. She lost out to Bobby Gentry and her hit "Ode To Billie Joe". Her album It Must Be Him was nominated for Album of the Year, but she lost the Grammy Award to the Beatles Sgt. Pepper's Lonely Hearts Club Band. Also in 1968 she hosted It's Vikki Carr on a TV station in the U.K. Though the series only lasted for seven episodes, her guests included Kenny "Midnight In Moscow" Ball, and further established her fan base across the Atlantic. Carr also was a guest on a variety of TV shows including The Carol Burnett Show, The Dean Martin Show, The Ed Sullivan Show, The Glen Campbell Goodtime Hour, The Jackie Gleason Show, The Joey Bishop Show, The Johnny Cash Show, The Smothers Brothers Comedy Hour and This Is Tom Jones. Vikki Carr was also a guest host on several occasions for Johnny Carson on his late night TV show.
At a November 12, 1974 state dinner, Don Penny was dancing with First Lady Betty Ford, while President Gerald Ford was dancing with Vikki Carr. Carr innocently asked President Ford "what's your favorite Mexican dish?" Ford replied "you are." When the First Lady overheard the exchange while dancing near the couple, she was not amused.
In the 1980s and 1990s, Carr had enormous success in the Latin music category. She won a Grammy Awards for Best Mexican-American Performance in 1986 for her album Simplemente Mujer. And in 1992 she wonders a Grammy Award in the Best Latin Pop Album category for Cosas del Amor. She repeated her 1986 award winning ways in 1995 with another Grammy Award in the category for Best Mexican-American Performance with her album Recuerdo a Javier Solís. In addition, Vikki Carr was nominated She also received Grammy nominations for her 1993 album, Brindo a La Vida, Al Bolero, A Ti, and her 1996 album Emociones. And on September 23, 1981, Vikki Carr was inducted into the Hollywood Hall of Fame.
As of 2014 Vikki Carr has recorded 45 albums, 19 of these have been in Spanish. She has performed before five American presidents and the Queen of England. In 2012 her husband, Pedro De Leon, was diagnosed with dementia. Consequently, she had chosen to put her family first and her career second. She only performs on occasion. One recent occasion was at an August 25, 2019, benefit for the families affected by the El Paso shooting at a Walmart on August 3, 2019.
January 10, 2020
Ray McGinnis
References:
Vikki Carr, "Biography," Vikki Carr.com.
Michael Jack Kirby, "Vikki Carr: It Must Be Him," Way Back Attack.
Gary James, "Interview with Vikki Carr," Classic Bands.com.
Keith Elliott Greenberg, Too Fast to Live, Too Young to Die: James Dean's Final Hours, (Applause Books, 2015).
Richard Norton Smith, "Don Penny Interview," Gerald Ford Foundation, December 13, 2009.
Kathleen Petty, "International Performer Who Makes San Antonio Home Will Perform at Tobin Center, Sept. 10," San Antonio Magazine, September 2014.
María Cortés González, "Singer Vikki Carr Will Return to El Paso to Perform a Benefit Concert for Walmart Shooting Victims," El Paso Times, August 16, 2019.
Randy "How Latin Singer Vikki Carr's Life has Changed Since her Husband's Dementia Diagnosis," Arizona Republic, October 13, 2019.
Fred Bronson, The Billboard Book of Number One Hits, (Billboard Books, 2003) p. 119.
"C-FUN FANTISTIC FIFTY," CFUN 1410 AM, Vancouver, BC, October 13, 1962.
For more song reviews visit the Countdown.