#1120: He's Mine (I Love Him, I Love Him, I Love Him) by Alice Wonder Land
Peak Month: November 1963
9 weeks on CFUN chart
Peak Position #11
Peak Position on Billboard Hot 100 ~ #62
YouTube.com: "He's Mine (I Love Him, I Love Him, I Love Him)"
Lyrics: "He's Mine (I Love Him, I Love Him, I Love Him)"
Alice Wonder Land was the pseudonym of Alice Faye Henderson, a one-hit wonder who recorded the pop song, "He's Mine" in 1963. The name refers to Lewis Carroll's classic book Alice's Adventures in Wonderland. In 1963, Henderson was working as a maid for a neighbor of Stephen Schlaks, a songwriter and co-owner of Bardell Records. Schlaks signed Henderson to record "He's Mine". Little Eva had recently had a hit with "The Loco-Motion", after being discovered by Carole King, for whom she babysat.
"He's Mine (I Love Him, I Love Him, I Love Him)" was co-written by Stephen Schlaks and Charles Weiss. Born in New York in 1948, Schlaks had already written a number of pop hits in the early sixties. Most successful was the Top 30 hit in the USA from 1961, "Your Ma Said You Cried In Your Sleep Last Night" former US Navy sailor, Kenny Dino. The song peaked at #19 in Vancouver in October '61. Charles Weiss had little notable success with any of the songs he wrote for recording artists prior to "Alice Wonder Land." However, he co-wrote a tune called "The Sheik" with Carole King and Gerry Goffin. It was not a hit at all, and was only recorded by an "Unknown Artist" in the Brill Building. Weiss also co-wrote a B-side for Jo Ann Campbell with Carole King called "Bobby, Bobby, Bobby". Jo Ann Campbell's A-side was "A Kookie Little Paradise" that peaked at #12 in Vancouver in the fall of 1960.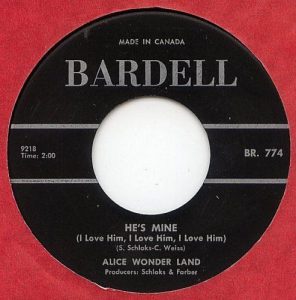 "He's Mine (I Love Him, I Love Him, I Love Him) by Alice Wonder Land, may have been inspired in part by other songs on the pop charts in 1963. Neil Sedaka had a hit called "Alice In Wonder Land." Little Peggy March had a #1 hit called "I Will Follow Him" which included the phrase "I love him, I love him, I love him/and when he goes I'll follow, I'll follow, I'll follow." And The Chiffons had a #1 hit in March of '63 called "He's So Fine". It is plausible that Charles Weiss and Stephen Schlaks were humming popular tunes that spring when they were inspired to write the lyrics for "He's Mine (I Love Him, I Love Him, I Love Him)".
The song's popularity was likely owed to the Girl Group sound that was part of a wave of female pop music. This was prominently on display by both female solo and female groups prior to the British Invasion. In November 1963 the CFUN pop charts in Vancouver were populated with many female recording artists. These included The Crystals ("Then He Kissed Me"), Robin Ward ("Wonderful Summer"), The Raindrops ("The Kind Of Boy You Can't Forget"), The Murmaids ("Popsicles, Icicles"), The Ronettes ("Be My Baby"), Leslie Gore ("She's A Fool"), The Dixie-Bells ("Down At Papa Joe's") The Caravelles ("You Don't Have To Be A Baby To Cry") The Secrets ("The Boy Next Door") Tracey Dey ("Here Comes The Boy"), Jackie DeShannon ("When You Walk In The Room") Darlene Love ("A Fine Fine Boy") and The Chiffons ("I Have A Boyfriend"). There was also the Singing Nun, in a category of her own with "Dominique." In November 1963 in Vancouver you could listen to the radio for any given hour and easily have more than half the songs played be by a female performing act. It seemed, in 1963, a good bet that if you recorded a song by a teenage girl, you might well have a hit record.
Stephen Schlaks would go on to write the title track for Elvis Presley's 1968 film, Speedway. He has also recorded over twenty-five albums showcasing his classical piano skills. But Alice Wonder Land (aka Alice Faye Henderson) was a one-hit wonder. At least under that pseudonym. There was another song Stephen Schlaks co-wrote shortly after "He's Mine" called "He's My Dream Boy". That latter tune was sung by another fictional character, Marie Antoinette. On the website allbutforgottenoldies.net it has been suggested that Marie Antoinette was another pseudonym for Alice Faye Henderson. In any event, it is likely that she kept her day job as a maid.
April 10, 2017
Ray McGinnis
References:
Alice Wonder Land notes, All But Forgotten Oldies.net
Alice Faye Henderson, Top 40 db.net
Speedway, 1968
Stephen Schlaks bio, Stephen Schlaks.com.
"C-FUNTASTIC FIFTY," CFUN 1410 AM, Vancouver, BC, November 2, 1963.
For more song reviews visit the Countdown.