#281: Hey You by Bachman Turner Overdrive
Peak Month: June 1975
12 weeks on CFUN's Vancouver Charts
Peak Position ~ #2
Peak Position on Billboard Hot 100 ~ #21
YouTube.com: "Hey You"
Lyrics: "Hey You"
Randolph Charles Bachman was born in 1943 in Winnipeg, Manitoba. When he was just three years old he entered the King of the Saddle singing contest on CKY radio, Manitoba's first radio station that began in 1923. Bachman won the contest. When he turned five years he began to study the violin through the Royal Toronto Conservatory. Though he couldn't read music, he was able to play anything once he heard it. He dropped out of high school and subsequently a business administration program in college. He co-founded a Winnipeg band called The Silvertones with Chad Allan in 1960. In 1962 the band became Chad Allan and the Expressions, and was renamed The Guess Who? in 1965 with their first big hit, "Shakin' All Over". The Guess Who dropped the question mark in their title a few years later.
Burton Cummings replaced Chad Allan and the band went on to score major international hits like "American Woman" and "These Eyes". While "American Woman" was #1 in May 1970, Randy Bachman left The Guess Who, in part due to his zeal for Mormonism. Bachman released a solo album called Axe, and in 1971 formed a band called Brave Belt. This included his brothers Robbie and Tim and Chad Allan. Fred Turner then replaced Chad Allan. Their country-rock sound was quieter then the rock n' roll of the Guess Who. At a concert in Thunder Bay, Ontario, Brave Belt was asked to play a set of classic rock songs. As written in Michael Heatley's The Turbulent History of Bachman-Turner Overdrive, Bachman recalls in "We instantly saw the difference between playing sit-down music people could talk over and playing music they would jump out of their seats and dance to." By 1973, they were billed as the Bachman-Turner Overdrive.
In 1973, BTO had a self-titled debut album. Although the formation of BTO didn't involve a typical Top 40 single on their debut album, their constant touring gave them a base ready for their subsequent releases. The second single release from the album made the Billboard Hot 100 and the Canadian RPM Top 40. The song was called "Blue Collar". On November 5th and 6th, 1973, BTO performed in back-to-back concerts at the Commodore Ballroom in Vancouver.
BTO would enjoy a series of Top Ten hits over the following years including "Let It Ride", "Takin' Care of Business", "You Ain't Seen Nothing Yet", and "Roll On Down the Highway". In the spring of 1975 the band released "Hey You".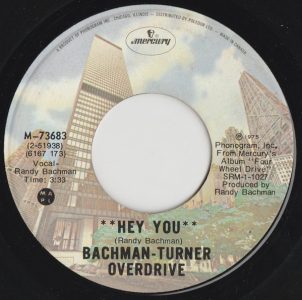 "Hey You" is a song pitched to those who want to change the world, but somehow lost the music. To other recording artists who want to keep pace with the times, BTO has no regrets. They are in tune with the muse and singing songs that speak to the ever-changing world around them. But the one who has lost the music complains that the race – the rat race – is much too fast. Dispirited, the ones who want to change the world, but are failing to make a difference, are also the ones who "should have tried." So, the listener BTO is trying to reach is the one who is in the habit of giving up. BTO advises "you gotta learn to take it easy." Brooding over the state of the world doesn't make anything better. It only burns you out and leaves you feeling defeated. Take note all you musician-activists prone to live lives of regret. Hey You: grab a hold of your self-sabotaging ways and turn things around.
"Hey You" peaked at #1 in Toronto, #2 in Vancouver, #3 in Salt Ste. Marie (ON), and San Bernardino (CA), #4 in Montreal, Ottawa, Harrisburg (PA), and Columbus (OH), #5 in Winnipeg (MB), Sioux Falls (SD), and Cleveland, #6 in Quebec City, Minneapolis/St. Paul, and Wichita Falls (TX), #7 in Peterborough (ON), Troy (NY), Chicago, Cedar Rapids (IA), and Akron (OH), #8 in Milwaukee (WI), #9 in Pittsburgh, Vancouver (WA), and Boston, and #10 in Allentown (PA), and Flint (MI).
BTO recorded nine studio albums between 1973 and 1979. Seven singles made the Top 20 on the Canadian RPM charts, and three of these made the Top 20 on the Billboard Hot 100. BTO had ten singles reach the Top 20 in Vancouver. Their singles, like "My Wheels Won't Turn", had little traction elsewhere. Since then they have gone on a few reunion tours. Over the years the band has sold nearly 30 million albums worldwide.
On August 24, 1975, and a year later on September 4, 1976, BTO appeared in concerts at the Pacific Coliseum in Vancouver.
In 1977 Bachman went solo and released an album called Survivor in 1978. From the album came the single release "Is The Night Too Cold For Dancin'?" After his solo release, Bachman went on to form the band Ironhorse in 1979. Bachman subsequently went on reunion tours with The Guess Who in the 1980s and played with them at the Pan-Am Games in Winnipeg in 1999 and, more recently, in 2003. Bachman also toured almost continuously with BTO from 1983 to 1991. This included concerts in Vancouver on October 23, 1986 at BC Place Stadium, and at the 86 Street Music Hall on October 19, 1989 and December 31, 1990. He's also released over a half a dozen solo albums between 1992 and 2015.
In 2002, as a member of The Guess Who, Bachman was one of the former bandmates who received The Governor General's Performing Arts Award, a Canadian award noting excellence in the performing arts. Bachman has also received the distinction of being made an Officer of the Order of Canada in 2008. Since 2005 Randy Bachman has hosted a pop music retrospective show on the CBC called Vinyl Tap. Songs like BTO's "Taking Care Of Business" have been referenced in the TV show The Simpsons. C. F. "Fred" Turner had a vocal appearance with Randy Bachman on an episode of The Simpsons in 2000.
Since 2005, Randy Bachman has been a host of Vinyl Tap,a show on CBC Radio where he plays sets of pop tunes and discusses some of the details he knows about the performers and musicians he's met. In 2008 Randy Bachman was awarded the Order of Canada. This is a medal given by the governor-general of Canada to persons who have made a major difference to Canada in their field of work.
In January 2023, Robbie Bachman died at the age of 69.
April 29, 2023
Ray McGinnis
References:
Randy Bachman bio, Randy Bachman.com
Michael Heatley, "From Rags to Riches and Back: The Turbulent Story of Bachman-Turner Overdrive," Team Rock.com, Bath, UK, December 17, 2016.
Randy Bachman, Vinyl Tap, CBC, Toronto, Ontario.
Madison Bloom, "Robbie Bachman, Drummer and Co-Founder of Bachman-Turner Overdrive, Has Died," Pitchfork, January 13, 2023.
"Bachman-Turner Overdrive Concerts – Canada," Setlist.fm.
"CFUN Top Thirty," CFUN 1410 AM, Vancouver, BC, June 21, 1975.
For more song reviews visit the Countdown.