#721: High School Confidential by Rough Trade
Peak Month: April 1981
10 weeks on CFUN's Vancouver Charts
Peak Position ~ #9
Peak Position on Billboard Hot 100 ~ did not chart
YouTube.com: "High School Confidential"
Lyrics: "High School Confidential"
Kevan Staples was born in Toronto, Ontario, in 1950. His parents were musicians and artists. Carole Pope was born in Manchester, UK, also in 1950. Her father was a stilt walker and her mother a music hall performer. The Popes moved from Manchester to Montreal in 1955. They later moved to Toronto. Growing up, Carole studied sculpture. Kevan Staples and Carole Pope met at an audition in 1968 for Deva Loca Sideshow, a band that never ended up forming. In 1969, Staples and Pope began performing as a folk duo named O. They appeared in clubs in Toronto's Yorkville neighborhood. In the 1960's, Yorkville showcased the hippie movement for the rest of Canada, at least on the TV news. Yorkville was hyped as a magnet for intellectuals, artists and musicians. Writers, Margaret Atwood and Gwendolyn MacEwan, and singer-songwriters Gordon Lightfoot, Joni Mitchell and Neil Young were all part of the scene. Staples and Pope subsequently formed the Bullwhip Brothers in 1971. Finally, they changed their name to Rough Trade in 1974. O, Bullwhip Brothers and Rough Trade each drew on sexual satire, the latter from gay male iconography. In 1976, Carole Pope appeared in a concert titled Torch Showcase at a venue named A Space, in Toronto. She performed "The One Who Really Loves You" by Mary Wells and "You're My World" by Cilla Black.
Rough Trade released their first album in 1977, Rough Trade Live!, which was actually a studio album. That year, remake impersonator and gay icon, Divine, came to Toronto to promote Rough Trade in a concert titled Restless Underwear in Massey Hall. In 1978, Staples and Pope wrote music for a film titled One Night Stand. The pair won a Genie Award for Best Film Score. In 1979 the band recorded the single, "Shakedown". It was featured in the film, Cruising, starring Al Pacino. The controversial movie was about a serial killer of gay men, especially associated with the leather scene. The word cruising had several meanings: police on patrol duty and the act of walking or driving in a locale known for anonymous sexual pick-ups. Gay rights groups at the time picketed movie theatres showing a film they perceived as stigmatizing gay men. Having "Shakedown" featured in the film added an edge to Rough Trade's persona.
According to Joseph Levy on the laventure.net website, Rough Trade toured in Canada, a few cities in Australia, Europe and New York. In his 1993 book, Not Simply Divine, Jay Bernard, manager for gay icon Divine, recalled the catastrophe of a concert on February 14, 1980. The show was at the Beacon Theatre on West Broadway on Manhattan's Upper West Side. Rough Trade was the opening act in a show billed as "DIVINE in RESTLESS UNDERWEAR." After the 1977 event with Divine and Rough Trade in Toronto, Staples and Pope wanted to team up with Divine in New York to have a repeat of Restless Underwear. Divine's contract specified that he would only perform for seven minutes and have ten male dancers on stage with him. While his performance was a hit, the audience naturally expected more. Jay Bernard described the scene at the Beacon Theatre: "The theatre was full of gay men, all of whom had obviously come to see this new comedy… The sound system installed for the evening was totally inadequate and the audience couldn't't even hear the feeble attempts at sketches… They booed and hissed at poor Carol [sic] Pope and Rough Trade, who really didn't stand a chance for success the way the promoters had advertised the event. When, in the second part of the show, Divine performed his two songs with his male chorus line, he received a standing ovation, which only made things worse as [he] had nothing to follow it with–and the audience's frustration, quickly turning into anger, was therefore increased. The promoters were swamped in the intermission with demands to return ticket money. Many in the audience had left before the final set from Rough Trade. Divine fled back to his home…"
In 1980, Rough Trade released their second album titled Avoid Freud. The album's first single, "What's the Furor About the Fuhrer?", was a hit in some radio markets in Ontario. However, the B-side, "Fashion Victim", climbed to the Canadian RPM Top 40. Their second single from the album was titled "High School Confidential".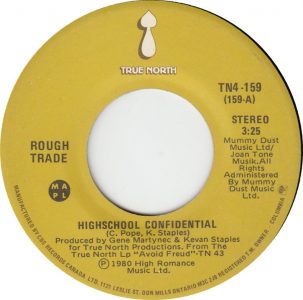 In 1981, Rough Trade appeared on the Canadian comedy show SCTV. The single became a hit and peaked at #9 in Vancouver. The lyrics were the first to showcase lesbian sexual overtones. Carole Pope sings lyrics that open with these lines: "She's a cool blonde scheming bitch/She makes my body twitch/Walking down the corridor/You can hear her stilettos click/I want her so much I feel sick…"
Swedish actress, Anita Eckberg, and American actress, Mamie Van Doren, come to mind as Pope tries to describe what the girl in her high school looks like. The High School Confidential Pope sings about is a combination of Eckberg and Van Doren. Eckberg was a voluptuous actress who was a Playboy Magazine pin-up in the 1950's. She dated Frank Sinatra and Errol Flynn, among others. In the 1960 Federico Fellini film La Dolce Vita, Italian for "the sweet life," Eckberg appeared in a scene at the Trevi Fountain wearing a strapless black velvet dress. The movie made her a sex symbol.
Mamie Van Doren starred in a number of provocative roles in the late 1950's. All reflected adult nervousness about juvenile delinquency and wayward teens. She appeared in Untamed Youth, a 1957 movie about "Youth turned Rock n' Roll Wild and the 'Punishment Farm' that makes them Wilder!" In the movie Van Doren became the first female on film to sing a rock n' roll song. In Girls TownVan Doren was cast in a role of a 16-yead-old being sent to a girls reformatory run by nuns for causing the death of a would-be rapist who accidentally falls off a cliff. In this flick Van Doren appeared nude in a fuzzy camera shower scene. The byline for the film enticed viewers to see it to learn about "Youthful rebels! Trying to crowd a lifetime of thrills into one night, Everynight!" Paul Anka also starred in the movie and sang his hit, "Lonely Boy".
MGM also cast Van Doren in what the announcer in the movie trailer described as "a new and shattering drama about the new Beat Generation, High School Confidential. A story of a world these youngsters live in that they never tell their nice families about: a dangerous world of terror, a high speed world of illegal drag races, a rock n' roll world, a torrid world of temptation, a violent world you never dreamed existed."
The late 1950's juvenile delinquent film, High School Confidential, featured Jerry Lee Lewis singing the title song. During the month the movie and the song were released reporters discovered Lewis, age 22, had married his 13-year-old cousin. Newspaper headlines screamed about the scandal. Lewis's new tour was cancelled after three performances, and he was blacklisted on most radio stations in the USA. With this 1950's cultural background, "High School Confidential" was a perfect title for Rough Trade to choose for their song with original lyrics. (Lewis' 1958 song was mostly about dancing).
"High School Confidential" climbed up the charts to #1 in Regina, #7 in Ottawa, #8 in Toronto and #9 in Vancouver. In the early 1980's Pope was in a relationship with British pop singer, Dusty Springfield, according to Pope's autobiography, Anti-Diva. Rough Trade went on a final tour in 1986 before splitting up. Their last show of the tour was in Montreal. The show had to stop when a curtain burst into flames. After the flames were put out Rough Trade finished the show. But it was hard to top the flaming curtain for spectacle.
As a member of the LGBTQ community, Carole Pope has lent support to various efforts within the "Gay Rights" movement. Pope has been an Ambassador for the Harvey Milk High School, established in 1985 in New York City. The school, named after the San Francisco Board of Supervisors member Harvey Milk. Milk was the first openly gay person to run for, and be elected, to public office in America. He won his election to on November 8, 1977. Harvey Milk was assassinated on November 27, 1978. His killer was San Francisco Board of Supervisor Dan White. On November 10, the 32-year-old White, a Vietnam War veteran, had resigned his position on the Board. White also killed Mayor George Moscone that same afternoon at the San Francisco City Hall.
The Harvey Milk High School was an effort to provide a safe space for students who in the mid-1980's were identifying themselves as gay, lesbian or bisexual. In view of bullying of students attracted to the same gender, the New York City Department of Education established a first for school boards in America. In 2009 California Governor, Arnold Schwarzenegger, signed a law establishing an annual Harvey Milk Day on May 22 for the state of California. Harvey Milk was born on May 22.
Since Rough Trade disbanded in 1988, Kevan Staples has composed music for many commercials as well as TV and film documentaries. In 1999, playwright Bryden Macdonald wrote a musical revue about Rough Trade called Shaking the Foundations. It was performed at Toronto's Buddies in Bad Times Theatre, a company dedicated to "the promotion of queer theatrical expression."
In 1989, Carole Pope moved to Los Angeles. Though she has lived at times back in Toronto in the years since. She moved back to California in the early 2000s, and took part in a California AIDS ride, cycling from San Francisco to Los Angeles. In 2001, Carole appeared in a Toronto production of the Off-Broadway play The Vagina Monologues. The play comprised of a series of monologues about different experiences of being female. These subjects included giving birth, love, sex, witnessing the birth of a granddaughter, rape, menstruation, masturbation, female genital mutilation and orgasm.
On March 29, 2018, Carole Pope was scheduled to perform along with the Barenaked Ladies at a concert in support of the LGBTQ community in Toronto. The occasion was in the aftermath of charges brought by the Toronto Police against landscaper Bruce McArthur, the alleged serial killer of eight gay men. The concert was intended as a vigil for the LGBTQ community in the wake of the arrest, and to celebrate the resilience of the community. However, the concert was cancelled when some people felt it was not appropriate to have a concert in the middle of an investigation.
On July 15, 2018, Carole Pope appeared at the Vancouver International Folk Festival playing an alternate rock music set that evening. She had been expected to appear at a workshop stage at 12:40 p.m. hour long concert, taking turns performing songs along with Wallis Bird and Skye Wallace. However, Pope was a no show. She explained later that night that something had gone wrong with her health and she had to go to the hospital. She was given something that day that made her high she told a receptive crowd.
September 24, 2018
Ray McGinnis
References:
Brad Wheeler, "What Carole Pope Loves (and doesn't love) About Living in Los Angeles," Globe and Mail, Toronto, March 27, 2018
2010–2017 Toronto Serial Homicides, Wikipedia.org
Carole Pope – Vancouver Folk Music Festival, July 15, 2018
Rudy Blair, "Interview: Carole Pope Discusses Documentary on Her Life," CKNW 1130, Vancouver, BC, June 26, 2014
Linda L. Richards, "Auntie Diva: An Interview with Carole Pope," January Magazine, January 2001.
Charlotte Robinson, "Carole Pope Talks New EP Music for Lesbians and LGBT Equality," Huffington Post, August 14, 2014
Jason Clevett, "Carole Pope: Anti-Diva Still Trades Rough," Gay Calgary.com, Calgary, Alberta, March 2007
Joseph Levy, "A Brief History of Rough Trade With Carole Pope and Kevan Staples," Laventure.net, December 2014
"Anita Ekberg – Obituary: Anita Ekberg was a Swedish Actress who Found Fame Cavorting in Rome's Trevi Fountain for Fellini's La Dolce Vita," Telegraph, London, UK, January 11, 2015.
Donald D'Haene, "The Teacher's Pet at 80: An Interview with Actress Mamie Van Doren," The Good Men Project, March 24, 2013
Jay Bernard, Not Simply Divine: Beneath the Makeup, Above the Heels and Behind the Scenes of a Cult Superstar, (Fireside, 1993).
"Vancouver Folk Festival weekend schedule," the festival.bc.ca, July 13-15, 2018.
"C-FUN Top 30," CFUN 1410 AM, Vancouver, BC, April 25, 1981.
For more song reviews visit the Countdown.