#27: Higher & Higher by Canada Goose
City: Calgary, Alberta
Radio Station: CKXL
Peak Month: August 1970
Peak Position in Calgary ~ #3
Peak position in Vancouver ~ #29
Peak Position on Billboard Hot 100 ~ did not chart
YouTube.com: "Higher & Higher"
Lyrics: "Higher & Higher"
In 1962 a pop group formed in Ottawa named the Esquires. They consisted of Gary Comeau on guitar, Don Norman on lead vocals, Clint Hierliny on bass guitar, Paul Huot on rhythm guitar and Ritchie Patterson on drums. In the fall they released a single titled "Atlantis" which cracked the Top Ten in Ottawa, and also charted in cities in Saskatchewan and Nova Scotia. They released a half dozen singles between 1963 and 1966. The Esquires released an album of covers titled Introducing the Esquires. Their most successful was "So Many Other Boys", which peaked at #2 in Montreal and #3 in Ottawa in December 1964. The band split up and went on to a variety of musical projects.
Gary Comeau and Paul Huot joined Ottawa band The Townsmen in 1966 as they were about to record their cover of "The Lion Sleeps Tonight". Ritchie Patterson joined 3's A Crowd, who also briefly included in their lineup Canadian folk singer Bruce Cockburn. Both The Townsmen and 3's A Crowd had split in the late sixties. And Comeau, Hunt and Patterson were looking for a new vehicle to pursue their musical interests. In addition, a former Townsmen bandmate, bass guitarist Wayne Leslie, was open to forming a new band. There was a new singer named Barbra Bullard who became the lead vocalist. And Daryl Wadsworth was on piano. They got a regular gig as the band for The Tabu Room in Ottawa's Beacon Arms Hotel. They called themselves The New Esquires. However, there was now a band in the 'states called The Esquires who had a big hit in 1967 titled "Get On Up". So the band switched from calling themselves the New Esquires to Canada Goose.
In 1970, Canada Goose released a cover of the 1967 Jackie Wilson hit "Higher & Higher".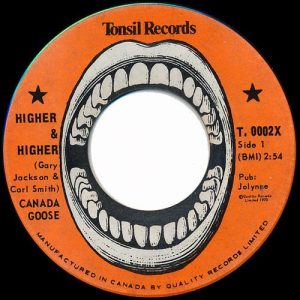 "Higher & Higher" is a song written by Carl Smith, Raynard Miner and Gary Jackson. Carl Smith and Raynard Miner were Chess Records in-house songwriters. Smith had written the hit single, "Rescue Me" for Fontella Bass in 1965. "Higher & Higher" was written as a ballad. Smith, who had written other songs for The Dells, offered it to them, but the group gave the song a pass. Another writer at Chess, Gary Jackson, reworked the song and pitched it to Brunswick Records producer Carl Davis. Seizing the moment, Davis offered the song to Jackie Wilson. Davis recalls, Wilson originally sang the song "like a soul ballad. I said that's totally wrong. You have to jump and go with the percussion… If he didn't want to sing it that way, I would put my voice on the record and sell millions." After hearing Davis's advice, Wilson cut the lead vocal for "Higher and Higher" in a single take. Wilson's recording topped the Hot Rhythm & Blues Singles chart in the USA, and peaked at #6 on the Hot 100 and #8 in Vancouver.
The song describes a romantic relationship that keeps building and expanding. Formerly single and "downhearted," the narrator of the song tells how ever since the spark of the new relationship began it has been going from strength the strength.
"Higher & Higher" peaked at #3 in Calgary, #8 in Edmonton (AB), #11 in Lethbridge (AB), #12 in Medicine Hat (AB), #15 in Halifax (NS), and #16 in Hamilton (ON). The single also charted on WPGA in Ann Arbor (MI) and Wilkes-Barre (PA).
In addition to Canada Goose, "Higher and Higher" has been recorded at a moderate tempo by Rita Coolidge in 1977. Her cover climbed to #2 on the Billboard Hot 100. Other recording artists to release a version of "Higher And Higher" include Gene Pitney, Bette Midler, Martha Reeves, and Jimmy Cliff.
Writing a biography of the band on the Canadianbands.com website, Gary Comeau recalls what happened to Canada Goose once "Higher & Higher" hit the pop charts. "They started touring Ontario, Quebec, and northern US, forcing them to turn down gigs at their regular hotspot, The Tabu Room. The highlight of their US dates came when the manager of a Burlington, Vermont club asked them if they'd do him a favour and play for the president of the United States during his visit to Burlington that weekend. They agreed, and Richard Nixon's office sent the band a thank you letter for their efforts."
Ritchie Patterson left Canada Goose to tour across the USA with Tom Rush's backing band. Other members left and Canada Goose reformed with Huot, Bullard and Wadsworth as the core. Seven other musicians were part of Canada Goose as the lineup kept changing. But in 1973 Canada Goose packed it in.
Later, Ritchie Patterson joined David Wiffen, and subsequently Ian & Sylvia, and finally Bobby Vee. From a career as a musician, Patterson went on to work with CBC Radio & TV in Ottawa. Patterson died in 2011.
Wayne Leslie went on to play with Wells Fargo, before also joining Tom Rush. Gary Comeau went on to join James Leroy & Denim, and next moved to Los Angeles to join the band Coyote. Comeau subsequently went on to become a producer of records and commercials. Gary Comeau's write-up for Canada Goose doesn't state whatever became of the most familiar member of Canada Goose. It was Barbra Bullard's vocals on "Higher & Higher" that got radio listeners attention, even as the musicians and backing vocalists pulled the record into a marketable two minutes and fifty-four seconds. If anyone can add information about what became of Barbra Bullard, I'll update this post.
August 28, 2023
Ray McGinnis
References:
Gary Comeau, "Canada Goose," Canadianbands.com.
"The Esquires (11)," Discogs.com. (The Esquires was a popular name for a band as the Discogs website attests).
Jackie Wilson, "Higher And Higher", Brunswick Records, 1967.
Jimmy Cliff, "Higher And Higher", 1994.


CKXL 1140 AM Calgary, Alberta, August 22, 1970 (Top Ten)