#1160: Hitchcock Railway by Jose Feliciano
Peak Month: November 1968
6 weeks on CKLG chart
Peak Position #11
Peak Position on Billboard Hot 100 ~ #77
YouTube.com: "Hitchcock Railway"
Lyrics: "Hitchcock Railway'
In 1945 José Montserrate Feliciano García was born blind and spent his first five years in the town of Lares, Puerto Rico. He had ten brothers. His website references his first infatuation with music when an uncle of his had him accompany him on a tin cracker can. In 1950 his family moved to New York City. At age six he learned to play the concertina, a smaller cousin of the accordion. When he turned nine Feliciano performed at The Puerto Rican Theater in the Bronx. Using records as a means of instruction, young José learned to play the guitar. As he listened to Rock n' Roll, he began to sing.
When he was 17 years old José's dad was unemployed. So young Jose began earning money for the family playing coffee houses in Greenwich Village, where they'd "pass the hat." On thing led to another, and he performed in coffee houses, clubs and cafes from Boston to Cleveland to Detroit, Chicago and Denver. Reviews of his performances got the attention of RCA Victor Records and José Feliciano was given a recording contract.
In 1966 he gave a performance at the Mar del Plata Festival in Argentina to rave reviews. RCA executives in Buenos Aires, building on the media buzz, arranged for Feliciano to record an album in Spanish. His second single release, "Usted" went to #3 in Argentina, and "Extranos En La Noche" gave him his first #1 hit with this cover of Frank Sinatra's "Strangers in the Night." "La Carcel de Sing Sing" became his second #1 hit in Agentina in early 1967. Soon, José Feliciano, was a pop music idol throughout South and Central America, Mexico and the Caribbean. Between 1966 and 1968 Feliciano had seven Top Ten hits in Argentina.
Back in the States, RCA executives in Los Angeles assigned him to staff producer, Rick Jarrard. Rick closely studied Jose's intriguing flamenco guitar style. Jarrad suggested to Feliciano that he do a cover of the #1 hit by The Doors titled "Light My Fire". Jarrad made the suggestion after hearing José Feliciano perform the song in concert. Feliciano's cover version became an international hit. It peaked at #3 in the USA, and #1 in Vancouver in August 1968.
Feliciano next released a single titled "Hi-Heel Sneakers". It was a Top 30 hit internationally. It was from his fifth English album, Souled. The second single from this album was "Hitchcock Railway." The song was composed by songwriter named Don Dunn, from San Diego.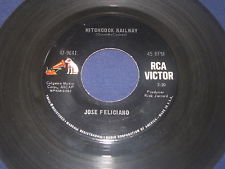 "Hitchcock Railway" is a song about someone getting a ride on an interstate railway. There are tickets bought to head west to Los Angeles. There's also a round trip ticket back home. As the passenger is making their bed where a feather falls, their life seems to be uprooted. When he sings "been tried, guaranteed passport," what does this mean? Has a ride on the Hitchcock Railway been tried before, so he knows it will be a ride made for comfort? Or is this a reference to his past? Has being "tried" involved having had to stand trial to face criminal charges? And now that he is guaranteed passport, he sees freedom on his horizon? And why is he going to "go insane" on this train?
The town of Hitchcock, Oklahoma, was established along the Enid and Anadarko Railway line (conveyed to the Chicago, Rock Island and Pacific Railway in 1903) by the Hitchcock Townsite Company. There was a railway station in this town of over 300 people. But a fire burned down 21 businesses in 1905 and the community decreased to its current population of 121. (There is no railway in Hitchcock, South Dakota). But it is more likely that Don Dunn may have had Hitchcock, Texas, in mind for his song. Hitchcock, Texas, was created as a station of the railroad between Galveston and Houston in 1873 and around the turn of the 20th century became a vegetable shipping center. The settlement's economy crashed in the 1930s after insect plagues in the surrounding areas, and the area stayed impoverished until the establishment of the Camp Wallace anti-aircraft training base and the Hitchcock Naval Air Station at the beginning of World War II. In the 1960s, with a population over 5,200, a trip out of Hitchcock, Texas, to L.A. would have been a dream come true for any working class Joe.
The only other possibility for the inspiration of 'Hitchcock' in the song's title would be a popular reference to Alfred Hitchcock; The British filmmaker of sixty suspense and horror movies, including North By Northwest, Psycho, The Birds and Notorious. However, unless the reference to "going insane" is intended to convey some sort of mental breakdown, instead of being bored to tears, there is little in the lyrics to argue the filmmaker inspired the song's title.
Songwriters, Don Dunn and Tony McCashen, had also written "Lydia Purple," which was a Top Ten hit in Vancouver in 1968 for The Collectors. Tony McCashen played as backing musician with The Monkees, Joe Cocker and others. His songs have been recorded by numbers of recording artists including Them, Joe Cocker, Kenny Rogers and the First Edition and Bobby Vee. Recording artists who've put a song by Don Dunn on vinyl include Sonny & Cher, Nancy Sinatra, Thelma Houston, Diana Ross, Rare Earth, the 5th Dimension, The Righteous Brothers and Junior Walker & The All-stars. Dunn has also been a guest vocalist on studio recordings for Diana Ross, Themla Houston, Kenny Loggins, Seals and Crofts, Steely Dan, Kim Carnes, David Gates and Jennifer Warnes. He eventually moved to Nashville to focus on writing folk and country songs.
In 1969 Feliciano had a single called "Rain" that peaked at #1 in Turkey, and was a Top Ten hit in Austria and Sweden. That same year he had modest international success with covers of Bruce Channel's 1962 hit, "Hey, Baby", and the Supremes 1966 hit "My World is Empty Without You."
In the spring of 1969, while José Feliciano was still 23 years old, he'd received five Grammy nominations, and won two Grammy Awards for his album Feliciano! In addition to "Light My Fire," his award winning album included notable renditions of "California Dreamin'", "In My Life", "Sunny" and "Don't Let the Sun Catch You Crying". The following year he recorded "Feliiz Navidad", a perennial Christmas favorite. It has been on the pop charts not only in 1970, but on twelve other seasons somewhere on the international charts. Over five decades José Feliciano has charted over sixty songs internationally, including eleven number one singles and another 21 singles onto international charts in the Top Ten.
José Feliciano has also appeared on a variety of TV episodes, including Kung Fu, Macmillan and Wife and Chico and the Man. He made a cameo appearance in the Academy Award Winning motion picture Fargo in 1995, where he performed his composition, "Let's Find Each Other Tonight".
In 1989, science fiction writer, Ray Bradbury, (The Martian Chronicles, Fahrenheit 451) asked Feliciano to compose music for "The Wonderful Ice Cream Suit," a play Bradbury was writing. With his wife, Susan, José composed over a dozen songs for the play. The play was performed at the Pasadena Playhouse and a celebrated success. In 2003, he collaborated with illustrator, David Diaz, publishing a children's book titled José Feliciano's Feliz Navidad: Two Stories Celebrating Christmas. More recently, Feliciano collaborated with Jools Holland releasing an album in 2017 titled As You See Me Now. Holland is a former member of the UK band Squeeze, a radio and TV show host and multi-talented musician. José Feliciano has been honored many times, including with a star on the Hollywood Walk of Fame. He lives with his wife, Susan, in their 275 year old home in Fairfield County, Connecticut.
March 6, 2017
Ray McGinnis
References:
Feliciano: A Name That is Synonymous With Music, José Feliciano.com
José Feliciano, "Let's Find Each Other Tonight," Fargo, 1995
John D'Agostino, Starting Over With the Country Life : Music: Songwriter Don Dunn Reached the Top–and the Bottom–Several years ago. Now He's Making a Run for the Money Again, This Time in Nashville, LA Times, March 19, 1991.
Music interview – Jools Holland and José Feliciano: 'We came together like John Lennon and Paul McCartney', Yorkshire Post, Leeds, UK, November 17, 2017.
Michael Feinstein, José Feliciano On 'Song Travels', NPR, March 29, 2013
Feliciano, José with David Diaz. José Feliciano's Feliz Navidad: Two Stories Celebrating Christmas. Cartwheel, 2003.
"Boss 30," CKLG 730 AM, Vancouver, BC, November 8, 1968.
For other reviews on this website visit the Countdown.