#645: Hold On! I'm A Comin' by Sam & Dave
Peak Month: June 1966
8 weeks on CKLG's Vancouver Charts
Peak Position ~ #3
Peak Position on Billboard Hot 100 ~ #21
YouTube.com: "Hold On! I'm A Comin'"
Lyrics: "Hold On! I'm A Comin'"
Samuel David Moore was born in Miami, Florida, in 1935. Dave Prater, Jr. was born in Ocilla, Georgia, in 1937. Prater was one of ten children. When he was in his teens he sang with a group called The Sensational Hummingbirds. He moved to Miami in 1957 and got some gigs at local nightclubs. But it wasn't enough to pay the bills. One night a local Miami R&B singer named Sam Moore was performing at the King of Hearts Club. Prater ended up singing a few duets with Moore onstage. The response was electric. Sam Moore had been raised in gospel music in his parents church. He sang with two the gospel quartets: The Gales and The Mellionaires. He was once invited to join the Soul Stirrers when Sam Cooke went solo in 1957, but Moore turned down the opportunity and kept on performing as a solo act in Miami.
Starting in 1961 Sam & Dave began to perform as a duo. However, Roulette Records put no effort into promoting the duo and their seven single releases with the label were commercial failures. They switched to Alston Records and a single release also flopped. In 1965 Sam & Dave moved to Stax Records. Their third single release, "You Don't Know Like I Know" cracked the Billboard Hot 100 and peaked at #7 on the R&B charts in 1965.
In 1966 Stax released the duo's fourth single with the label called "Hold On! I'm A Comin'".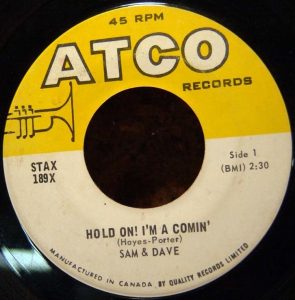 "Hold On! I'm A Comin'" was co-written by David Porter and Issac Hayes. The songwriting duo wrote several other songs for Sam & Dave, most notably "Soul Man" and "I Thank You". They also wrote hit R&B records for Carla Thomas, Johnny Taylor, Rufus Thomas, William Bell, James and Bobby Purify, and Mabel John. David Porter was born in 1941 in Memphis, the ninth of twelve children. He was a close friend and high school classmate of Maurice White, the founder of Earth, Wind and Fire. One afternoon in the late '50s, Porter walked across the street from the grocery store he was employed to the office of Satellite Records. He wanted to know if they'd be interested in recording some soul music, in addition to the country music they were known for. This opened the door to a relationship with Satellite and then Stax Records. Porter also wrote some minor hits for Earth, Wind and Fire, and Lou Rawls. Porter also recorded a number of his own albums with Stax between 1965 and 1974, while writing songs for other recording artists. In 2005 Porter was inducted into the Songwriters Hall of Fame. In 2015, Rolling Stone named Porter (together with Issac Hayes) at #75 on its list of the 100 Greatest Songwriters of All Time.
Issac Hayes was born in 1942 in Covington, Tennessee, 42 miles from Memphis. He was the child of a sharecropper and grew up working on farms. In his childhood he taught himself to play the organ, flute and saxophone. In his late teens he was a paid performer in R&B and blues clubs in Memphis. He went on to become a session musician for Stax Records. Hayes met David Porter in 1963 and the pair began to write songs. In addition to co-writing songs with David Porter, Hayes wrote his number one hit from 1971, "Theme From Shaft", an Academy Award winner for Best Original Song and Best Music in 1972. The album Shaft won a Grammy Award in 1972. In addition to Shaft, Hayes first won acclaim for Hot Buttered Soul in 1969. He won a Grammy again in 1973 for his album Black Moses. He also wrote songs for Dionne Warwick and Charles Wright & the Watts 103rd Street Rhythm Band. Between 1968 and 1995 Issac Hayes recorded over twenty studio albums. As an actor, Hayes appeared in nearly fifty TV and film productions, most notably in 136 episodes of South Park (1997-2006) doing the voice of Chef.
"Hold On! I'm A Comin'" offers the power of love as a remedy for depression and troubles: "Don't you ever be sad/Lean on me when times are bad/When the day comes and you are down/In a river of trouble and about to drown…" In this dynamic, sensual relationship sources of suffering and worry melt away in the face of the sure satisfaction of loving and being loved. Troubles and worry can lead to stress. However, psychologists have discovered that consentual sexual activity can actually reduce stress. The song advises that when enduring bad times a supportive loving relationship can help sustain individuals and give them resilience.
"Hold On! I'm A Comin'" peaked at #1 in Los Angeles, Cleveland, Chicago, Milwaukee and Birmingham (AL), #2 in Houston and Louisville, #3 in Vancouver, Atlanta and Detroit, #4 in San Jose, Oklahoma City and Boston, #6 in San Diego and #7 in Dallas. However, in twenty-seven states in the USA "Hold On! I'm Comin'" got little or no airplay. Although the song climbed to #3 here in Vancouver, just south of the border in Seattle the song stalled at #40. And in Canada it was only on the west coast that "Hold On! I'm Comin'" had any remarkable chart run.
Sam & Dave's biggest hit was "Soul Man" in 1967. Although the tune peaked at #2 on the Billboard Hot 100, it stalled at #16 on CKLG in Vancouver in November 1967. And in 1968 the duo's final Top Ten hit on the Billboard Hot 100, "I Thank You", which made it to #9 stalled at #15 on CKLG. Later that year "You Don't Know What You Mean To Me" made it to #22 on CKLG in Vancouver and #48 on the Billboard Hot 100. While they continued to release more singles, Sam & Dave fell off the radar as other soul recording artists crowded them out of the Top 40 on the pop charts and faired little better on the R&B charts. During a domestic dispute in 1968, Dave Prater Jr. shot and injured his wife. However, he was not charged. Nonetheless, the incident along with a variety of professional challenges soured the work relationship between Moore and Prater.
In 1970 Sam Moore and Dave Prater Jr. split up. Moore went solo and was making an album with King Curtis. However, Curtis was murdered at the age of 37 outside his Manhattan home in August 1971. The album was shelved. The tragedy was a catalyst for Moore and Prater to reunite and they performed as a duo for the rest of the decade. They performed together for the last time in San Francisco on New Years Eve 1981. That year Dave Prater Jr. was featured in Paul Simon's film One Trick Pony. along with Sam Moore.
In 1982 Prater began touring as Sam & Dave with Sam Daniels. Sam Moore sued to stop the duo from performing without much success. Prater and Daniels continued to tour as Sam & Dave until 1988.
In 1986 "Soul Man" had a second chart run on the UK singles chart climbing to #30. In 1988 Moore was featured in a film titled Tapeheads with soul recording star Junior Walker. The comedy film also featured Tim Robbins and John Cusack. It was produced by Mike Nesmith of The Monkees. In April 1988, Moore teamed up with the Elwood Blues Revue, that included Dan Aykroyd and The Blues Brothers Band. That same month Dave Prater Jr. died in a single-automobile accident. In 1990 Sam Moore went on tour with Eddie Floyd, Carla Thomas and Booker T & The MG's. In 1994 Sam Moore and Conway Twitty teamed up to record the Brook Benton classic "Rainy Night In Georgia". It became an adult contemporary music hit in Canada.
In 2008-2009 Sam Moore was on a worldwide symphony concert tour. In January 2009, Moore performed with Sting and Elvis Costello at President Barak Obama's Presidential Inaugural Ball. Later that year, at the Rock & Roll Hall of Fame's 25th anniversary concert at Madison Square Garden on October 29 and 30, 2009, Sam Moore performed "Soul Man" and "Hold On, I'm Comin'" with Bruce Springsteen & the E Street Band.
On January 19, 2017, Moore sang "America the Beautiful" at President Donald Trump's inaugural concert in Washington D.C. On September 1, 2017, 81-year-old Sam Moore appeared at the Royal Albert Hall BBC Proms with Jools Holland and his Rhythm & Blues Orchestra. His performance was part of a tribute concert celebrating the fiftieth anniversary of Stax Records and Southern soul music.
January 14, 2018
Ray McGinnis
References:
"Dave Prater, 50, Dies; Soul Singer of the 60's," New York Times, April 13, 1988.
About Sam Moore, Sam Moore.net.
Robert Strauss, "Sometimes the Grave is a Fine and Public Place," New York Times, March 28, 2004.
Dave Prater biography, TCM.com.
Andrew Goliszek, "The Sex-Stress Connection," Psychology Today, December 22, 2014.
"#75: Issac Hayes and David Porter," 100 Greatest Songwriters of All Time, Rolling Stone, December 14, 2015.
Tim Arnold, "Heart and Soul: Memphis Gets Its Mojo Back," Huffington Post, May 1, 2017.
"Silver Dollar Survey," CKLG 730 AM, Vancouver, BC, June 26, 1966.
For more song reviews visit the Countdown.