#477: Holiday by Nazareth
Peak Month: March-April 1980
12 weeks on CFUN's Vancouver Chart
Peak Position ~ #6
Peak Position on Billboard Hot 100 ~ #87
YouTube: "Holiday"
Lyrics: "Holiday"
William "Dan" McCafferty was born in 1946 in Dunfermline, near Fife, Scotland. His musical influences include Chuck Berry, Little Richard, Elvis Presley and Otis Redding. He learned to play the bagpipes and the talkbox in his teens, as well as becoming a singer. He formed a band in 1961 called the Shadettes. By 1963 McCafferty was performing professionally full time before audiences. Manuel "Manny" Charlton was born in 1941 in La Línea de la Concepción on the Bay of Gibraltar in Spain. In his youth he learned to play guitar. Charlton was in the Mark 5 and the Red Hawks before joining the Shadettes. Pete Agnew was born in Dunfermline in 1946. He learned to play rhythm guitar and bass guitar in his youth. Agnew joined the Shadettes in 1961. Darrell Antony Sweet was born in 1947 in the South Coast of England in Bournemouth. He was a piper in his youth and also learned to play drums.
In December 1968, the Shadettes changed their name to Nazareth. This was not inspired by the Biblical birthplace of Jesus of Nazareth. It was inspired from a line a song called "The Weight" by the rock group The Band. The lyrics were "I pulled into Nazareth, was feelin' about half past dead…" In this case, Nazareth referred to Nazareth, Pennsylvania. (Robbie Robertson, the writer of "The Weight", chose to place the lyrics in Nazareth (PA) because it was the home of Martin Guitars. Robertson wrote the song on a 1951 Martin D-28 guitar. The song is narrated from the viewpoint of a Bible Belt American Southerner, with riffs on Biblical stories: the Holy Family having no place at the inn to stay, the Devil sticking around to tempt Jesus, the disciple Luke depiction and anticipation of a Judgement Day, and Jesus being a "man of peace." Others mentioned in the song: "Anna Lee," "Carmen" and "Crazy Chester" were people Levon Helm knew in his hometown Turkey Scratch, Arkansas).
In 1970 Nazareth moved from Scotland to London and released their debut self-titled album the following year. After their second album, the band went on tour with Deep Purple in 1972. The following year they charted three hits on the UK Singles chart: "Broken Down Angel" peaking at #9, "Bad Bad Boy" peaking at #10 and "This Flight Tonight" climbing to #11. The latter was a cover of a song written by Joni Mitchell on their Loud N Proud album which was a #4 hit in Vancouver (BC), #1 in Germany, #2 in Austria and #5 in Switzerland. They also covered a Bob Dylan song, "Ballad of Hollis Brown", about a poor South Dakota farmer overwhelmed by desperation who kills his wife, children and finally himself. The song was a pointed tale of how people in modern mass society are cut off from each other.
In 1974 Narareth had some success with their single release "Shanghai'd in Shanghai", which peaked at #4 in Switzerland and #7 in Austria. Later that year "This Flight Tonight" became a Top Ten hit in Vancouver (BC). In 1975 Nazareth had another Top 40 hit on the UK Singles chart, a cover of British psychedelic band Tomorrow's hit "My White Bicycle", which peaked at #14 for the Scots. Nazareth's cover of the Roy Orbison classic, "Love Hurts", began to chart in Vancouver (BC). The single topped the charts for three weeks in January-February 1976. It also became the band's only Top 40 hit in the USA, peaking at #8 on the Billboard Hot 100. Elsewhere, "Love Hurts" topped the singles charts in Belgium, the Netherlands, Norway and South Africa. It also climbed to #2 in Denmark, #4 in New Zealand, #6 in Sweden and #8 in Australia.
In 1978 Nazareth had a #3 hit in South Africa called "Place in Your Heart". Also in 1978 Alistair Macdonald "Zal" Cleminson joined Nazareth. He was born in Glasgow in 1949. He taught himself how to play guitar and by 1970 was in a rock band called Tear Gas. From 1972 to 1978 Cleminson was a member of the Scottish glam rock band The Sensational Alex Harvey Band. He briefly formed the Zal Band. Then, at the end of 1978 he began touring with Nazareth, and performing on several albums. One of these was the band's eleventh studio album titled Malice in Wonderland. The lead single from the album was "Holiday".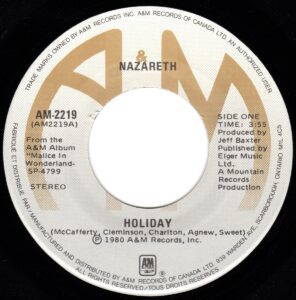 "Holiday" was cowritten by all five members of Nazareth. The song pokes fun at rich rock 'n roll stars and the social scene they can find themselves in, including driving jaguars and spending time with women who get facelifts. There are rich women being a bit too forward. The singers get a tip about the chance to get a cover story in Life magazine. Perhaps the rock stars are getting pressured to marry, as they sing "mama, mama, please no more husbands." But then, they sing "I don't know who my Daddy is," suggesting the song can be sung from the perspective of a child of one of the socialites living in the fast lane.
"Holiday" peaked at #4 in Lancaster (PA), #5 in Toronto, and #6 in Vancouver (BC).
After "Holiday" was released Zal Cleminson left Nazareth and toured with Midge Ure and Bonnie Tyler.
In 1983 the band released "Dream On", which peaked at number-one on the Polish Singles chart, #2 in Switzerland, #4 in Austria and #15 in Germany. Nazareth also had a #3 hit with "Love Leads To Madness" in South Africa, which also climbed to #13 in Toronto. As a band that covered many other recording artists material, Nazareth had some notable covers in the 80s, although they were not hit singles. These include "Morning Dew 81", a hit for Lulu in 1968. They also covered Big Brother and the Holding Company's "Piece Of My Heart" and the Rolling Stones "Ruby Tuesday".
Manny Charlton left Nazareth in 1990. Darrell Sweet died in 1999 of a heart attack. He was replaced by Pete Agnew's son Lee Agnew. In 2013 Dan McCafferty retired from touring with Nazareth. In 2018 Nazareth released their 24th studio album, Tattooed on My Brain. The current lineup has Carl Sentence on lead vocals, Pete Agnew on bass guitar, Jimmy Murrison on lead guitar and Lee Agnew on drums.
September 18, 2020
Ray McGinnis
References:
"Nazareth History," Nazarethdirect.co.uk.
Gary James, "Gary James' Interview With Pete Agnew of Nazareth," ClassicBands.com.
Mark Guarino, "Levon Helm and The Band: a Rock Parable of Fame, Betrayal, and Redemption," Christian Science Monitor, April 20, 2012.
Pierre Perrone, "Obituaries: Darrell Sweet," Independent, UK, May 10, 1999.
"CFUN Top 30," CFUN 1410 AM, Vancouver, BC, April 5, 1980.
For more song reviews visit the Countdown.