#552: Holiday Rap by MC Miker G & Deejay Sven
Peak Month: May 1987
9 weeks on CKLG's Vancouver Charts
Peak Position ~ #5
Peak Position on Billboard Hot 100 ~ did not chart
YouTube.com: "Holiday Rap"
Lyrics: "Holiday Rap"
Lucien Witteveen was a breakdancer and rapper, and Sven van Veen was a DJ. They both lived in the Netherlands. In 1986 they met at a disco in Hilversum. They knew the 1983 song by Madonna titled "Holiday". They pair decided to cut a demo rap version of the song they titled "Holiday Rap". They also used portions of the melody from Cliff Richard's 1963 hit "Summer Holiday". "Holiday Rap" was credited to MC Miker "G" & Deejay Sven. The first demo was not of suitable quality. So they got Dutch music DJ Ben Liebrand to produce the record.
The song was released in 1986 in the summer and became the number one song in the Netherlands for three weeks beginning on August 2. In Germany the song climbed to number one on August 25 and stayed there for five weeks. And in France "Holiday Rap" became the first rap single to top the nations pop chart on October 19, 1986, remaining there for the following week. And in Switzerland "Holiday Rap" peaked at number one on September 28, 1986.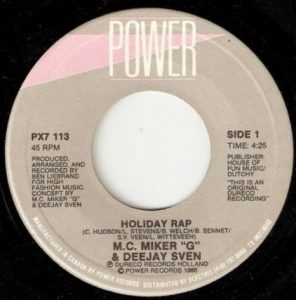 In "Holiday Rap" MC Miker "G" and Deejay Sven start the song by telling us they are going on a seven week holiday. In many European countries citizens can take many more weeks vacation then is standard in the United States where many people get two weeks off. In Italy, for example, it is typical to have 30 to 35 paid holidays, and in addition there are 11 national holidays. And when Italians get married in Italy they get 15 more days holiday. So, for many European listeners of "Holiday Rap" the idea of a seven week holiday sounded like a normal proposition.
In "Holiday Rap" the duo mention London, New York City and Amsterdam as places they include on their holiday. Some of the top sights tourists go to see in London include Buckingham Palace, Madame Tussauds wax museum, the Tower of London, Westminster Abby, Kew Gardens, some of the bridges along the Thames, and day trips to Windsor Castle or Stonehenge.
In New York City tourists often visit Times Square, Central Park, boat tours around Manhattan, the Statue of Liberty, live theatre near 42nd Street, the Empire State Building, Metropolitan Museum of Art, the High Line, the Tenement Museum in the Lower East Side, the Catacombs of the Basilica of St. Patrick's Old Cathedral, the Riverside Church, 9/11 Memorial & Museum, and Rockefeller Center. Those staying longer include trips to Brooklyn, Harlem, Coney Island, Queens and further east on Long Island to the Hamptons.
In Amsterdam some of the most popular places to visit include the Rijksmuseum, the Anne Frank House, the Van Gogh Museum, the Jordaan neighborhood, Vondelpark, canal boat rides, the Rembrandt House Museum, renting a bike, and day trips to the Dutch countryside.
In the song the duo let listeners know that "Miker" is short for microphone, and "G" is short for genius. They also explain "bite is the thing most rappers do, but I can write my own thing to." In early rap slang, to "bite" meant to rip off another person's style, especially concerning music or fashion. However, MC Miker "G" and Deejay Sven point out they can write their own lyrics. So they aren't plagiarizing anyone.
At one point in "Holiday Rap" the singer invites listeners to hear their beatbox. Beatbox is a form of vocal percussion primarily involving the art of mimicking drum machines by using one's mouth, lips, tongue, and voice. It may also involve vocal imitation of turntablism, and other musical instruments. Beatboxing today is often referred to as "the fifth element" of hip-hop.
Of those given songwriting credits for "Holiday Rap", were Brian Bennett and Bruce Welch. Brian Lawrence Bennett was a drummer for Cliff Richard's backing band, The Shadows. Bennett co-wrote "Summer Holiday" with Welch. Bennett wrote many instrumentals and songs for The Shadows, including "The Rise And Fall Of Flingle Bunt". Bennett was born in London in 1940 and joined The Shadows in 1961. By the mid-70's, Bennett became an arranger, conductor and record producer, composer for film and TV. Some of his scores include for the TV shows Dallas and Knotts Landing. In 2004, Brian Bennett was awarded an OBE at Buckingham Palace from Queen Elizabeth II. "Summer Holiday" co-writer, Bruce Welch (born Bruce Cripps in London in 1941), was a guitarist with The Shadows. Over his career he has written and arranged over 900 songs. These include "If Not For You" by Olivia Newton-John and Roger Whitaker's 1986 album, The Genius Of Love. In 2004, Welch also received an OBE (Order of the British Empire). "Summer Holiday" was one of several #1 hits in the UK from the 1963 film of the same name.
The other songwriters credited on "Holiday Rap" include Lucien Witteveen and Sven Van Veen, as well as the pair who wrote "Holiday" for Madonna, Lisa Stevens and Curtis Hudson.
"Holiday Rap" peaked at #3 in Hamilton (ON) and #5 in Vancouver (BC). In addition to topping the charts in four countries in Europe, "Holiday Rap" peaked at #2 in Austria, #3 in Norway, #6 in the UK and #7 in Sweden. Despite the song's success the official video for "Holiday Rap" has been judged by music critics more recently as one of the worst music videos from the 80s.
The duo did a rap version of Kool and the Gang's "Celebration" called "Celebration Rap". The song made the Top Ten in a number of European countries, and 30 nations around the world. In 1987 Witteveen and Sven mounted an extensive European tour. But after the tour they disbanded. After disbanding, DJ Sven continued to work on music-related productions while MC Miker G suffered from drug addiction and was homeless for several years. In 1988 they returned to the recording studio to record "And the Bite Goes On". In 1989 the duo released "Nights In New York" which climbed to #15 on the Netherlands pop chart. They had two more Top 30 hits in the Netherlands into 1990, the last being "Show'm the Bass". More singles such as "Holiday Rap '91" failed to chart.
In 1989 Russian singer Sergey Minaev did a cover of "Holiday Rap" in Russian titled "DJ Rap". Between 1985 and 2003 MC Miker "G" released a dozen solo singles that were mostly played in dance clubs.
In most countries around the world MC Miker "G" and Deejay Sven are known as one-hit-wonders. DJ Sven has more recently been co-hosting the daily "Somertijd" show, from 2003 until 2014 on Radio Veronica, and since 2015 on Radio 10. In 2009 MC Miker G (Lucien Witteveen) performed mature and personal rap songs as 'Lions Den'.
October 4, 2019
Ray McGinnis
References:
Alex Ogg, The Hip Hop Years: A History of Rap, (MacMillan, 1999) 233.
"Miker G and DJ Sven," Wikipedia.org.
"New York City Activities," Trip Advisor.ca.
"London, UK," Trip Advisor.ca.
"Amsterdam Activities," Trip Advisor.ca.
"A Beginner's Guide to Beatboxing," Human Beatbox.com, March 21, 2017.
Brian Bennett biography, Brian Bennett Music.co.uk
Bruce Welch bio, Wikipedia.org
Peter Yates – director, Summer Holiday, Warner-Pathe, 1963.
"CKLG Top Thirty," CKLG 730 AM, Vancouver, BC, May 26, 1987.
For more song reviews visit the Countdown.