#1017: Home of The Brave by Jody Miller
Peak Month: September 1965
7 weeks on Vancouver's CFUN chart
Peak Position #4
Peak Position on Billboard Hot 100 ~ #25
YouTube.com: "Home Of The Brave"
"Home Of The Brave" lyrics
Myrna Joy Miller was born in Phoenix in 1941. The youngest of five girls, Miller's family spent some of her early years in Oakland, California. Around the age of six, her older sister, Pat, would play the guitar and encourage Jody to sing. By the age of seven her parents were entering her in amateur contests around Oakland. A year later Jody was sent to Blanchard, Oklahoma, where she learned to play the piano while living with her fiddle-playing grandmother. In 1949, she heard Mario Lanza sing "La donna è mobile." Jody Miller recalls once she heard Lanza's song, she determined she would be a singer. Miller got her start singing in folk clubs in Oklahoma. She moved to Los Angeles and was discovered by western movie actor and fellow Oklahoman, Dale Robertson, while she was performing at the Troubador nightclub.

In early 1964 Jody Miller released a song titled "He Walks Like A Man," that was an answer song/commentary on the Four Seasons Top Ten hit, "Walk Like A Man" from early 1963. Her single climbed to #1 in San Bernadino and #4 in San Diego. In 1965 Jody Miller released another answer song. This time it was in response to Roger Miller's "King of the Road". Her tune, "Queen of the House", set a pattern of releasing either answer songs or covers of other original recordings. That year she covered Dusty Springfield's "Silver Threads And Golden Needles".
Overlapping with the passage of the Voting Rights Act of 1965 in America, Jody Miller released "Home of the Brave". It became a top ten hit in Canada, but only peaked at #25 in the USA. It was a hippie protest anthem: "the school board says he can't come to school no more, unless he wears his hair like he wore it before…" The lyrics didn't sit well with some Americans in a country busy drafting soldiers for the Vietnam War. However, the refrain, "home of the brave, land of the free, why won't you let him be what he wants to be," was cheered by radio audiences in Vancouver, taking the tune to #4 on the local charts. South of the border the song charted well in these radio markets: Grand Rapids, Michigan (#1), Syracuse, New York (#2), Pensacola, Florida (#3), Bute, Montana (#4) and Santa Rosa, California (#7).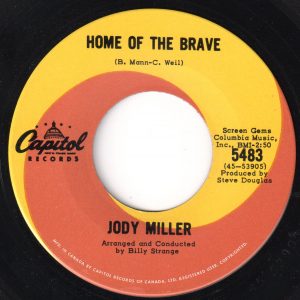 With its concern for tolerance, "Home Of The Brave" urged listeners to make more space for people who were outside the norms of society. The subject of the song concerns a boy who wears long hair and clothes that don't conform to the typical clothes boys (or young men) wore to school. As a result the school board has made a ruling that the boy isn't allowed to return to school unless he cuts his hair. The PTA (Parent-Teacher Association) "and all of the mothers" join in with the conventional view that this boy needs to be singled out and made an example of. If this boy is allowed to wear long hair, other boys may also start to wear their hair long. In the mid-60's it was a concern that if boys wore their hair longer people wouldn't be able to tell the boys apart from the girls. In addition, this boy is someone who is the only one whose saying something in this whole town. Not only does this boy dare to be different, he also is thoughtful and an independent thinker. The school board, PTA and the mothers want to solve the problem of this boys nonconformity by punishing him. However, the song argues that the way forward is to just try to understand this nonconforming student.
Starting in the mid-50's with the Beatniks and then the Hippies, long hair on men represented a rebellion against the clean-cut image that had prevailed during previous decades. This spawned films like 1959's The Beat Generation which examined "the weird, way-out world of the Beatniks!"

Hippies often wore their hair down to their shoulders and longer as a sign of protest against America's escalating involvement in the Vietnam War. They also wore long hair to set themselves apart from mainstream consumer society. Getting hair cut short represented conforming to what one's employer wanted their employees to look like on the job. For many youth the "rat-race" offered no comfort in the face of ethical issues their world was up against. These included the fear of nuclear annihilation, the dangers of air pollution, the need for Civil Rights and for African-Americans to be able to vote, feminism and the "Gay Rights Movement." A slogan at the time was "Turn On, Tune In and Drop Out."
The popular 1968 Broadway musical, Hair, dramatized the importance of long hair as a symbol of anti-conformist feelings of the youth of the 1960s. Many people, especially older people, saw the increasing length of men's hair as a challenge to the conservative values of patriotism, religion, and masculinity. Some people got aggressively angry, threatened or attacked men with long hair. Many schools and businesses made rules about the acceptable length of men's and boys' hair.
In Jeff Poniwaz poem, Why Young Men Wore Their Hair Long In The Sixties, are included these lines:
…Because even as kids in the '50s they could feel
the wilds dwindling, and were given crewcuts
soon as school let out for the summer,
Because they didn't care if some bigot
thought they looked like girls–
they were unmistakable male to themselves
and weren't afraid to accept the female
half of their soul and love… Mother Earth…
Because even their European… granddaddies
all had long hair before they cut down
the forests to make room for cities
with barbershops…
Because Elvis's duck's-ass outraged the '50s
as much as the Beatle-cut outraged the '60s…
And long-hair music has been letting its own long hair down
much longer than "Roll Over Beethoven"…
Because Whitman shook his white locks at the runaway sun
while loafing on a hill of summer grass,
"And now it seems to me the beautiful uncut hair of graves,"
he wrote observing the flowing grass,
Because Rock'n'Roll pit its ecstasy
against the nightmare madness of war…
Because hair longs to be long…
Because long hair means a wilderness
and short hair means a lawn…
Because the first thing they do in a prison,
an insane asylum, or the Marines
is shear off all your hair exactly like sheep…
What societal and political events today might poets, singer-songwriters, artists and others creatively respond to in order to address contemporary expressions of intolerance?
Jody Miller continued to make minor pop hits in the '60's and performed on TV alongside other artists like The Righteous Brothers, Sonny and Cher and The Rolling Stones. She also toured with the Beach Boys in Hawaii and Bob Hope in Alaska. In the 1970's Jody Miller crossed over to country music primarily releasing covers of pop from the 50's and 60's. These included "He's So Fine", "Be My Baby", "To Know Him Is To Love Him", House Of The Rising Son" and "Baby, I'm Yours". The 70's were a productive decade for her with eight albums and 27 country singles. In 1979 Miller retired to her Oklahoma farm to breed and raise horses. Late in the 1980's she released some recordings of Gospel music.
September 3, 2017
Ray McGinnis
References:
Bio – Jody Miller, Jody Miller Music.com.
The Beat Generation, Metro-Goldwyn-Mayer, 1959.
Long Hair for Men, Fashion Encyclopedia.com.
Sully0020, Turn On, Tune In, Drop Out: Counterculture of the 1960s, YouTube.com, January 13, 2012.
Hair, YouTube.com
Kathy Henderson, "How Hair's Nude Hippies Changed Broadway Forever," Broadway.com, March 5, 2009.
"C-FUNTASTIC FIFTY," CFUN 1410 AM, Vancouver, BC, September 25, 1965.
For more song reviews visit the Countdown.