#671: My Home Town by Seeds Of Time
Peak Month: October 1970
7 weeks on CKVN's Vancouver Charts
Peak Position ~ #5
1 week Hit Bound
Peak Position on Billboard Hot 100 ~ did not chart
YouTube.com:"My Home Town"
The Seeds of Time were a garage rock band formed in 1965 in Vancouver by a number of high school buddies. Co-founder, Gary Wanstall, was nicknamed "Rock." At the time Norton Motorcyles made a motorcycle model named the Rocket. The newly formed band agreed that extending his nickname from Rock to Rocket, and adding Norton as the surname had a good ring to it. Norton played drums while Frank Brnjak and Bob Kripps played guitar, there was John Hall on organ and Steve Walley on bass. It was Bob Kripps who suggested the band's name, after several underwhelming ideas had been run up the flagpole. Kripps had been reading a science fiction book by John Wyndham called the Seeds of Time. He proposed the book title be the name of the band and everyone agreed. The band got financing help from the very entrepreneurial Steve Grossman. Grossman was a DJ on CKLG and began his stint on the station under the moniker of Stevie Wonder in the fall of 1966 while he was still in Grade 12 at Kitsilano High School. Those 45 RPM singles and albums were recorded between 1969 and 1971, with Grossman's help.
Rocket Norton recalled some of his experience of being in the Seeds Of Time: It was 1967 and the SEEDS OF TIME hit the road. It almost killed us … the drugs, the booze, the sexy girls and five guys in a van hurling along treacherous mountain highways in the dead of winter. It was glorious! We had a band house. It was one of those hippie communes you may have read about … a so-called utopian society where everyone was equal and you were allowed – no, encouraged – to do what you want. There were no rules in our lives and no game-clock. I never owned a wrist watch; didn't need one. Even when we gave up the house and scattered like rats we still abided by our mantra, "Fun! Not boring!". Inevitably, that led to heroin, cocaine and alcohol addiction … not really a lot of fun. But, the never ending wild sex was pretty cool! Somehow, we managed to write and perform some very good rock & roll. Recording was a bit of a problem though as it required organizing and scheduling… Still, our first single, My Home Town, was released in 1969 and was a modest hit across the country. Later, Cryin' The Blues, did even better… But, that was it. By 1975 drug & alcohol abuse took its toll. The band didn't break up. Fittingly, it just OD-ed.
By 1969, after a number of changes in their line-up, the Seeds of Time were lead vocalist Geoff Eddington, Lindsay Mitchell on guitar, along with original bandmates Rocket Norton, Steve Walley and John Hall. With this line-up the band released their first single, "My Home Town", which climbed to #5 on CKVN in Vancouver in October 1970.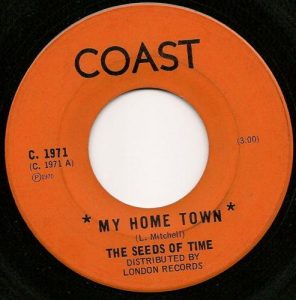 "My Home Town" is a song about a girl and a boy who live in the same town. He refers to himself as a hobo, and brags that he's got this girls' soul. "My, my, my, my." The song climbed to #5 in Vancouver, #11 in Chilliwack and #26 in Toronto. Their follow up hit in the summer of 1971 was "Cryin' The Blues".
After the Seeds of Time disbanded in 1974, several former musicians who'd been in the band's line-up at one time or another formed a new band called Prism. The core of Prism were former Seeds of Time members, drummer Rocket Norton, guitarist Lindsay Mitchell, and bassist Al Harlow. Between 1977 and 1984 Prism released six studio albums, one live album and one compilation album. But the groups lead singer, Ron Tabak, died after being hit in a bicycle accident in December 1984. Several revised versions of Prism toured at times in the succeeding decades. On May 22, 2015 a "Local Legends of Rock" concert featuring Ab Bryant, John Hall, Al Harlow, and Rocket Norton, was held in Lynn Valley, North Vancouver.
December 7, 2018
Ray McGinnis
References:
Grant Lawrence, "Positively 4th Avenue: the Rise and Fall of Canada's Hippie Mecca," Vancouver Courier, October 19, 2016.
Norm Williams (and Larry Niven), Seeds of Time, PNWBands.com, February 2006.
Xavier Diaz, Al Harlow, Lindsay Mitchell, Prism, Canadian Bands.com.
"Your Average Rock & Roll Radio Survey," CKVN 1410 AM, Vancouver, BC, October 30, 1970.
For more song reviews visit the Countdown.