#961: Hootenanny by The Glencoves
Peak Month: July 1963
7 weeks on Vancouver's CFUN chart
Peak Position #6
Peak Position on Billboard Hot 100 ~ #38
YouTube.com: "Hootenanny"
Lyrics: "Hootenanny"
The Glencoves were a folk group formed in 1961 in Mineola, Long Island, New York. Their membership consisted of lead vocalist and banjo player Don Connors, backing vocalist and guitar player Bill Byrne, backing vocalist John Cadley and backing vocalist and guitar player Brian Bolger. John Cadley began playing guitar at the age of 13 after hearing a recording of the Kingston Trio in 1959. Of the Glencoves, John Cadley is the one member who has remained in the music business over the decades.
Bill Byrne was raised in New York City and was exposed to the folk music scene and influenced by The Brothers Four, Peter, Paul and Mary, The Ramblers, Bob Dylan, The Highwaymen and others. Byrne recalls in a 2011 interview that he was a singer and owned a guitar. However, he says, "because I wasn't good enough to play" guitar on stage he sang in concert and played guitar in private, and for friends and family, in his own at home where he kept on playing and cultivating his love of music.
The Glencoves had a hit single with their Select Records release "Hootenanny", which peaked at #38 on the Billboard Hot 100 in July of 1963. The song's title refers to the folk singalongs that became popular on college campuses during the folk revival of the 1960's. "Hootenanny" peaked at #6 in Vancouver.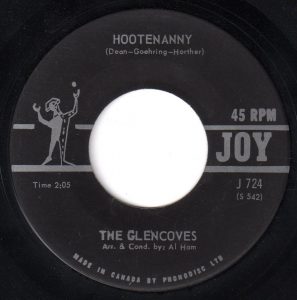 "Hootenanny" is a song about getting ready to go a hootenanny with friends, boyfriends, girlfriends and musical instruments. Hootenanny is an Appalachian colloquialism that was used in early twentieth century America as a placeholder name to refer to a thing whose name a person couldn't remember at the time or whose name was unknown. In this usage, it was synonymous with thingamajig or whatchamacallit. An example is "hand me that hootenanny," in the case where someone can't remember what the word is for the object in question (i.e. spatula, wrench, soother etc.) Hootenanny was also an old Appalachian country word for "party."
By the late 1930's the word "hootenanny" had spread far beyond the Appalachian hills of West Virginia, Kentucky and Tennessee across to Washington State. According to Pete Seeger, he first heard the word hootenanny in Seattle, Washington in the late 1930's. It was used by Hugh DeLacy's New Deal political club to describe their monthly music fund raisers. DeLacy, at the time sat on the Seattle City Council and later became a member of the U.S. Congress when he was elected for one term in 1944. After some debate in 1937, the New Deal club voted in the word hootenanny to describe their monthly musical fundraisers. "Hootenanny" narrowly beat out the word "wingding."
Pete Seeger and Woody Guthrie used the word "hootenanny" in New York City to describe their weekly rent parties, which featured many notable folksingers of the time. In 1940 Seeger, Guthrie, movie and TV screenwriter Millard Lampell and Lee Hays (the eventual bass singer for The Weavers and co-writer of "If I Had A Hammer") formed The Almanac Singers. The group performed many songs, especially pro-union, anti-racism and anti-war songs. They wore street clothes, which was unheard of in an era when entertainers routinely wore formal, night-club attire, and they invited the audience to join in the singing. In 1942 U.S. Army Intelligence and the F.B.I. concluded that The Almanac Singers were seditious. The Almanac Singers disbanded by 1943.
In 1947, Seeger compiled a booklet titled How To Run a Hootenanny describing the formula of a folk jam session as containing "something old, something new, something borrowed, something blue" (a phase original to fashion tips for the wearing apparel of brides-to-be). Seeger created the booklet to help address what he referred to the "tremendous surge in singing, strumming and picking which has swept the U.S.A…. reviving the great tradition of people making their own music. The mix of songs in the traditional folk music lexicon drew from "ballads, music hall songs, art songs and current popular songs of the time." After World War II, from 1946 onward, there were regular "Hoots" held at a variety of halls and parks in New York City, especially Town Hall and in Washington Square. Among the performers who sang and played at these hootenannies were Leadbelly, Woodie Guthrie and Leon Bibb. Bibb performed at the Coliseum on August 4, 1968, with Bill Cosby. Bibb moved to live in Vancouver in 1969 and continued to perform into his late 80's. In 2009 he was awarded the Order of British Columbia. He died in 2015.
At a hootenanny there was always audience participation. Hootenanny audiences came expecting to sing as much as possible, and Seeger wrote "it is a wonder to watch the amazement on a trained musician's face as he sees (and hears) these young people picking up intricate parts and unusual harmonies with the greatest of ease. In a 1962 interview in Time, Joan Baez made the analogy that a hootenanny is to folk singing what a jam session is to jazz. Hootenannies served as the basis for musical comments on the current events. In general, these musical comments reflected a left-wing political outlook characterized by belief in and support for trade unions, world peace, co- existence with Russia and antagonism toward supporters of right-wing politicians like Wisconsin Senator Joseph McCarthy and Alabama Governor George Wallace.
Hootenanny was also a TV show on ABC from April 1963 to September 1964. The program primarily featured pop-oriented folk music acts, including The New Christy Minstrels, The Brothers Four, Ian & Sylvia, Hoyt Axton, Judy Collins, Johnny Cash, The Carter Family, The Tarriers, and the Smothers Brothers. Although both popular and influential, the program is primarily remembered today for the controversy created when the producers blacklisted Pete Seeger and The Weavers. This led to a boycott of Hootenanny by Peter, Paul & Mary, Bob Dylan, Joan Baez, Tom Paxton, The Kingston Trio, Phil Ochs and other folk musicians.
The Glencoves "Hootenanny" did well in numbers of radio markets across North America in addition to Vancouver. These included #6 in Columbus, Ohio, #9 in Erie, Pennsylvania, #14 in Chicago, #4 in Kingston, Ontario, #8 in Montreal and Kansas City, Missouri. The song was co-written by George Goehring, Eddie Deane and Peg Horther. Eddie Deane wrote songs that were recorded by Guy Mitchell ("Rock-A-Billy"), Cathy Carr, Mike Douglas ("The Men In My Little Girl's Life"), Freddy Cannon and Linda Ronstadt. Deane also recorded several tunes in 1962 hoping to be a pop star with "Tall Skinny Girl And A Short Fat Fella". The song was a commercial failure. George Goehring wrote songs for Connie Francis ("Lipstick On Your Collar"), Guy Mitchell, Petula Clark, Anita Bryant, The Brothers Four, Gene Pitney ("Half Heaven, Half Heartache"), Diane Ray, Barbra Streisand, Elvis Presley and The Platters. Meanwhile, Peg Horther, was a one-hit-wonder with "Hootenanny" as the only song she charted as a songwriter.
In 1963, and into the spring of 1964, there were numerous songs recorded that included the "Hootenanny" in the song title. These included Al Casey's "Surfin' Hootenanny", Sheb Wooley's "Hootenanny Hoot", The Brothers Four's "Hootenanny Saturday Night", Arthur Godfrey's "Hootenanny Dixie Band", Jim Love's "Hootenanny Granny", The Challengers "Hot Rod Hootenanny", Gene Chandler's "Soul Hootenanny", "Hootenanny Stomp," the Canadian Sweethearts' "Hootenanny Express," Paul & Paula's "Hootenanny Holiday", The Atlantic's "Hootenanny Stomp" and The Vanguard Voyagers' "Hootenanny 1984," as well as "Surfenanny", "Shoutin' Hootenanny" and "Hootenanny Song".
The B-side to "Hootenanny" was "It's Sister Ginny's Turn to Throw The Bomb". The song drew from the theatrical and comedic strain in folk music and is an example of the left-wing spoofing its extreme elements. "It's Sister Ginny's Turn To Throw The Bomb" was a folk lampoon of anarchism that would never air on radio today. Here are the lyrics:
In an anarchist's attic, so dreary and so mean,
oh, smell the fearful odor of nitro-glycerine.
They're busy building bombs, and filling cans with nails,
and the little starving kiddies set up this tearful wail.
Oh, its Sister Ginny's turn to throw the bomb,
the last one was thrown by Brother John.
Mamma's aim is bad and the Copskys all know Dad,
so it's Sister Ginny's turn to throw the bomb.
In a dark and dreary attic all filled with nitro-fume,
they spend each waking hour all planning others doom.
They build bombs every morning so not a day goes by,
that from some smoking building goes up this mournful cry.
Oh, its Sister Ginny's turn to throw the bomb,
the last one was thrown by Brother John.
Mamma's aim is bad and the Copskys all know Dad,
so it's Sister Ginny's turn to throw the bomb.
Their taught bomb-building from the day they're born,
and peace is something they all learn to scorn.
They can hardly wait to hear the blast and hear the noise,
and watch the heads go flying off little girls and boys.
Oh, its Sister Ginny's turn to throw the bomb,
the last one was thrown by Brother John.
Mamma's aim is bad and the Copskys all know Dad,
so it's Sister Ginny's turn to throw the bomb.
She was maiming little children one fine day,
when her older brother swore she had to pay.
Put his tooth into the pin, the whole darn house caved in,
and I bet she's building bombs below this day.
Oh, its Sister Ginny's turn to throw the bomb,
the last one was thrown by Brother John.
Mamma's aim is bad and the Copskys all know Dad,
so it's Sister Ginny's turn to throw the bomb.
After "Hootenanny", The Glencoves released three more singles from August 1963 into early 1964. The songs, "Don't Knock", "Devils' Waitin" and "Keep Away From My Gal" all missed the Billboard Hot 100 and gained little attention. The group disbanded in 1964.
Bill Byrne went on to become a Peace Corps volunteer, wanting to change the world. He got married and relatives on his wife's side of the family included numbers of lawyers. Byrne got interested in law as a way he could make a difference in the world working for legal aid. Eventually, he started a private practice in law and went on to become a judge. He later became mayor of Morgantown, West Virginia, and served into the 2010's as a Morgantown City Councilor.
John Cadley moved to Syracuse to earn his master's degree at Syracuse University in the 1970s, Cadley focused on his copywriting career. Around 1990 he joined Eric Mower and Associates in Syracuse and for over two decades wrote copy for clients like Kodak, LENOX Industrial Tools, FedEx, Crouse Hospital and BlueCross BlueShield. Cadley has received numerous industry awards recognizing his excellent work. Meanwhile, Cadley has continued to perform bluegrass music with the Down City Ramblers, Cross Creek and the Texas Hots. For the past two decades his band, John Cadley & the Lost Boys, have been based in Syracuse. He is also half of the duo John Cadley and Cathy Wenthen. The duo later married and are now billed as The Cadleys. John Cadley has also written songs covered by other recording artists, including "Time" which Lou Reid took to #1 for three months in 2005 on the American Bluegrass chart. As of early November The Cadleys have eleven upcoming scheduled concerts across seven municipalities in New York State.
November 8, 2017
Ray McGinnis
References:
Rob Fletcher, There's Gonna Be A Big Hootenanny, Bill Byrne on Collaboration, Music and Having a Top 40 Hit, Quixote Consulting.com, Ervinv, MA, April 29, 2011.
The Cadleys – About, Cadleys.com.
Hootenanny: more than just a knees-up, Oxford Dictionaries Blog, August 7, 2017.
Hootenanny (U.S. TV series), Wikipedia.org.
Hootenanny, Wikipedia.org.
"C-FUNTASTIC FIFTY," CFUN 1410 AM, Vancouver, BC, July 13, 1963.
For more song reviews visit the Countdown.