#161: Hot Legs by Rod Stewart
Peak Month: April 1978
14 weeks on Vancouver's CFUN chart
Peak Position #3
Peak Position on Billboard Hot 100 ~ #28
YouTube: "Hot Legs"
Lyrics: "Hot Legs"
Roderick David Stewart was born in London, England, in 1945. In 1956 he got introduced to rock 'n roll when he saw Bill Haley and His Comets in concert, and heard Little Richard's "The Girl Can't Help It". He was given a guitar by his dad in 1959, and he learned to play the Kingston Trio's "A Worried Man". He quit school at age 15 and worked as a newspaper boy. He auditioned with Joe Meek in 1961, but didn't get a record deal. By 1963 he was part of an R&B band called The Dimensions. In 1965 he teamed up with Long John Baldry, Julie Driscoll and Brian Auger to form a blues band called Steampacket. This lasted another year. Eventually, Stewart became part of the Jeff Beck Group in 1967. When that band broke up in the fall of '68, Rod Stewart got invited to join the reformed Small Faces, who were now just called Faces.
The Faces played a rowdy, brawling brand of rock that could make a large arena seem like a corner bar. Rod Stewart's raspy, soulful vocals and the musicianship of other Faces bandmates made the group a rival live act to the Rolling Stones. Their onstage performances paved the way for punk bands like the Sex Pistols. They also were influences for roots bands decades later like the Georgia Satellites and the Black Crowes.
The Faces made four studio albums with A Nod Is as Good as a Wink… To a Blind Horse in 1971 their biggest seller. Their first hit single, "Stay With Me", went to #6 in the UK, #17 in the USA and #1 in Vancouver.
Meanwhile, Stewart also embarked on a parallel solo career. In 1970 he released Every Picture Tells A Story. The album was released with the double-sided hit number one hit "Maggie May" and "Reason To Believe". The followup single from the album was a cover of a Temptations hit from the mid-sixties titled "(I Know) I'm Losing You".
In the fall of 1972 Stewart's single from Never A Dull Moment, "You Wear It Well", peaked at #8 in Vancouver (BC) and #13 on the Billboard Hot 100. It also became his second chart topping single in the UK. Between 1973 and 1975 Stewart charted four singles into the Top Ten on the UK charts: "Oh! No Not My Baby", the medley "Farewell/Bring It On Home To Me/You Send Me", a cover of the Isley Brothers "This Old Heart Of Mine"; And a number one hit in England titled "Sailing", later covered by Joan Baez on her Blowin' Away album in 1977.
But Stewart waited for four years to return to the Top Ten in most North American radio markets in 1976 with "Tonight's The Night", from his A Night On The Town album. He was a common Top Ten feature in Vancouver (BC). In 1977-78 Rod Stewart had Top 30 hits starting with "You're In My Heart", "I Was Only Joking" and "Hot Legs".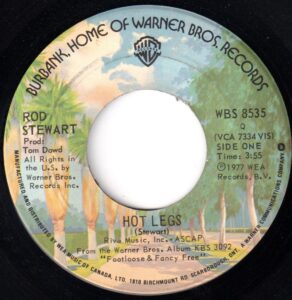 "Hot Legs" is a track from the album Foot Loose & Fancy Free. It was written by Rod Stewart and Gary Grainger. Born in Hastings, Sussex, England, in 1950, Gary Grainger joined the Faces on tour starting in 1974. And in 1976 Grainger became a member of the Rod Stewart group. In addition to cowriting "Hot Legs", he also cowrote a second single from Foot Loose & Fancy Free: "I Was Only Joking". For the next album, Blondes Have More Fun, Stewart Grainger cowrote four tracks including the hit single "Ain't Love A Bitch". And in 1981, Grainger cowrote "Passion", a hit single from the album Foolish Behaviour. Gary Grainger subsequently was a session musician for Nick Lowe. In 2007 he toured as part of the backing band with The Who.
"Hot Legs" is about a sexual relationship with a very young seventeen year old female. The guy who loves Hot Legs asks "Are you still in school?" As well, he lists some of the things she does: "wear me out," "scream and shout," "scratch my back," and "bring your mother too."
"Hot Legs" peaked at #3 in Vancouver (BC), #6 in Springfield (MA), #7 in San Diego, Los Angeles, Houston, #8 in Toronto, #9 in Kansas City (MO), Corpus Christi (TX), New Haven (CT), La Crosse (WI), and Carbondale (IL), and #10 in Anaheim (CA). Internationally, "Hot Legs" climbed to #4 in Ireland and #5 in the UK.
Stewart continued to have chart successes in the late 70s, and into the 80s with "Do You Think I'm Sexy?", "Ain't Love A Bitch", "Passion", "Young Turks", "Tonight I'm Yours (Don't Hurt Me)", "Baby Jane", "Infatuation", "Love Touch", "Forever Young", "My Heart Can't Tell You No", "Crazy About Her", "This Old Heart Of Mine", "Downtown Train", "Broken Arrow", "Rhythm Of My Heart" and "The Motown Song".
In 1993 Stewart recorded a song with Sting and Bryan Adams titled "All For Love", which climbed to #1 in many countries. Since 1977 Rod Stewart has mounted over thirty tours. He has sold over 200 million records. He has been nominated fifteen times for a Grammy Award, and won once in the category of Best Traditional Pop Vocal Album for Stardust: The Great American Song Book Volume III, in 2004. He has also been nominated seven times for a Juno Award in Canada. He also has a star on the Hollywood Walk of Fame.
On October 1, 1977, April 14th and 15th, 1979, December 7, 1981, July 11 and 12, 1984, August 20, 1988, and December 11, 1993, Rod Stewart appeared in concert each time at the Pacific Coliseum. Amongst these concerts, On July 16, 1989, and December 9, 1991, Stewart performed at BC Place Stadium.
Rod Stewart performed in concert in Vancouver each time at General Motors Place on the following dates: April 15, 1996, September 11, 1998, May 4, 1999, June 1, 2001, March 17, 2004, March 10, 2007, and August 8, 2009. Subsequently, at Rogers Arena, Rod Stewart appeared in Vancouver on April 22, 2011; August 2, 2014, and later on April 10, 2018.
May 23, 2022
Ray McGinnis
References:
John Walsh, "The Saturday Profile: Rod Stewart, Rock Star: Do ya Still think I'm Sexy?," Independent, UK, December 5, 1998.
"Stewart Goes Beneath the Covers," BBC, December 23, 2006.
Matthew Taylor, "Five decades of rocking and 62 hits earn Rod CBE," Guardian, December 30, 2006.
"C-FUN Top Thirty," CFUN 1410 AM, Vancouver, BC, April 8, 1978.
For more song reviews visit the Countdown.