#990: Hotel Indiscreet by Sagittarius
Peak Month: October 1967
5 weeks on Vancouver's CKLG chart
Peak Position #4
Peak Position on Billboard Hot 100 ~ #70
YouTube.com: "Hotel Indiscreet"
Lyrics: "Hotel Indiscreet"
Gary Usher was born in Massachusetts in 1938 and grew up in the community of Grafton. After graduating from high school in 1957, Usher headed to California and was a musician in a few local rock 'n roll bands. As it happened, Gary Usher's uncle was a neighbor of Brian Wilson of The Beach Boys over in Hawthorne, a suburb of Los Angeles. Usher and Wilson ended up co-writing a number of songs for The Beach Boys including "409" and "In My Room". The latter was a Top 30 hit in America in December 1963. Gary Usher also produced records in the mid-60's for The Byrds, The Peanut Butter Conspiracy, The Hondells and others. After considerable success as a producer, he eventually became a staff producer for Columbia Records. It was at this position that, during 1967, he produced Chad & Jeremy. They had played him several songs, which he felt lacked any commercial potential.
He had heard a demo around that time for a song called "My World Fell Down" (also recorded by the British pop group The Ivy League), and he played it for them, thinking that it was a sure-fire hit. They balked at the idea of covering the song, and Usher felt that he would do it himself. Gary Usher brought in Los Angeles session musicians, as well as drafting friends such as Beach Boys touring alumnus Glen Campbell (who did the lead vocal on the track) and Beach Boys singer, Bruce Johnston, and singer-turned-producer Terry Melcher for vocals. He finished the recording by adding a musique concrète bridge. He presented it to Columbia executives under the group name Sagittarius, named after his astrological sun sign. The single, reached #70 in the Billboard Hot 100. When there was pressure from Columbia for the group to tour, it was revealed that a group did not exist. Usher did, however, start working on an album for Columbia under the Sagittarius name. Most of this work was done in conjunction with Curt Boettcher.
Prior to releasing an album, another single appeared, with the song "Hotel Indiscreet" as the A-side. The B-sides for some of the Sagittarius singles consisted of instrumentals that Usher had originally recorded for another studio project. As was the case with "My World Fell Down" the bridge featured an unrelated comedy bit by The Firesign Theatre, another Usher discovery, but unlike the previous single, it failed to crack the Billboard Hot 100.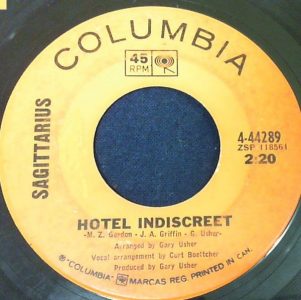 "Hotel Indiscreet" is a song about a nondescript hotel where customers go to pay for a room for a night but don't sign their names or leave a credit card. They pay only cash. It seems the hotel customers are paying for rooms in order to have undisturbed visits from escorts. The subject of the song pointed out that things go on in communities that reveal lies about how things are. People like Mr. Seltzer were leading double lives. Presumably the kind of person Mr. Seltzer represents in the song is an upstanding citizen in the community with a happy marriage, children, career and mortgage. The song is sung in a childlike fashion that evokes children's games and melodic verse. While the words of the song speak of things indiscreet: reckless, imprudent, unwise, improper and immodest ~ the singsongy melody conveys a sort of tuning out, of not knowing what one is singing about. An classic definition of "indiscreet" was an "immoral act." In the song, hotel customers are changing their identities and letting their hair down by doing things that people would be shocked by. The people who come to the hotel sneak around from floor to floor. For counter-cultural youth who were quick to point out the fraudulent behaviors of those wedded to the establishment, such lyrics were seen as a break-through. It was as if those buying the record were chronicling the deceit of those defending the social order. "Hotel Indiscreet" offered a way to see past an attempt to make something that is not the case appear true.
"Hotel Indiscreet" charted into the Top 30 in Quincy, Illinois, #19 in San Diego and #4 in Vancouver (BC). A follow up single by Sagittarius, "Another World", made the Top Ten in Sacramento, San Jose, Davis and San Francisco, Wichita (KS), and Vancouver (WA).
In 1968, the Present Tense album was released, and became a commercial failure. Because Clive Davis disliked the usage of musique concrete in the two singles, Usher removed these segments from the album versions. The album version of "My World Fell Down" featured a few bars of additional music between the first and second verses, that did not appear in the single version, and both were mixed in stereo for the album.
However, in 1969, Usher left his job at Columbia Records in order to start his own label, Together Records. Usher started work on another Sagittarius album, The Blue Marble, but this time, he contributed more as a musician, particularly as a vocalist. As he had done with the Byrds album The Notorious Byrd Brothers, he made extensive use of a Moog synthesizer throughout the record.
A cover of "In My Room", culled as a single from The Blue Marble, became a minor hit, peaking at number 86 on the Hot 100, though the album failed to chart. Several more non-album singles were released by Together Records, before the end of the label. Usher issued an album in 1984 under the name of Celestium. The synth-laden LP was called Sanctuary. Gary Usher also worked for awhile with Brian Wilson in 1986, but due to difficulties with Wilson's therapist the project faltered.
One of the last songs co-written by Usher was "Let's Put the Fun Back in Rock n Roll", co-written with singer-songwriter/producer Joseph Nicoletti in 1985. It was recorded by The Golden Boys (Frankie Avalon, Fabian, and Bobby Rydell) and performed for President and First Lady Reagan at Ford's Theatre on December 6, 1988.
Usher died of cancer at his home in Los Angeles, California at the age of 51.
October 4, 2017
Ray McGinnis
References:
Joel Goldenberg, Sunshine Pop Offered Some Respite From '60s Strife, The Suburban, Montreal, Quebec, February 26, 2016.
"Gary Usher; Co-Writer of Beach Boys Hits," Los Angeles Times, June 2, 1990.
"Song #212. The Beach Boys, 'In My Room,' 500 Greatest Songs of All Time," Rolling Stone, April 7, 2011.
Stephen J. McParland, The California Sound: An Insider's Story: The Musical Biography of Gary Lee Usher, California Music, Los Angeles, CA, 2001.
"Terry Melcher," Telegraph, UK, November 23, 2004.
"Boss 30," CKLG 730 AM, Vancouver, BC, October 14, 1967.
For more song reviews visit the Countdown.