#1349: Hully Gully Cha Cha Cha by Skip and Flip
Peak Month August 1960
6 weeks on Vancouver's CFUN chart
Peak Position #12
Peak Position on Billboard Hot 100 ~ #109
YouTube.com: "Hully Gully Cha Cha Cha"
Gary Sanford Paxton was born Larry Wayne Stevens on May 18, 1939, to an unmarried teenage couple in Coffeyville, Kansas. Raised by foster parents, he learned the story of his birth only at 17, when his mother introduced herself while he was dining at a restaurant. In his biography, Paxton said he was molested by a neighbor when he was seven, and began writing songs at age ten. When he was eleven, he contracted spinal meningitis, and was crippled for three years. He began performing with an electric Stratocaster guitar after moving to Tucson with his family as a teenager. Paxton dropped out of high school and married 14-year-old Betty Jean Brown when he was seventeen. This was his first of several marriages.
Skip & Flip were a duo formed in 1956. That year Gary Paxton's musical career began when he collaborated with Clyde "Skip" Battin and formed the Pledges. Battin was born in Gallipolis, Ohio in 1934. As the Pledges, they recorded "Why Not Confess"/"Johnny Risk" for Rev Records. Renamed Skip & Flip, they had a hit with "It Was I" in 1959. The song peaked at #11 in the USA and #9 in Vancouver. They followed up with a cover of the Marvin & Johnny ballad "Cherry Pie" in 1960, climbing again to #11 on the Hot 100 in the 'States and #7 in Vancouver.
Skip And Flip released a third single sought to draw on the popularity of two dances still sweeping America, the Hully Gully and the Cha-cha-chá. It was a novelty number called "Hully Gully Cha Cha Cha" co-written by Paxton and Battin.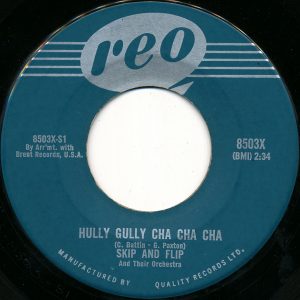 The Hully Gully is a type of unstructured line dance often considered to have originated in the late fifties. But it is mentioned some forty years earlier as a dance common in the black juke joints in the first part of the twentieth century. In its modern form it consisted of a series of "steps" given to those on the dance floor by the caller. Each step was relatively simple and easy to learn. However, the challenge was to keep up with the speed of each step. The phrase "Hully Gully" or "Hull da Gull" comes from a folk game in which a player shakes a handful of nuts or seeds and asks his opponent "Hully Gully, how many?"
Frank Rocco of the Cadillac Hotel in Miami Beach is credited with starting the Hully Gully dance craze. The following year, in 1959, The Olympics sang the song "Hully Gully" which was a minor hit peaking at #72 on the Hot 100. It did not chart in Vancouver. Maybe this was because the song began with an awkward simile in the opening line: There's a dance spreading round like a local disease.
Ed Sullivan mentioned the Cadillac Hotel as "Home of the Hully Gully" on his weekly show. During the segment, viewers watched featuring dancers from Frank Rocco's revue shown off the dance. Frank Rocco was nicknamed "Mr. Hully Gully." With that moniker, he toured America and had Goldie Hawn do the Hully Gully with him. Rocco and went on to teach the Holly Gully at NATO bases across Europe.
The cha-cha-chá, or simply cha-cha, is a Cuban dance. It is danced to the music of the same name introduced by Cuban composer and violinist Enrique Jorrin in 1953. This rhythm was developed from the danzón-mambo. The name of the dance is an onomatopoeia attributed to the shuffling sound of the dancers' feet. When Orquesta América performed these new compositions at the Silver Star Club in Havana, it was noticed that the dancers had improvised a triple step in their footwork producing the sound "cha-cha-cha." And so the new dance came to be known as "cha-cha-chá," where dancers perform a triple step.
Soon, there was a cha-cha-chá craze in Havana's dance halls, popularizing both the music and the associated dance. This craze soon spread to Mexico City, and by 1955 the music and dance of the cha-cha-chá had become popular in Latin America, North America, and Western Europe. The cha-cha-chá followed in the footsteps of the mambo, which had been a worldwide craze a few years earlier. In 1958, Tommy Dorsey had one of his last hit records with "Tea For Two Cha Cha". It peaked at #7 on the Billboard Hot 100 and #13 in Vancouver. Listen to Dorsey's instrumental and you'll get the cha-cha-chá rhythm. In 1962 Bobby Rydell had a song called "The Cha-Cha-Chá" that peaked at #5 in Vancouver and #10 on the Hot 100.
"Hully Gully Cha Cha Cha" did not make it onto the Billboard Hot 100, peaking at #109, just under the Hot 100. However, the song peaked at #12 in Vancouver (BC), #17 in Phoenix (AZ), #19 in Cleveland (OH) and #20 in Seattle (WA). The lyrics gave listeners a simple invitation:
If you're tired of rock 'n rolling take a listen to us
and learn to do the Hully Gully Cha Cha Cha.
There's a dance from the west coast that you all should know.
You shake your knees and shoulders and you move along slow.
It started with the kids and spread to Ma and Pa….
While you cha cha cha you shake like a leaf on a tree,
Anyway you feel it, it's okay with me….
After one more minor hit that also missed the Billboard Hot 100, Skip & Flip disbanded. While Paxton was still on contract with Brent Records as part of Skip & Flip, he formed a studio band in May 1960. Fresh from the dance-themed release of "Hully Gully Cha Cha Cha", another dance tune was in the works. The studio band was made up of Ronnie Silico, a drummer for R&B singer Lloyd Price (who had a recent string of hits including "Stagger Lee" and "Personality"), piano player Gaynel Hodge of The Penguins (who had the 1955 hit "Earth Angel") and bass player Harper Cosby for Sandy Nelson (the 1959 instrumental "Teen Beat"). Gary Paxton was the lead singer, with back-up singers, including Dallas Frazier who wrote the tune.
The song was based on a comic-strip character who rode a pet dinosaur. "Alley-Oop" was recorded at a studio outside a road called Argyle Street. So they named the band the Hollywood Argyles. "Alley Oop" reached No 1 on the Billboard Hot 100 and also in Vancouver. A variant on the song by the same band under the name Hong Kong White Sox called "Cholley-Oop" climbed to #9 in Vancouver at the end of August 1960.
Meanwhile, Bill Doggett of "Honky Tony" fame from 1956, tried to get a hit with a Hully Gully variation in early 1961 called "(Let's Do) The Hully Gully Twist". It peaked at #66 on the Billboard Hot 100. A disco line dance craze in 1978, named the Hot Chocolate, had nearly identical dance steps to the Hully Gully.
In 1962 Paxton also produced another dance-themed tune called the "Monster Mash" for Bobby "Boris" Pickett. Pickett was a Boris Karloff imitator who sang the song with a backup group. The song was sung in the sepulchral intonation of a mad scientist. Paxton added atmospheric sound effects including a creaking door, created by pulling a nail from a piece of wood, and bubbling laboratory noises.
Within two months the record had sold a million. By Halloween 1962 it had reached No 1 on the Hot 100 and #3 in Vancouver. Since then it has become a staple of Halloween themed songs played each year in the lead up to October 31st. When it was re-issued again in 1973, it peaked at #1 in Vancouver and #3 on the Hot 100. During the 1960s Paxton worked as a producer in California, among others producing "Sweet Pea" by Tommy Roe and "Along Comes Mary" by The Association.
After the break-up of Skip & Flip, Clyde "Skip" Battin went on to play guitar and write songs as a member of The Byrds, the New Riders of the Purple Sage and the Flying Burrito Brothers.
October 5, 2016
Ray McGinnis
References:
Lynn Abbot and Doug Seroff, Out of sight: the rise of African American popular music, 1889-1895, (University Press of Mississippi, 2002).
Paul Oliver, Blues Off the Record: Thirty Years of Blues Commentary, (Da Capo Press, 1984).
Richard Powers, "The Hully Gully, French Madison, Hot Chocolate and Electric Slide," Social Dance.Stanford.edu
Marv Goldberg, The Olympics, uncamarvy.com, 2009.
"Skip Battin: Singer and Bassist in The Byrds most Stable Lineup," Independent, July 11, 2003.
Harrison Smith, "Gary S. Paxton, music maverick who produced 'Monster Mash,' dies at 77," Washington Post, July 26, 2016.
Melanie LePatin, History of the Cha Cha Cha, Latin American Guide.com.
"C-FUN-Tastic 50," CFUN 1410 AM, Vancouver, BC, August 20, 1960.
For more song reviews visit the Countdown.