#1388: Hurry Up And Tell Me by Paul Anka
Peak Month: October 1963
6 weeks on CFUN chart
Peak Position #16
Peak Position on Billboard Hot 100 ~ did not chart
YouTube.com: "Hurry Up And Tell Me"
Paul Anka was 16 years old when he had a number one hit with "Diana" in 1957, a song he wrote about a girl in the church he attended. (Diana Ayoub, who inspired the song, died in December 2022). For awhile he dated Annette Funicello who had a Top Ten hit about Paul Anka called "Tall Paul". He continued to have a string of Top Ten and Top 20 hits into 1963 in Canada, the United States, the UK and Italy. Between August 1957 and November 1963 Paul Anka had 29 Top 40 hits on the Vancouver pop charts. But with the British Invasion, Paul Anka was sidelined not to significantly return to the pop charts until his #1 hit in 1974, "You're Having My Baby".
Paul Anka was born in Ottawa, Canada, in 1941. His father was Syrian-American and his mother was Canadian-Lebanese. While growing up in Ottawa he was part of a vocal trio at Fisher Park High School called the Bobby Soxers. His career has included writing songs for others including "It Doesn't Matter Anymore" for Buddy Holly in 1959. He had a #1 hit in 1957 titled "Diana", and performed in concert at the Georgia Auditorium in Vancouver on October 23, 1957. Others on stage were Buddy Holly and The Crickets, Buddy Knox, Eddie Cochran, and Frankie Lymon and the Teenagers.
His next Top Ten hit, "You Are My Destiny", peaked in January 1958.
In 1959 he had success with "Lonely Boy" which peaked at number-one on the Billboard Hot 100. His #2 hit in 1959, "Put Your Head On My Shoulder" spent ten weeks in the Top Ten and seven of these in the Top Five. It was kept out of the #1 spot by Bobby Darin's "Mack The Knife". Further Top Ten hits included "It's Time To Cry", "Puppy Love" and "My Home Town".
Anka wrote "She's A Lady" which became a signature song for Tom Jones. He also wrote the English lyrics to "My Way" for Frank Sinatra. Anka appeared in his first movie in 1958, Let's Rock, a movie about the new rock 'n roll phenomenon, and in the 1962 army film, The Longest Day. Anka also appeared in the 1960-61 NBC crime series, Dan Raven in a cameo as himself. Anka later would appear in The Red Skelton Hour and the crime series Kojak. In 1982 he hosted his own entertainment series called The Paul Anka Show. Anka also wrote the theme music for The Tonight Show Starring Johnny Carson, which debuted on NBC television in October 1962.
Already famous in Italy as a teenage idol for his songs in English, in 1960 released an Italian version of "Summer's Gone" in 1960, released as "Dove Sei". The record climbed to #4 on the Italian pop charts, advancing a promising foreign career. Anka then underwent an intense collaboration with several Italian musicians including composer/director Ennio Morricone, singer-songwriter Lucio Battisti and lyricist Mogol. In the early Sixties Anka charted a half a dozen songs onto the Italian charts that were sung in Italian. His top hit was a translation of "Love Me Warm And Tender", titled "Ogni Giorno" which scored No. 1 in 1962, followed by "Piangerò per te" and "Ogni Volta", which reached both No. 2, in 1963 and 1964.
While he was piling up Top Ten hits in Italy, back in North America Paul Anka had been shut out of the Top Ten on the Billboard Hot 100 since the June of 1961 with "Dance On Little Girl". While he fared better in Vancouver where he had five Top Ten hits between 1961 and 1963, in the spring of '63 Paul Anka had only his second single release miss the Top 40 in Vancouver. The follow-up he was counting on to get him back into the Top 40 was "Hurry Up And Tell Me".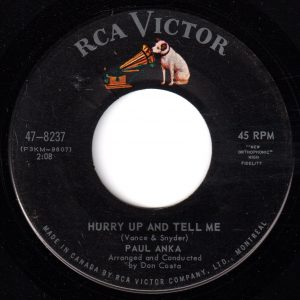 (Sha-la-la-la-la)
Hurry up and tell me Eddie,
is it true what I hear about Betty?
Is it true that Betty's not going steady
anymore, with that Romeo?
Is it true that they really broke up?
Gee, I'm glad to hear Betty woke up.
Didn't take her long to wake up
and find out all about that Romeo.
What did she ever see in that guy,
besides his handsome face?
Now let me tell you I'm a happy guy,
to hear Betty put that Romeo right in his place.
Hurry up and tell me Eddie,
do you think I've got a chance with Betty?
Do you think that things could be
just the way they used to be,
before that Romeo came around
and stole my Betty from me?
Do you think that things could be
just the way they used to be,
before that Romeo came around
and stole my Betty from me?
(Sha-la-la-la-la…)
In "Hurry Up And Tell Me" a guy who used to go out with a girl named Betty has just learned she broke up with her boyfriend, Romeo. It turns out Betty was dating Romeo because he stole Betty away. Now that Betty is not dating Romeo, the ex-boyfriend wonders if he has a chance to go steady with Betty again. He asks his friend, Eddie, what he thinks: "Do you think that things could be just the way they used to be?"
A take-away from "Hurry Up And Tell Me" is that IF you happen to have broken up with someone and are now considering dating them again, remember why you two broke up in the first place. Like the character in Paul Anka's song who wants to get back together with Betty, people can get caught up in a fantasy of rekindling something with someone because they focus on the good things they shared with that person. While it's legitimate to recall what worked in the past, if you close your eyes to what didn't work you're not going in with your eyes wide open. If you are going back into a relationship that ended for a reason, make sure you don't break up for the same reason again. Keep that reason in mind and work on that first. Whether it was trust, insecurity, petty drama or being left for someone else, focus on mending that issue before trying to rekindle the relationship with your ex. How does this guy know that Betty won't be easily stolen away by another guy if he gets back together with her? Maybe it won't be Romeo next time around, but someone else named Tom, Dick or Harry. And how does he know that Betty, even if she decides to go steady with him again, won't just bide her time until the real thing comes along? Better to clarify with Betty if she thinks her ex-boyfriend, before she dated Romeo, has the right stuff.
While "Hurry Up And Tell Me" climbed up to #16 in Vancouver, it got a pass elsewhere in Canada. In the USA the only radio market it got into the Top 40 was in Tucson, Arizona, where it climbed to #12. The song became the second of a string of 17 single releases to fail to make the Top 40 (actually 15 of 17 singles didn't make the Billboard Hot 100) between the June 1963 and January 1969.
However, Paul Anka was a showman and excellent performer. He came to Vancouver in April 1966 and performed on eleven consecutive nights at The Cave between the 16th and 26th of the month.
He finally returned, briefly, to the Top 30 with "Goodnight My Love", (#27 Billboard Hot 100) a remake of the 1956 R&B classic by Jessie Belvin. It would take eleven more single releases before he would return to the Top 40 with "You're Having My Baby" in 1974, a #1 hit record. On August 25, 1977, Paul Anka gave a concert at the Pacific Coliseum in Vancouver.
Over the decades Paul Anka has charted more than fifty singles onto the Billboard Hot 100. In 1990 he became a US citizen. On October 4, 2007, Paul Anka appeared in concert at the Centre For Performing Arts in Vancouver. In 2013 Paul Anka published My Way: An Autobiography. On August 28, 2015, Paul Anka performed at the Hard Rock Casino in the Vancouver suburb of Coquitlam. Between mid-June and mid-November of 2017 Paul Anka has over fifteen concerts scheduled.
June 17, 2017
Ray McGinnis
References:
Heidi Parker, "He's Married Again! Paul Anka, 75, Weds His Girlfriend of Six Years In Beverly Hills With Mogul Pal Warren Buffet in Attendance," Daily Mail, London, UK, October 29, 2016.
Jay Weston, "Paul Anka's "My Way," Reviewed From the Inside!," Huffington Post, December 6, 2017.
Paul Anka bio, Capitolint.com.
Harry Foster, Let's Rock, Columbia Pictures, 1958.
"Diana Ayoub, Ottawa woman who inspired Anka hit, dead at 83," CBC, December 6, 2022.
"C-FUNTASTIC FIFTY," CFUN 1410 AM, Vancouver, BC, October 26, 1963.
For more song reviews visit the Countdown.