#519: I Can Dance (Long Tall Glasses) by Shooter
Peak Month: May 1975
10 weeks on Vancouver's CKLG chart
Peak Position #6
Peak Position on Billboard Hot 100 ~ did not chart
YouTube.com: "I Can Dance (Long Tall Glasses)"
Lyrics: "I Can Dance (Long Tall Glasses)"
In 1971 a 50s cover band based in Toronto was formed named the Greaseball Boogie Band. Eat your heart out American Graffiti. The band released an album in 1973 of covers of early rock era classics. It included "Don't Be Cruel" by Elvis Presley, "High-School Confidential" by Jerry Lee Lewis, "Slipin' And A-Slidin'" by Little Richard, "Rockin' Pnneumonia" by Huey "Piano" Smith, "Blueberry Hill" by Fats Domino, "Searchin'" by the Coasters, "Honky Tonk" by Bill Doggett, "Sea Cruise" by Frankie Ford, and others.
The band members included bass guitar player Gene Trach, vocalist Duncan White, keyboard player Ray Harrison, drummer Tommy "Short Ass" Frew, saxophonist Wayne "Pig Boy" Mills, and John "Animal" Bride.
Gene Trach had been a member of Robbie Lane and the Disciples, who were originally a backing band for Ronnie Hawkins. They had regional hits in Canada, charting Top 20 records between 1964 and 1967. These included "Fannie Mae" and "Ain't Love A Funny Thing" in 1964, and "What Am I Gonna Do" and "You Gotta Have Love" in 1966. Robbie Lane and the Disciples had a spinoff band in 1965 named the Butterfingers, which included Gene Trach. And since 1963, Duncan White had been a vocalist for The Regents, a house club band at Toronto's Blue Club Note that began in 1959. The Regents had a local Top 20 hit in Toronto in 1965 titled "Me And You".
After the Greaseball Boogie Band released an album in 1973 they got a Juno nomination for Most Promising Group later in 1974. But at the March 1975 Juno Awards, it was Rush who won. Nonetheless, the Greaseball Boogie Band went on tour with The Guess Who, Roxy Music and Sha Na Na. This included being an opening act for an Ontario Place concert for 15,000 Toronto area fans.
In 1975 the Greaseball Boogie Band changed their name to Shooter. There were lineup changes and Trach and Frew left the band. Harrison, White, Mills and Bride provided the continuity as Shooter added bass guitar player Norm Wellbanks and drummer Sonnie Bernardi. Pamela Marsh also was added as a backing vocalist. The band recorded a cover of Leo Sayer's Top Ten hit "Long Tall Glasses".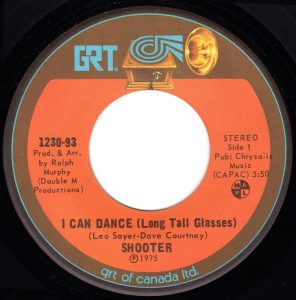 "I Can Dance (Long Tall Glasses)" was written by Leo Sayer. Gerard Hugh Sayer was born in 1948 in Shoreham-by-Sea, on the English Channel. In January 1967, then 18-year-old Sayer was working as a hall porter at the King's Hotel in Hove. He assisted in the rescue of elderly guests from a serious fire that damaged the first floor of the hotel. Six years later Sayer began his music career co-writing songs with David Courtney. In 1973 they wrote Roger Daltrey's first solo hit, "Giving It All Away". Sayer was "discovered" by British 60s pop singer, Adam Faith. Faith became Leo Sayer's manager. His song "The Show Must Go On" climbed to #2 on the UK charts in 1973, and was successfully covered by Three Dog Night in 1974.
Sayer had a breakthrough on the Billboard Hot 100 with "Long Tall Glasses", a #9 hit nationally in the USA in May 1975. Leo Sayer went on to chart two number one hits in 1977, "You Make Me Feel Like Dancing" and "When I Need You". He also had a #2 hit in 1980 in the USA with a cover of a song written by the Crickets Sonny Curtis and Jerry Allison, titled "More Than I Can Say". He also had a #2 song in Vancouver (BC) with "How Much Love" in August 1977. In 1982 Leo Sayer had a Top Ten hit in the UK, Ireland and Australia with "Have You Ever Been In Love". His final appearance on the UK singles chart was as a featured vocalist for a number one song in 2006 by Meck titled "Thunder In My Heart Again".
"I Can Dance (Long Tall Glasses)" is a song about a hobo who travels down the road. He is typically hungry and cold. He sees a sign that says "Food and Drinks for Everyone." He goes into the banquet and sees ham, turkey and caviar. But quickly learns that before he can eat or drink anything, he has to impress the banquet hosts with dances moves like Fred Astaire. The hobo impresses everyone with moves resembling Hollywood silent screen idol Rudolph Valentino, and English dancer and 1930s band leader Victor Silvester.
The hobo's dance includes a two-step, a Quickstep and a bossanova. The Quickstep was developed in the 1920s in Manhattan. It was first danced by Caribbean and African-American dancers. Its origins are in combination of slow foxtrot combined with the Charleston. The two-step consists of two steps in approximately the same direction onto the same foot, separated by a joining or uniting step with the other foot. The Bossa Nova dance accompanies a Bossa Nova song. The style of Bossa Nova basic dance steps suites the music well. It is danced on soft knees that allow for sideways sways with hip motions. It can be danced both solo and in pairs. There were about ten various simple step sentences published. A variant of basic 8-beat pattern was: step forward, tap, step back, step together, repeat from the opposite foot.
"I Can Dance (Long Tall Glasses)" peaked at #6 in Vancouver and #9 on CHUM in Toronto. Shooter charted two more singles into the Top 20 on the CKLG chart in Vancouver (BC). The first was "Train", which peaked at #17 in September 1975. And "Hard Times" climbed to #18 in July 1976. The band's label, GRT got into financial difficulties and folded.
Harrison, Mills and Bride left Shooter in 1978 to form the Cameo Blues Band. Another member of this band was Billy Bryans, who later joined the Parachute Club in 1982. Shooter moved over to Casino Records and got some new replacements. But their recordings were commercial failures, and the reformed band folded in 1980.
John Bride went on to be a session musician on recordings for the Time Twins, Men Without Hats, and several lesser known recording artists. Gene Trach was a session musician on an album in the mid-70s for Ukranian wedding music. Ray Harrison did some session work for the Downchild Blues Band. Wayne "Pig Boy" Mills did some session work for M+M (formerly billed as Martha and the Muffins) and Prairie Oyster.
December 11, 2019
Ray McGinnis
References:
"Robbie Lane and the Disciples," Wikipedia.org.
"The Regents," Discogs.com.
Don Edwards, Christine Garner and Jaimie Vernon, "Shooter," Canadian Bands.com.
Leo Sayer, "1948 to 2010, the Story So Far: Leo Sayer Biography," leosayer.com.
"Victor Silvester bio," Wikipedia.org.
"Quickstep," Wikipedia.org.
"Rudolph Valentino bio," Wikipedia.org.
"CKLG 'Thirty'," CKLG 730 AM, Vancouver, BC, May 23, 1975.
For more song reviews visit the Countdown.