#1435: I Can Only Give You Everything by The Haunted
Peak Month: January 1967
5 weeks on Vancouver's CFUN ALL CANADIAN TOP TEN chart
Peak Position #6
Peak Position on Billboard Hot 100 ~ did not chart
YouTube.com link: "I Can Only Give You Everything"
Lyrics: "I Can Only Give You Everything"
Jurgen Heinz Peter was born in 1942 in Glabonz, Bohemia, in what is now part of the Czech Republic. When his family moved from war-torn Czechoslovakia to Montreal, one of his new friends in high school was Glen Holmes. Years later, Holmes recalled, "We did sensible (?) things like riding on his Ariel Motorcycle in mid winter and in his '59 blue Ford Thunderbird convertible sometimes with the top down (in winter more sensible stuff). Somewhere in late 1962/early 1963 Jurgen and I decided that we wanted to form a band so we did." Peter played guitar and Holmes played bass. In 1963 Jurgen Peter stood in for a local Montreal band named the Blue J's. In 1963 Peter and Holme, formed The Haunted. Bob Burgess was the lead singer and Al Birmingham played lead guitar. But within the first year Glen Holmes left the band.

After a few lineup changes, Dave Wyne became the bands' drummer and Mason Shea played bass. Jurgen Peter recalls, "When we, The Haunted, started to play as a band in the Montreal area, there was no way to get a recording contract, no one to play your records, no booking agency to book us, no large shows and paying gigs to play at, no music magazine or anything like it to promote a local band. I had to scout out large halls and skating arenas and rent them from the local communities for a Friday night show/dance. Then I went to the local school commission and rented six or seven school busses for that night in order to 'import' our home based Fan Club. I soon found out that if you hired the local DJ to be the master of ceremonies at your show, and gave him a percentage of the gate, he would plug that show all week long without having to buy airtime at a ridiculous price, and if you did have a record, he would actually play it on the air. With the explosion and dominance of the British bands Canada wanted to follow suit and soon the local record companies and radio stations smelled money and latched on to the bands that had the most following. I also realized that I needed a 'vehicle' that would promote The Haunted so I got together with one of our Montreal DJ Dave Boxer from CFCF. (He later brought The Beatles into Canada) and formed and incorporated both a bi-weekly music paper ('Music Trend') and a booking agency (Groups And Sound Service aka GASS.) After a successful show, the public wanted to come back the following week and it gave me an opportunity to book some of the other local bands."
On January 3, 1966, the Haunted entered the Hopsville Battle of the Bands. They were up against some stiff competition. The Shays with David Clayton-Thomas, future lead singer of Blood, Sweat and Tears were entrants. As was Andy Kim, the Staccatos (who would morph into the Five Man Electrical Band) and several other local acts. The Haunted won the competition and with it a chance to make a recording with Quality Records.
The Haunted released a single titled "1-2-5". It was a song about a hooker and drugs. Quality Records released the disc with the band's name misspelled as "The Hunted." "1-2-5" sold 8,000 copies in short order. Nonetheless, the single climbed to #2 on CFCF in Montreal. It made climbed to #14 in Kingston, Ontario, and got one week on the CKLG Silver Dollar Survey in May 1966.
The band went back to the recording studio. By that time Mason Shea had left the band and was temporarily replaced by Michael St. Germain of Les Sinners for the recording session. The Haunted released a cover of a song by the British band, Them, titled "I Can Give You Everything".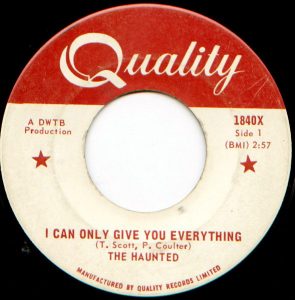 "I Can Only Give You Everything" was first recorded by Irish rock band, Them, with its lead singer Van Morrison in 1966. The song was not a hit in the UK for Them. Songwriter Phil Coulter penned "Puppet On A String" for Sandie Shaw. The single peaked at #1 in ten countries internationally in 1967, and in the Top Ten in another eight nations. It won the Eurovision song contest in 1967. The following year Coulter penned another Eurovision contest contender with "Congratulations" for Cliff Richard. The single placed #2 in the 1968 Eurovision song contest and #1 in seven European radio markets. In 1969 Phil Coulter had another Top Ten hit called "Surround Yourself With Sorrow", recorded by Cilla Black. In the 1970's Phil Coulter had several more of his songs peak at #1 including "Forever And Ever" by Scottish glam-rock band Silk in 1975, and "Saturday Night" for the Bay City Rollers in 1976 (in the USA and Canada). And in 1974 Elvis Presley topped the Adult Contemporary charts in the USA and Canada with Coulter's "My Boy". Coulter co-wrote "I Can Give You Everything" with Scottish rockabilly singer Tommy Scott.
"I Can Only Give You Everything" is a song that modestly qualifies the commitment level a partner feels for their love interest: 100 percent. They are willing to give them "everything." They're amour is on their mind all the time. The lyrics offer a distinct turn of phrase to describe having a partner on their mind every night: "you are on my mind when stars appear and shadows fall, and when every little flower close and no birds call." The strength of their desire for their partner is such that they proclaim, "don't ever go and leave me in this world alone. I'd be like a little child if I was on my own."
"I Can Only Give You Everything" made the Top 20 in Montreal, and the Top 30 in Sault Ste. Marie and Medicine Hat. It was listed on the C-FUN ALL CANADIAN TOP TEN chart for five weeks and peaked at #6 in January 1967.
Peter recalls that by 1967 "The Haunted had avalanched into fame and money. Our fan club was organized with thousands of members. We were on TV almost weekly, and our 45's were playing on most of the radio stations." After "I Can Give You Everything" was released, Jurgen Peter and Bob Burgess got into an argument and Burgess left the band. Burgess recalls, "Jurgen and I almost came to blows. It was like being at work, with people telling you what to do. I said 'OK, I'm out of here.' "
In the summer of 1967 The Haunted enjoyed Top Ten success in on CFCF in Montreal with "Searchin' For My Baby". The song, penned by members of the band, was another garage band classic.
In 1968 The Haunted recorded a French-language 45 RPM version of Jimi Hendrix's "Purple Haze" titled "Vapeaur Mauve." It was their seventh and final single. Looking back on their heydays from the mid-60's, Jurgen Peter commented, "We were the most sought after and highest paid Canadian band for many years. When I folded the band in 1971, I had to cancel a whole year of advance bookings and it cost me a fortune in lawyer's fees to get out of some of them."
Jurgen Peter developed an interest in helicopters and flew for the Montreal Police until he moved to Vancouver in 1975. Once on the west coast, he started a flying school, which he later operated with Al Birmingham.
Al Birmingham played in a band named AEON, with Bob Burgess and former Rabble (Montreal band) guitarist Rick Metcalfe between 1974 and 1976. Birmingham recorded home demos with Burgess and later Haunted band member, Johnny Monk. One of the group's last drummers, Nick Saraceno, also played on these "Bludgeonaires" tapes, recorded between 1987 and 1990.
Bob Burgess became a member of the band, Our Generation after the Haunted. Then he collaborated with Al Birmingham in AEON. He later became music director at CFCF in Montreal. Then he went on staff with This Week In Business, in the capacity of promotion and distribution. He lived in Vancouver for awhile and then moved back to Ottawa for a position with the Ottawa Region Media Group, which was running 13 community papers.
In his 1983 liner notes for a CD of The Haunted's recordings, Ralph Alfonso referred to the band as "the scruffy bad boys of Montreal rock." When they were interviewed by the Montreal Gazette in 2009, Peter, Birmingham, Burgess, Wyne, Shea and others were still hadn't lost touch. Jurgen Peter lived his last years in Richmond, British Columbia. His passing was reported in the Montreal Gazette in March, 2017. Al Birmingham moved to Delta, BC, and Bob Burgess was living in Stitsville (ON).
July 1, 1967
Ray McGinnis
References:
Vernon Joynson, "The Haunted," the haunted.com, 2002.
Bernard Perusse, "The Haunted Played It Rough And Raw," Montreal Gazette, October 17, 2009.
Jillian Page, "Appreciation: The Music of The Haunted and Jurgen Peter Lives on in My Heart," Montreal Gazette, March 31, 2017.
"Jurgen Peter of The Haunted Passed Away," Cashbox Canada Magazine, April 2, 2017.
"Obituary: Jurgen Heinz Peter," Montreal Gazette, March 30, 2017.
"ALL CANADIAN TOP TEN," CFUN 1410 AM, Vancouver, BC, January 7, 1967.
For more song reviews visit the Countdown.