#438: I Can Take Or Leave Your Lovin' by Herman's Hermits
Peak Month: February 1968
9 weeks on Vancouver's CKLG
Peak Position #3
Peak Position on Billboard Hot 100 ~ #22
YouTube: "I Can Take Or Leave Your Loving"
Lyrics: "I Can Take Or Leave Your Loving"
Peter Blair Denis Bernard Noone was born in a suburb of Manchester, England, in 1947. Keith Hopwood was born in 1946, in the same suburb of Davyhulme. Karl Anthony Green was born in 1947, also in Davyhulme. Derek "Lek" Leckenby was born in Leeds in 1943. Jan Barry Whitwam was born in 1946 in Manchester. Both Leckenby and Whitwam were members of a band called the Wailers who played covers by Little Richard, Jerry Lee Lewis and other early rock recording artists. Peter Noone originally was in an amateur band called the Cyclones. He moved on to the Heartbeats in 1961, a Buddy Holly cover band. Just after he turned 14, Noone debuted on Coronation Street, playing the role of Stanley Fairclough starting in December 1961. In the fall of 1962 Herman's Hermits was formed. Peter Noone was the lead vocalist. Karl Green played bass guitar. Keith Hopwood played rhythm guitar. "Lek" Leckenby played lead guitar and Barry Whitwam played drums.
In 1964 the group had a number one hit in the UK with "I'm Into Something Good". The song was written by Gerry Goffin and Carole King, and originally recorded by Earl-Jean McCrea. She had been a member of a girl group called The Cookies who had hits with "Don't Say Nothing Bad About My Baby" and "Chains", that later covered by The Beatles. "I'm Into Something Good" became the first of 17 Top Ten hits for Herman's Hermits in Vancouver (BC) between 1964 and 1968.
They had four number one hit singles in 1965 with "Can't You Hear My Heartbeat", "Mrs. Brown You've Got A Lovely Daughter", "Silhouettes" and "I'm Henry The VIII, I Am". In addition, 1965 saw Herman's Hermits also charted in the Top Ten in Vancouver with "Wonderful World", "The End Of The World" and "Just A Little Bit Better" – 7 Top Ten hits in total that year. By comparison, The Beatles had twelve charted songs that made the Top Ten in 1965 in Vancouver; The Rolling Stones had five Top Ten hits; The Dave Clark Five had for Top Ten hits in 1965, as did Petula Clark, the Searchers had three Top Ten hits; And the Kinks, the Yardbirds, Freddie and the Dreamers, and Gerry and the Pacemakers had just two Top Ten hits each in Vancouver that year.
Herman's Hermits appeared in a few films in the mid-60s. In 1965, they appeared along with Connie Francis, Louis Armstrong and Sam the Sham & The Pharaohs in When the Boys Meet the Girls. In the film Herman's Hermits sang "Listen People" which in 1966 became a Top Ten hit in Canada, the USA, Australia, New Zealand and Sweden. In 1966 Herman's Hermits appeared along with Shelley Fabares in the musical film Hold On! The film included their hits "A Must To Avoid" and "Leaning On The Lamp Post". In 1968 the band appeared in their final film, Mrs. Brown, You've Got a Lovely Daughter. The film starred Stanley Holloway along with Herman's Hermits. In the film they sang the title track and "There's A Kind Of Hush".
The band also appeared on The Ed Sullivan Show, The Jackie Gleason Show and The Dean Martin Show. In 1966 they charted five more songs into the Top Ten in Vancouver (BC): "A Must To Avoid", "Listen People", "Leaning On The Lamp Post", "This Door Swings Both Ways" and "Dandy". While Herman's Hermits were regularly appearing on the pop charts, they toured extensively in North America, the UK and Europe. They also went on tour to Australia, Japan and Brazil.
In 1967, they had one last year of solid international hits with "There's A Kind Of Hush" and "No Milk Today". They managed one other Top Ten hit in Vancouver with "Don't Go Out Into The Rain (You're Going To Melt)". In late December '67, Herman's Hermits recorded "I Can Take Or Leave Your Loving".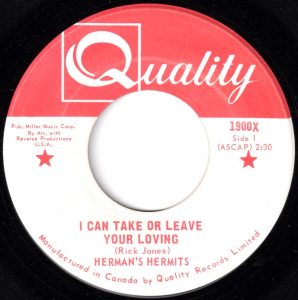 "I Can Take Or Leave Your Loving" is a song written by an obscure songwriter named Rick Jones. It appears to have been his only effort. The song is about a guy who has decided to break off with his girlfriend. She thinks they're going to get back together. But he says "baby, baby, don't you believe it, when it comes to your lovin' I can take it or leave it." His indifference is the outcome of the "heartache and pain" she has caused him. He admits he'll miss her "maybe…once in awhile." But he hunches that for the most part he won't miss her at all.
"I Can Take Or Leave Your Loving" peaked at #1 in Madison (WI), #2 in Erie (PA) and Battle Creek (MI), #3 in Vancouver (BC), Billings (MT), Jacksonville, Sarasota and Orlando (FL), and Canton (OH), #4 in San Diego, Dallas, Cincinnati (OH), Toledo (OH), Green Bay (WI), Toronto and Hamilton (ON), #5 in Los Angeles, Raleigh (NC), Edmonton (AB) and Rockford (IL), #6 in Boston, St. Louis, Minneapolis/St. Paul, Tulsa (OK), Lansing and Saginaw (MI), #7 in Pueblo (CO), Fort Wayne (IN), Regina (SK), Kansas City (MO), Birmingham (AL) and Columbus (OH), #8 in Tucson (AZ), Spokane (WA), Honolulu, Providence (RI), Vernon (BC) and Mobile (AL), and #9 in Sudbury (ON).
Perhaps it is harder for a radio audience to get excited about someone singing about losing interest in someone else, as "I Can Take Or Leave Your Loving" failed to generate much chart action beyond about 20 states in the USA. Two number one hits around this time was "I Wish It Would Rain" by the Temptations and "Love Is Blue" by Paul Mauriat. In "I Wish It Would Rain" the singer narrates how brokenhearted they are from a breakup. And in the lyrics that Andy Williams later recorded for the Paul Mauriat instrumental, the guy is brokenhearted by the loss of a relationship. Likely, more radio listeners could identify with the emotional power of the song, compared to the more casual indifference expressed in "I Can Take Or Leave Your Loving".
In 1968 Hopwood and Leckenby created Pluto Music, used by The Clash to record their 1980 album Sandinista! Herman's Hermits had a few more hit singles in the UK, New Zealand and Australia. "Sunshine Girl", "Something's Happening", "My Sentimental Friend" and "Years May Come, Years May Go" all made the Top Ten in the UK between 1968 and 1970. Several of these were also Top Ten hits in South Africa, New Zealand, Australia and Norway. Herman's Hermits last charting hit single in the UK and New Zealand in 1970 titled "Lady Barbara". They split up in 1971.
Leckenby, Hopwood and Whitwam carried on under the Herman's Hermits billing, adding a few other musicians and doing oldies tours. In 1986 they were they went on a 146-concert-date reunion tour of the USA with the Monkees, Gary Puckett and the Union Gap and the Grass Roots. Hal Carter managed the new iteration of the Hermits. (He was also the manager of the Swinging Blues Jeans). Carter said in 1994 that Herman's Hermits "supported the Monkees on their revival tour and they were playing to audiences of 15,000. Their show consisted of all the famous hits. On one big pop package with bands like Slade, the Equals and Suzie Quatro in Germany last year, they played to 25,000 people a day." "Lek" Leckenby died of 1994 after battling non-Hodgkin lymphoma. Karl Green remained with the reformed Herman's Hermits until 1980, after which he left the music business. However, he returned to the stage in 2014 with the Karl Green Band. The band has released two albums. Barry Whitwam has remained with Herman's Hermits since 1964, and with the post-1971 split iteration along with Leckenby and Green. Due to the COVID-19 pandemic, Herman's Hermits have postponed their touring schedule of some 79 concert dates to 2021.
After Herman's Hermits disbanded in 1971, Peter Noone pursued a solo career. This included recording a song David Bowie wrote titled "Oh! You Pretty Things". Bowie also was a session musician for the single which climbed to #12 in the UK in 1973. Noone pursued an acting career in the USA. He also formed Herman's Hermits starring Peter Noone. He performed during Expo '86 in Vancouver on June 8th. Noone returned for a concert at the Red Robinson Theatre in the Vancouver suburb of Coquitlam on October 5, 2013. In 2019 the Herman's Hermits starring Peter Noone performed over 150 concert dates.
June 5, 2020
Ray McGinnis
References:
"List of Coronation Street characters (1961)," Wikipedia.org.
"Obituary: Derek Leckenby," Independent, June 9, 1994.
"20th Anniversary Reunion Tour," Monkees Live Almanac.com.
Kent Kotal, "Forgotten Hits Interviews Peter Noone," Forgotten Hits.com, 2005-06.
Bill Young, "Legendary Herman's Hermits frontman, Peter Noone, talks music, the 60s and about 'having fun'," Tellyspotting.kera.org, August 10, 2019.
Robert Peacock, "Peter Noone: The Herman's Hermits hitmaker talks about starring with the ever-popular Solid Silver 60s Show," The Week Review, Glasgow, Scotland, March 7, 2019.
Gary James,"Barry Whitwam Interview," Classic Bands.com, 2014.
"Boss 30," CKLG 730 AM, Vancouver, BC, February 17, 1968.
For more song reviews visit the Countdown.