#1301: I Cry and Cry by Bobby Curtola
Peak Month: September 1962
7 weeks on Vancouver's CFUN chart
Peak Position #13
Peak Position on Billboard Hot 100 ~ did not chart
YouTube.com link: "I Cry And Cry"
Bobby Curtola was born in Port Arthur, Ontario, in 1943. (The town would become amalgamated into the city of Thunder Bay in 1970). His cousin Susan Andrusco remembers ""Bobby would always be singing at our family gatherings. The family loved him. And he loved being the centre of attention. He would sing Oh My Papa, and my grandpa would cry." Oh My Papa was a number-one hit for Eddie Fisher in January 1954, when Bobby Curtola was still ten-years-old. In the fall of 1959, sixteen-year-old high school student Bobby Curtola went from pumping gas at his father's garage in Thunder Bay, Ontario, to the life of a teen idol. Within a year he went from playing in his basement band "Bobby and the Bobcats" to recording his first hit single in 1960, "Hand In Hand With You," which charted in Ontario, but not in Vancouver. After performing on the Bob Hope Show in 1960, the charismatic teenager, with his handsome boy-next-door looks was quickly finding himself within a whirlwind called "Curtolamania."
Bobby set out on his first Western Canadian Tour in the fall of 1960. From there Curtola went on to become a trailblazer. He toured the first coast to coast tour circuit in Canada. In 1961 he went to Nashville to record with Bill Porter for RCA Studios. That relationship continued for decades.
The hit "Fortune Teller" was released in 1962 and went Gold in Canada. The now Rock n' Roll Hall of Fame DJ, Red Robinson, was key in the success of "Fortune Teller". Seeing its potential internationally, Robinson sent it to Disc Jockey's in Seattle at KJR and Hawaii's KPOI in Honolulu. A major US record deal was signed and "Fortune Teller" went on to sell two and a half million copies. Bobby Curtola was invited to tour with Dick Clark and his Cavalcade of Stars. While on tour in England that same year, Bobby met The Beatles and appeared on the famous British TV variety show Thank Your Lucky Stars.
Bobby Curtola, had his seventh chart hit in Vancouver with "I Cry and Cry." It was the fifth of seven top thirty hits for Curtola on the Vancouver pop charts in 1962. Other hits included "Aladin" and "Fortune Teller." "I Cry and Cry" was the followup hit to "Fortune Teller" and it's b-side, "Johnny Take Your Time." The b-side had a separate chart run beginning with the final chart week for "Fortune Teller."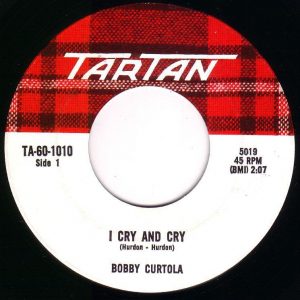 "I Cry and Cry" concerns a man who made wedding vows but after his marriage concedes "I forgot the words I said." His wife has left him. He cries and pleads in his loneliness for her to "please come back home." He confesses "now I know that I was wrong." Curtola's question: "my darling can't you change your heart?" caught the attention of some of his fans who pushed the song into the Top 20 for four weeks, peaking at #13 in Vancouver. In Toronto, the single peaked at #14, in Montreal to #15, and in Winnipeg (MB) it climbed to #21.
But in 1962 the prospect of separation or divorce in a marriage was a bit of a scandal. It was not until 1968 that Canada's first unified divorce law was passed. In fact, before 1986 if a couple wanted to divorce based on marital breakdown, they had to live three years apart before they could obtain a divorce. In 1960 only 1.8% of married women in 1000 got a divorce, or less than two marriages in one hundred ended in divorce. Singing about one's marriage partner moving out of a couples home due to marital difficulties was actually a quite edgy for its time in 1962, though it sounds extremely tame to 21st Century ears.
In early 1963 Bobby Curtola had his second number-one hit in Vancouver titled "Destination Love". After the single began to chart on CFUN in mid-January '63, Curtola was in Vancouver and had a live interview with Red Robinson. Curtola performed in concert in Vancouver in 1963 when he was at the height of his popularity. Red Robinson said in an interview after Curtola died "Bobby broke out in the early Sixties and when he appeared in Vancouver at Park Royal mall over 3,000 kids showed up. I met him when I was program director at C-FUN/Vancouver and he (later) performed for C-FUN Day at Kits Showboat. Almost 10,000 showed up for this annual event, big numbers for the Sixties!"
While on tour in England in 1963, Bobby met The Beatles and appeared on the famous British TV variety show Thank Your Lucky Stars. The episode on June 15, 1963, also featured performances by John Leyton, Jackie Trent, Kenny Ball, and the Bachelors.
In 1963, Bobby Curtola had five songs climb into the Top Ten on CFUN in Vancouver. These were "Destination Love," "Gypsy Heart", "Indian Giver," "Three Rows Over" and "Move Over". "Move Over" was his ninth and last Top Ten hit in Vancouver.
With the British Invasion in early 1964, Bobby Curtola struggled to get into the Top 20. Of his five single releases that year, only "Little Girl Blue", made the Top 20, peaking at #15.
In June of 1964, Bobby Curtola got to sing what would become an ear-worm for radio listeners across all radio and TV stations in the mid-sixties. He became the first pop singer to record a jingle that sounded like a Top 40 Hit Single. The jingle was "Things Go Better with Coke." He signed an exclusive contract with Coca-Cola to be their #1 Spokesman. Bobby, also co-wrote "The Real Thing" which was used for the commercial "Coke's The Real Thing." After turning twenty-one, Bobby was interviewed by John Pozer on his TV show in Ottawa, Saturday Date, which ended with the pair toasting to his success with coke bottles. In the interview Curtola reveals that the jingle was made in Nashville and that Elvis' former backup group, The Jordanaires, backed Curtola in recording the commercial. Bobby Curtola went on in 1965 to host The After Four Show in Toronto.
In 1966 he won a RPM Gold Leaf Award for becoming the first Canadian to have an album go gold. In 1973 Curtola became the CTV host of Shake, Rock and Roll. For many years he also hosted the Miss Canada and Teen Canada beauty pageants. And from 1972 into the mid-90's Bobby Curtola had a career performing in Las Vegas, often as the opening act of Bob Hope. Over the years Bobby Curtola has toured Asia, Europe, South America and across North America. On August 10, 1986, Bobby Curtola appeared in concert at the Expo Theatre during Vancouver's Expo '86 celebrations.
Besides his musical work, Curtola is also a business entrepreneur, marketing a successful brand of Caesar Cocktail. In 1996, Toronto City Council made April 26 Bobby Curtola Day. Curtola also has been given the keys to the city of Edmonton, Brandon, Calgary, and Hamilton. In 1997 Bobby Curtola flew to Las Vegas to become an inductee of the Coca Cola Hall of Fame.
In 1998 Bobby received the Order of Canada for his humanitarian work. In 2011 he received a star on Toronto's Italian Walk of Fame. Curtola died in 2016 at the age of 73.
October 28, 2017
Ray McGinnis
References:
Bobby Curtola biography, Bobby Curtola.com
Janet French, "Canadian Singer Bobby Curtola Dies During Edmonton Visit," Edmonton Journal, Edmonton, Alberta, June 6, 2016.
Bobby Curtola, Canadian Bands.com
Things Go Better with Coke, Coca-cola Commercial, 1964.
Bobby Curtola Coca Cola Interview with John Pozer, Ottawa, Ontario, 1964.
Constance Sorrentino, The Changing Family in International Perspective, (Marriage and Divorce Rates in 10 Countries, Selected Years, 1960-1986), Bureau of Labor Statistics, Washington D.C., 1990.
"C-FUNTASTIC FIFTY," CFUN 1410 AM, Vancouver, BC, September 1, 1962.
For more song reviews visit the Countdown.