#1177: I Dig Girls by J.J. Jackson
Peak Month: February 1967
7 weeks on Vancouver's CKLG chart
Peak Position #7
Peak Position on Billboard Hot 100 ~ #83
YouTube.com: "I Dig Girls"
Lyrics: "I Dig Girls"
In 1941, J.J. Jackson was born in the Bronx, New York. In 1957 he had his first song recorded by Billy Williams called "The Lord Will Understand (And Say Well Done)" as one of three tracks on an Extended Play supporting Williams hit single "I'm Gonna Sit Right Down and Write Myself A Letter". Jackson wrote songs recorded by the Flamingos, the Shangri-las – the B-side to "Remember (Walking In The Sand)", Barbara Lewis and Eddie Floyd, In 1966, Jackson wrote a hit single in the UK for the British group in the Pretty Things called "Come See Me".
He had a huge hit in Vancouver in 1966 called "But It's Alright", which peaked at #3, far exceeding it's chart performance in the USA at #22. The single was recorded in the United Kingdom, featuring some of Britain's top jazz musicians of the day, including Terry Smith on guitar, Dick Morrissey on tenor sax and John Marshall on drums, and who would later make up his backing band for the following two albums (one of which was also titled But It's Alright). In 1969, Warner Bros. Records re-released "But It's Alright" as a single after he signed with them. The single peaked at #45 on Billboard when it re-entered the chart in 1969.
Jackson had a second Top 20 single on the Billboard Rhythm & Blues chart in 1966 called "Four Walls". The song had much of the same musical architecture that "But It's Alright" possessed. But J. J. Jackson's only other tune to break into the Billboard Hot 100 in early 1967 called "I Dig Girls."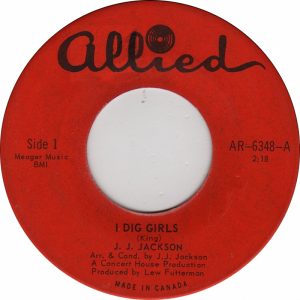 "I Dig Girls" contained a riff from the opening four solid beats from the theme for the TV series, Dragnet. The title of that theme was actually "Danger Ahead". Originally featured in the 1946 film noir classic, The Killers, "Danger Ahead" was repeated throughout the film whenever the two hitmen in the plot appeared on the screen. With four solid beats played by low brass, accompanied by insistent snare drums, the musical riff announced the killers were lurking. "Danger Ahead" was composed by Miklos Rozsa. He composed scores for numerous film noir and crime noir movies including Spellbound, Brute Force, A Double Life and The Naked City. Rozsa ended up being nominated 17 times for Academy Awards. He won Best Original Score in 1945 for Spellbound, and in 1947 Best Music, Scoring of a Dramatic or Comedy Picture for A Double Life. And in 1959, Miklos Rozsa won again in that category for Ben Hur.
In this song J. J. Jackson celebrates the attractiveness of the female body. In this case there is no discrimination regarding height, size, geographic location, presence or lack of sophistication. All the women in his life have to do is move their bodies and he goes "nuts about them." And, lucky for him, "most of all, they dig me." It would be one thing if this guy was getting all excited about the women he saw walking by and they were adverse to his attentions. But, in his case he discovers the fascination is mutual. The song is set in the context of someone's growing awareness of returned attraction. There are so many women he likes and he lists off the names of quite a few women he is attracted to. He isn't indicating any interest to settle down, and maybe he's just turned 14 or 17 or 19 and had his first spring or summer noticing he is also "a catch." It can be quite a thrill to feel sexually attractive and also sexually attracted to others who are looking back at you. Anyone who has struggled with insecurities of feeling attractive to anyone can attest to the difference it makes to have some returned attention that is welcomed. Feeling attractive and confident enough to strike up a conversation and be flirtatious can erase feelings of depression or anxiety.
"I Dig Girls" doesn't try to achieve anything more than celebrate the clarity and awareness of "digging" ~ in this case ~ the opposite sex, and having that attraction returned. Eric Burdon & War would celebrate one man's fantasy of being naked to the world in front of every kind of girl in their 1970 #1 hit, "Spill The Wine". In 1993, exploring the simple observation of male heterosexual desire, the Vancouver band, The Odds took on a slightly more edgy angle on the topic with "Heterosexual Man".
In the case of "I Dig Girls", there is no storyline ending up in a chapel of love. The hunger to make something lasting out of the discovery of mutual attraction was left to other songs at the time like Percy Sledge's "When A Man Loves A Woman", "Your Precious Love", by Marvin Gaye and Tammi Terrell, "I Was Made To Love Her" by Stevie Wonder and "Bernadette" by the Four Tops. As for songs by female singers, expressed interest in men was focused on being in love. Even with the turned on sexuality of Aretha Franklin in "Baby I Love You," her attentions are to just one guy and not all the guys walking past her.
In 1969 J.J. Jackson finally released his debut album, The Greatest Little Soul Band in the Land. Like his biggest hit, "But It's Alright", the album was produced and recorded in the UK. The album included a cover of the John D. Loudermilk classic "Tobacco Road" and a cover of Sam Cooke's civil rights anthem "A Change is Gonna Come". A second album, J.J. Jackson's Dilemma, was released in 1970 that included covers of the Chicago hit "Does Anybody Really Know What Time It Is?" and the song "Let the Sun Shine In" from the musical Hair.
Since his brief tenure as a recording artist, J. J. Jackson has focused on songwriting and arranging. He has performed at a venue in Jacksonville, Florida, in December 2015. According to Wikipedia.org, in 2017 JJ Jackson was among the performers at a Rock 'n Roll Reunion on England's TVS Television.
February 20, 2017
Ray McGinnis
References:
The Story and Music of J.J. Jackson, Mental Itch.com
JJ Jackson bio, Wikipedia.org
Gene D. Phillips. Out of the Shadows: Expanding the Canon of Classic Film Noir. Scarecrow Press, 2011, p. 138.
Miklós Rózsa. Double Life: The Autobiography of Miklós Rózsa, Composer in the Golden Years of Hollywood. Seven Hills Books, 1989.
"Boss 40," CKLG 730 AM, Vancouver, BC, February 4, 1967.
For more song reviews on this website visit the Countdown.