#3: I Don't Like Mondays by the Boomtown Rats
Peak Month: December 1979
16 weeks on Vancouver's CKLG chart
Peak Position #1
Peak Position on Billboard Hot 100 ~ #73
YouTube.com: "I Don't Like Mondays"
Lyrics: "I Don't Like Mondays"
The Boomtown Rats formed in Dublin in 1975. Bob Geldof was born in 1951 in a town on the coast south of Dublin called. Dún Laoghaire. After graduating from school, he had several jobs including working for The Georgia Straight newspaper in Vancouver, before returning to Ireland. Pete Briquette (born Patrick Martin Cusack) was born in 1954 in Ballyjamesduff where peat briquettes were burned for heat instead of coal. Garrick Roberts was born in Dublin in 1950, while Gerry Cott was born there in 1954. Cott learned to play flamenco guitar at the age of 11, and saw Bob Dylan in concert on May 5, 1966. The experience inspired Cott. Simon Crowe was born in Dublin in 1955, while Johnnie Fingers (born John Peter Moylett) was born in Dublin in 1956. When the band formed in 1975 they first named themselves The Nightlife Thugs. But they changed their name after Bob Geldof read Woody Guthrie's Bound For Glory. In Guthrie's autobiography, the Boomtown Rats is the name of Guthrie's boyhood gang.
After getting a record deal in 1976, the band released their first single in August 1977, "Lookin' After No. 1". The song was a fusion of punk rock and new wave. It climbed to #2 on the Irish Pop Singles chart and #11 on the UK Singles chart. Their second single, "Mary Of the 4th Form", described of a teacher's sexual attraction to a pubescent girl, who behaves in an overtly sexual manner. The theme was reflected in a hit by the Police the next year in "Don't Stand So Close To Me". The first two singles appeared on the band's debut self-titled album The Boomtown Rats. A third single, "She's So Modern", became the second Top Ten hit on the Irish Pop Singles chart and the third to reach the Top 20 on the UK charts. "She's So Modern" contained the provocative line "Charlie ain't no Nazi, she just likes to wear her leather boots, 'cos it's exciting for the veterans and it's a tonic for the troops."
"She's So Modern" was the debut single from the Boomtown Rats second album A Tonic For The Troops. This was followed with the single release of "Like Clockwork". This was the band's first Top Ten hit on the UK Singles chart. It depicts the modern life of a citizen who seeks to be plugged into their surroundings as they try to make sense of the world. As they consume the news they think their thoughts and perceptions are their own:
I'm not disconnected, I'm not unaware
I'm in one place at one time, I'm neither here nor there
I'm hooked to the mainstream, tuned into the world…
I'm thinking that these thoughts are mine.
The third single from A Tonic For The Troops was "Rat Trap". This was a song about Billy, who lives in a town that was already a rat trap before he was born. Billy meets his girlfriend Judy in a cafe. He drunkenly tells her the town they live in is a rat trap. In November 1978, "Rat Trap" became the first punk or new wave single to top the UK Singles chart.
On March 9, 1979, the Boomtown Rats made their debut appearance in concert in Vancouver at the Commodore Ballroom.
But more international success greeted the band when they released their third album The Fine Art of Surfacing. The lead single from the album was titled "I Don't Like Mondays".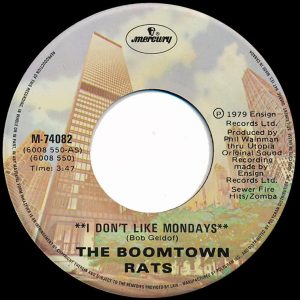 "I Don't Like Mondays" was written by Bob Geldof. It was in response to Geldof reading news stories about the Grover Cleveland Elementary School shooting in San Diego, California, on January 29, 1979. 16-year-old Brenda Spencer, who lived in a house across the street from the school, was convicted of the shootings. A school principal and custodian were killed. She also shot and injured eight children and one police officer. Spencer had been a problem student. In December 1978, a psychiatric evaluation arranged by her probation officer recommended that Spencer be admitted to a mental hospital for depression, but her father refused to give permission. For Christmas 1978, Spencer's father gave her a Ruger 10/22 semi-automatic .22 caliber rifle with a telescopic sight and 500 rounds of ammunition. Spencer later said, "I asked for a radio and got a rifle." Asked why her father bought her a rifle, Spencer said, "He bought the rifle so I would kill myself." A San Diego Tribune reporter reached Spencer by phone while she was still in the house across from the school after the shooting. When asked her why she committed the crime, Spencer told the reporter "I don't like Mondays. This livens up the day." The previous week Spencer had bragged to fellow students at her high school that she was going to do "something big to get on TV."
Geldof recalls how the incident was a catalyst for writing the song. "I was doing a radio interview in Atlanta with Johnnie Fingers and there was a telex machine beside me. I read it as it came out. Not liking Mondays as a reason for doing somebody in is a bit strange. I was thinking about it on the way back to the hotel and I just said 'silicon chip inside her head had switched to overload'. I wrote that down. And the journalists interviewing her said, 'Tell me why?' It was such a senseless act. It was the perfect senseless act and this was the perfect senseless reason for doing it. So perhaps I wrote the perfect senseless song to illustrate it. It wasn't an attempt to exploit tragedy."
"I Don't Like Mondays" peaked at #1 in Vancouver (BC) and Halifax (NS), #2 in Ottawa (ON), Saskatoon (SK), Lethbridge (AB), and Hamilton (ON), #3 in Toronto and Edmonton (AB), #4 in Regina (SK), #5 in Fredericton (NB), #7 in London (ON) and Montreal.
Internationally, "I Don't Like Mondays" climbed to #1 in Australia, Ireland, South Africa and the United Kingdom, #2 in the Netherlands and Sweden, #3 in Belgium, New Zealand and Norway, #6 in Switzerland and West Germany, #7 in Spain and #10 in Austria. In the USA the single stalled at #73 on the Billboard Hot 100.
On April 8, 1980, the Boomtown Rats returned to Vancouver at the PNE Garden Auditorium. This was just over a month after "I Don't Like Mondays" completed its 21-week chart run on CFUN (including a skipped week on December 29, 1979).
In 1980, another track from The Fine Art of Surfacing, "Someone's Looking At You", was a Top Ten hit in Ireland, the UK and Norway. It was described by Geldof as a humorous look at paranoia.
In 1981 the fourth album by the Boomtown Rats, Mondo Bongo, featured the single "Banana Republic". In the liner notes for the 1994 compilation Loudmouth, Bob Geldof revealed the song was actually about Ireland, and likening it to a 'Banana Republic'. "I wrote that just after the Rats had been refused permission to play in Ireland. They kept stopping us by removing the insurance from wherever we wanted to put the show on. it's hard now to understand, but to the Irish establishment, we were a bit like a Sex Pistols type band. But we had just been the first Irish band to be No 1 and we and most young Irish people were fairly proud of this. It turned into an us and them situation…. 'The purple and the pinstripe' in the Iyrics was the priests and politicians. And there's a reference to the Irish National Anthem: 'Striking up 'A Soldier's Song/l know that tune/lt begs too many questions/And answers to'." "Banana Republic" climbed to #3 in Ireland, Norway, the UK and West Germany, #7 in Sweden, #10 in Switzerland, #12 in South Africa and #18 in Australia.
The Boomtown Rats, to support Mondo Bongo, returned to Vancouver for their third concert appearance. It was held at the PNE Garden Auditorium on March 15, 1981.
After the fourth album release, Gerry Cott left the Boomtown Rats. They carried on to release a fifth album in 1982 titled V Deep. The single from the album, "House On Fire" cracked the Top 30 in the UK. A sixth album, In The Long Grass, released in 1984 had less commercial appeal. In 1985 The Boomtown Rats were involved with Live Aid on July 13, 1985, in a fundraiser for famine relief in Ethiopia. The band broke up in 1986.
Between 1986 and 2011, Bob Geldof released five solo albums. Four of these included Pete Briquette in the recording studio. He has also been involved in a variety of efforts to respond to crises in the news, including most recently support for people fleeing the Ukraine during the war between Russia and Ukraine.
Garry Roberts co-wrote songs for Kirsty MacColl before leaving the music business and going on to become a successful salesman of financial services. Roberts later presented his Guitar Workshop to schools, encouraging pupils to play the instrument and emphasising the contribution of the blues to modern rock and pop music.
Fingers became a successful record producer in Japan, as well as being part of the Japanese band Greengate. Simon Crowe was in the West Country-based Celtic instrumental band Jiggerypipery and has also run a clock making business.
Gerry Cott went on to become an animal trainer. In 2010, Cott released a solo acoustic guitar album Urban Soundscapes.
In 2013 the Boomtown Rats reformed with Geldof, Roberts, Briquette and Crowe. Roberts died in 2022 at the age of 72. It was Roberts who threatened to quit the band in 1975 unless they changed their name from the Nightlife Thugs.
July 17, 2023
Ray McGinnis
References:
Pauline Repard, "40 years ago, Brenda Spencer took lives, changed lives at a mass shooting at a San Diego elementary school," San Diego Union-Tribune, January 29, 2019.
"School Sniper Suspect Bragged Of 'Something Big To Get On TV'," The Evening Independent, January 30, 1979.
Tamara Jones, "Look back in sorrow: in 1979, a teenage girl opened fire on a suburban San Diego elementary school; today, as the nation reels from a rash of similar tragedies, the survivors still struggle to understand why it happened," Good Housekeeping, November 1, 1998.
Bob Geldof, "Loudmouth," liner notes, 1994.
"Live Aid 1985: A day of magic," CNN, July 6, 2005.
Sinead Crawley, "Boomtown Rats guitarist Gerry Roberts dies aged 72," RTE, November 9, 2022.
"Boomtown Rats – Concert Dates – Canada," setlist.fm.
"CKLG Top 20," CKLG 730 AM, Vancouver, BC, December 26, 1979.
For more song reviews visit the Countdown.