#1242: I Don't Wanna Love You by Cliff Richard
Peak Month: January 1965
7 weeks on Vancouver's CFUN chart
Peak Position #14
Peak Position on Billboard Hot 100 ~ did not chart
YouTube.com: "I Don't Wanna Love You"
Lyrics: "I Don't Wanna Love You"
Between 1958 and 2008 Cliff Richard charted 69 singles into the UK Top Ten including 14 #1 hits. In contrast, he managed to only chart three songs into the Top Ten on the Billboard Hot 100. Vancouver was a hybrid of the two markets and had 21 singles reach the Top Ten including six number one hits. Cliff Richard was born Harry Roger Webb on October 14, 1940, in the city of Lucknow in Uttar Pradesh, India. In 1940 Lucknow was part of the British Raj, as India was not yet an independent country. Webb's father worked on as a catering manager for the Indian Railways. His mother raised Harry and his three sisters. In 1948, when India had become independent, the Webb family took a boat to Essex, England, and began a new chapter.
At the age of 16 Harry Webb was given a guitar by his father. Harry then formed a vocal group called the Quintones. Webb was interested in skiffle music, a type of jug band music, popularized by "The King of Skiffle," Scottish singer Lonnie Donegan. In 1955 Donegan had an international hit called "Rock Island Line". In 1958, Webb became the lead singer of a British rock group named the Drifters. It was during this time that Harry Greatorex, who was promoting the band, gave Harry Webb the stage name, "Cliff Richard."As rock and roll made some people think of rocks, Greatorex reasoned that "Cliff" would be a rock solid name for the young 18 year old Harry Webb. Cliff Richard would go on to record nearly 150 singles that made it onto the UK charts.
Cliff Richard had his first single on the Vancouver charts peak at number one in the fall of 1959. "Living Doll" became an auspicious beginning for a recording artist that fans in Vancouver were wild about for Richards early string of hits between 1959 and 1966, and again in the late 70s onward.
In the UK Cliff Richard had 26 of his first 28 singles, from 1958 reach the Top Ten, which included a record of 23 Top Ten singles in a row, ending in the middle of 1965. Of these 15 singles were non-album singles. It would seem with the coming of the British Invasion that Cliff Richard would be discovered by the American record-buying public. However, it was not to be. He remained almost completely off the radar in the USA until his Top Ten hit in 1976 on the Billboard Hot 100 called "Devil Woman".
In 1965 his ninth studio album was released called Cliff Richard. There were no hit singles from this album in the UK. However, in Belgium and Australia a track from the album called "Angel" peaked at #6 in Australia and was a Top 40 hit in Belgium and the Netherlands. In Vancouver another album track, "I Don't Wanna Love You", got airplay and became the 17th charted song to reach the Top 20. Of these, 15 peaked in the Top Ten in Vancouver. The song also made it into the Top 20 in Calgary, Alberta, and the Top 30 in Edmonton, Alberta, and Tucson, Arizona. It was one of four songs in 1965 that Cliff Richard charted into the Top 20 in Vancouver.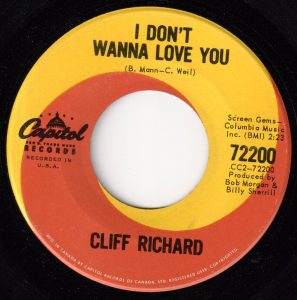 In "I Don't Wanna Love You", despite wanting to stay as free as he can be, the singer lists the ways they are captivated by the object of their desire. He confesses: a) I dream about you every night, b) I get all shook up when I hold you tight, c) I count the hours 'til you're by my side, d) I get so jealous I forget my pride, e) this heart of mine is true, f) my world crumbles when I make you mad, g) I feel like crying every time you're sad, h) I can't stop wanting you, and i) I love you. It is this final insight that he concludes with and points to a trajectory of his moving toward the one he's in love with instead of walking away. The song climbed to #14 in Vancouver in 1965.
"Cindy's Gonna Cry" is a song co-written by Cynthia Weil and Barry Mann. The husband and wife songwriting team wrote many songs including "Don't Know Much" for Aaron Neville and Linda Ronstadt, "Hungry" for Paul Revere And The Raiders, "Somewhere Out There" for Linda Ronstadt and James Ingram, "(You're My) Soul And Inspiration" and "You've Lost That Lovin' Feeling" for the Righteous Brothers, "On Broadway" for The Drifters, "Walking In The Rain" for the Ronettes and Jay and The Americans, "I'm Gonna Be Strong" for Gene Pitney, "Blame It On The Bossa Nova" for Eydie Gorme, "Here You Come Again" for Dolly Parton, "Make Your Own Kinds Of Music" and "It's Getting Better" for Mama Cass, and "Rock 'N Roll Lullaby" for B.J. Thomas.
In addition, Barry Mann wrote (or co-wrote) "Footsteps" and "Come Back Silly Girl" for Steve Lawrence, "I Love How You Love Me" for the Paris Sisters, "Patches" for Dickey Lee, "How Much Love" with Leo Sayer and "Sometimes When We Touch" with Dan Hill. Barry Mann also had a Top Ten hit he wrote in 1961 titled "Who Put The Bomp (In the Bomp, Bomp, Bomp)".
And Cynthia Weil also wrote (or co-wrote) "Running With The Night" and "Love Will Conquer All" for Lionel Ritchie, "He's So Shy" for the Pointer Sisters, and "If You're Ever In My Arms Again" for Peabo Bryson.
Richard had another Top 10 hit in 1966 titled "Blue Turns To Grey". Then he disappeared from the pop charts for nearly a decade.
Cliff Richard has a resurgence in the mid-70's with "Devil Woman" and into the 1980's with "We Don't Talk Anymore", "Dreamin'" and "A Little In Love". On this website Countdown survey, 22 songs by Cliff Richard are featured. It is a sign of how much more popular he was in Vancouver, compared to the American record market.
Cliff Richard was among the performers at the Diamond Jubilee concert held outside Buckingham Palace in June 2012. Then, on June 30, 2012, he helped to carry the Olympic torch from Derby to Birmingham as part of the torch relay for the 2012 Summer Olympics in London. Cliff Richard has also been active as a philanthropist. In October 2015 he went on tour at the age of 75.
December 28, 2016
Ray McGinnis
References:
Cliff's Career, Cliff Richard.org.
"C-FUNTASTIC FIFTY," CFUn 1410 AM, Vancouver, BC, January 2, 1965.
For more song reviews visit the Countdown.