#513: I.G.Y. (What A Beautiful World) by Donald Fagen
Peak Month: November 1982
10 weeks on Vancouver's CFUN chart
Peak Position #3
Peak Position on Billboard Hot 100 ~ #26
YouTube.com: "I.G.Y. (What A Beautiful World)"
Lyrics: "I.G.Y. (What A Beautiful World)"
Donald Jay Fagen was born into a Jewish household in Passaic, New Jersey, in 1948. The first record he bought was "Reelin' and Rockin'" by Chuck Berry in 1958. In 1959, when he was eleven years old, a cousin of Donald Fagen suggested he explore jazz music. So he attended the Newport Jazz Festival. Fagen recalled later "I lost interest in rock 'n' roll and started developing an anti-social personality." By 1960, after he'd turned twelve, Fagen began frequenting the Village Vanguard jazz club. He was able to see Charles Mingus, Thelonius Monk, and Miles Davis. He learned to play the piano, and he played baritone horn in the high school marching band. Fagen also drew inspiration from the Boswell Sisters, Henry Mancini, Ray Charles, Sly and the Family Stone and a variety of Motown recording acts.
After graduation, in 1965, Fagen entered college at private liberal arts school called Bard at Annandale-on-Hudson, New York. At Bard College he studied English literature, and in 1967 befriended a guitar player named Walter Becker. The pair, who met in a coffee house on campus called the Red Balloon. They formed a band called the Leather Canary, that included future actor Chevy Chase. The trio morphed into the Don Fagen Jazz Trio, and then the Bad Rock Band. Fagen and Becker also played in concert as backing musicians with Jay and the Americans. Fagen went by the name Tristan Fabriani, which he used on stage when he played keyboards for Jay and the Americans. Over the years, Donald Fagen has created other aliases when giving credit to work he had done for himself or others. These names include Illinois Elohainu, Phonus Quaver, and Harlan Post.
In 1971 Fagen wrote a song recorded by Barbra Streisand for her Barbra Joan Streisand album. In 1972 he co-founded a band they named Steely Dan, with Walter Becker. Steely Dan had a Top Ten hit in February 1973 titled "Do It Again". A followup single, "Reeling In The Years", stalled at #11. They climbed to #4 on the Billboard Hot 100 in August 1974 with "Rikki Don't Lose That Number". Other hits followed, notably "Peg" and "Hey Nineteen".
Steely Dan carried on until it broke up in 1981. By that time Becker had developed a drug habit, and moved to Hawaii to become an avocado farmer and kick his habit. While Donald Fagen went to the recording studio to release an album titled The Nightfly. His debut single from the album was "I.G.Y. (What a Beautiful World)".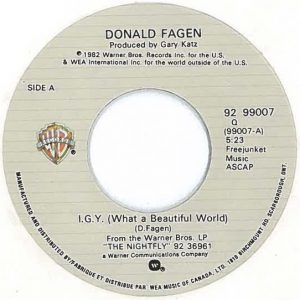 Donald Fagen's song, "I.G.Y.", refers to the "International Geophysical Year," a project that ran from July 1957 to December 1958. It marked the end of a long period during the Cold War when scientific interchange between East and West had been stifled. Sixty-seven countries participated in IGY projects. The I.G.Y. was an international scientific project promoting collaboration among the world's scientists. Fagen's lyrics sarcastically discuss the widespread optimistic vision of the future at that time, including futuristic concepts such as solar-powered cities ("here at home we'll play in the city powered by the sun"), a transatlantic tunnel ("undersea by rail"), permanent space stations ("get your ticket to the wheel in space"), and spandex jackets "for everyone." The song criticizes the I.G.Y. vision and offers a humorous critique on the naïveté of postwar optimism in America and Western civilization. Fagen concludes about the vision of I.G.Y. "what a beautiful world this would be, what a glorious time to be free."
Dupont textiles scientist Joseph C. Shivers sought to find a fiber to replace rubber in garments. He made a breakthrough in the early 1950s when he used an intermediate substance to modify Dacron polyester. This modification produced a stretchy fiber that could withstand high temperatures. After nearly a decade of research the fiber was perfected in 1959. Originally called Fiber K, DuPont chose the trade name Lycra to distinguish its brand of spandex fiber. The name "spandex" is an anagram of the word "expands". Though Donald Fagen didn't include the following details in his lyrics, since 1959 we have learned that most clothes containing spandex end up as non-recyclable waste once they have been worn out, as fabric blends containing spandex are difficult to recycle. This has contributed to pollution of the environment. In 2010 80% of clothes sold in the USA included some amount of spandex. When microfibers from these textiles end up in the ocean, fish consume them impairing their reproductivity.
The origin of the International Geophysical Year can be traced to the International Polar Years held in 1882–1883, and again in 1932–1933. The IGY triggered an 18-month year of Antarctic science. The "76" referred to in the song "I.G.Y." is 1976, the U.S. Bicentennial year.
"I.G.Y. (What a Beautiful World)" climbed to #3 in Vancouver (BC), San Bernardino (CA), Denver and Kansas City (MO), #5 in Milwaukee (WI), #6 in Providence (RI) Yellowknife (NWT) and New York City, #7 in Akron (OH), #8 in Regina (SK) #9 in Winnipeg (MB) and Chicago. The single stalled at #26 on the Billboard Hot 100. But the music critics wrote great reviews, and Fagen's album The Nightfly received a Grammy Award nomination for Album of the Year. Fagen lost out to Toto's Toto IV album which featured their number one hit "Africa".
Donald Fagen's "I.G.Y." is one of a number of songs that have lampooned visionary projects. In 1965 Barry McGuire's "Eve Of Destruction" pointed out "you may leave here for four days in space/But when you return it's the same old place." However, many radio listeners may have missed Donald Fagen's sarcasm. By 1982 I.G.Y. was 24-years in the past. And so people could sing along to the words "what a beautiful world this would be, what a glorious time to be free," and presume Fagen was endorsing a vision (perhaps of the future after 1982).
In 1988 Fagen wrote the score of Bright Lights, Big City, and a song for its soundtrack. He also produced an album for China Crisis. In addition to collaborating in the recording studio with Barbra Streisand, Donald Fagen had been a session musician for Poco, Rickie Lee Jones, Diana Ross, Boz Scaggs, Phoebe Snow, Martha Wainwright, and Todd Rundgren.
Over the years Donald Fagen has released four studio albums. His latest was in 2012 titled Sunken Condos. That year he toured with the Dukes of September, featuring Michael McDonald and Boz Scaggs. One of the concerts was recorded at Lincoln Center in New York City and broadcast on PBS Great Performances in 2014.
In October 2013 Fagen published an autobiography titled Eminent Hipsters.
December 23, 2019
Ray McGinnis
References:
"Donald Fagen Discusses the Loss of Walter Becker and Steely Dan's Future," Rolling Stone, December 19, 2017.
Rob Brunner,"The Origins of Steely Dan," Entertainment Weekly, March 17, 2006.
Fiona Harvey, "Microplastics Killing Fish Before they Reach Reproductive Age, Study Finds," Guardian, June 2, 2016.
"IGY: The Year that Lasted 18 Months," NOAA 200th Feature Story, 2007.
For more song reviews visit the Countdown.