#880: I Had A Dream by Paul Revere and the Raiders
Peak Month: September 1967
6 weeks on CKLG's Vancouver Chart
1 week Hit Bound
Peak Position on CFUN ~ #3
Peak Position on Billboard Hot 100 ~ #17
YouTube.com:"I Had A Dream"
Lyrics: "I Had A Dream"
A band called The Downbeats formed in Boise, Idaho, in 1958. Paul Revere Dick started the band originally as an instrumental group. They had their first chart single in Vancouver in 1960. It was an instrumental riff on the piano tune, Chopsticks, which they titled "Beatnik Sticks". They changed their name to Paul Revere And The Raiders in 1960. Between 1960 and 1976 they released 41 singles. They charted five songs into the Top Ten on the Billboard Hot 100 in the USA. These included "Kicks", and "Hungry" (1966), "Him Or Me – What's It Gonna Be?" (1967) and their cover of Don Fardon's 1968 single "Indian Reservation," which peaked at #1 for the band in 1971. They were even more popular in Vancouver where they charted over fifteen songs into the Top Ten on the local charts here on the West Coast.

Paul Revere Dick was born in Harvard, Nebraska, in 1938. He first met singer Mark Lindsay in 1958 while picking up hamburger buns at the bakery where Lindsay worked. At the time Revere owned several restaurants in Caldwell, Idaho. Lindsay was born in Eugene, Oregon, in 1942. In the group's song, "The Legend of Paul Revere", they sang about how they got their start.
In a little town in Idaho way back in sixty one,
a man was frying burgers, gee – it seemed like lots of fun.
But to his friend the bun boy, he confessed it's misery,
I think I'd like to start a group, so come along with me.
The song was using poetic license as they group started in '58 not '61. But "fun" rhyming with "one" had more appeal then writing "way back in fifty-eight, a man was frying burgers, gee, it seemed to be real great."
Just as they were starting to get a name Paul Revere Dick was drafted into the United States Army. He became a conscientious objector and worked as a cook in a facility for patients with mental health issues. While Revere was in the U.S. Army, Mark Lindsay toured with the Raiders in 1961, after they had a Top 40 hit instrumental in the USA called "Like Long Hair" early that year. It climbed to #3 in Cleveland, Ohio, and #29 in Vancouver. That summer a piano player named Leon Russell filled in for Paul Revere. When Revere returned to civilian life in 1962 the band moved to Portland, Oregon. In April 1963 both Paul Revere And The Raiders and The Kingsmen recorded a tune called "Louie Louie". Both versions were spirited, but it was The Kingsmen's version that would go to #2 on the pop charts in the USA, while Paul Revere & The Raiders version missed the Billboard Hot 100.
By 1965 the band had released fourteen singles, but didn't have any sizable hit. Then they released "Just Like Me" and everything changed. The infectious pop rock tune climbed to #11 on the Billboard Hot 100 and #3 in Vancouver in January 1966. The pattern of the band typically outperforming on the charts in Vancouver would continue over seven years. In November, 1966, Paul Revere & The Raiders appeared on the Batman TV show, in an episode called "Hizzoner The Penguin." They were also regular guests on Dick Clark's Where The Action Is.
One of the keys to the success of the band was bass player Phil "Fang" Volk. Born in 1945 in Burbank, California, his family moved to Idaho where he grew up. In the early Sixties Volk was playing in a number of bands, including Sir Winston's Trio, who appeared on a local TV show that Paul Revere saw. Another member of Sir Winston's Trio was Drake Levin, who was asked to become lead guitarist for Paul Revere And The Raiders in August 1963. Volk got a call from Revere to become the bands bass player in January 1965. It was Volk's guitar riffs on "Just Like Me," "Kicks" and "Hungry," that gave the band an edge as they grew in popularity.
Michael LeRoy Smith was born in 1942 in Beaverton, Oregon, a suburb of Portland. "Smitty" Smith met Paul Revere and Mark Lindsay at a teen dance club called the Headless Horseman in Portland in 1962. Smith became the band's drummer that summer.
Jim "Harpo" Valley was born in Tacoma, Washington, in 1943. He was with Don & The Goodtimes in 1966 when Paul Revere asked him to join The Raiders for a tour in March 1966. He was interviewed by Dick Clark about being a new member of the band on an episode of Where The Action Is in 1966.
Drake Maxwell Levinshefski was born in Chicago in 1946. Just before his seventeenth birthday he became lead guitarist for Paul Revere And The Raiders in August, 1963. As he was the youngest member of the band, Drake Levin was nicknamed "The Kid." During 1966 Levin was called by Uncle Sam to join the U.S. Army. By serving with the National Guard, Levin was able to fulfill his service obligation and also help with the upcoming recording sessions for the bands next album, The Spirit of '67, released in the fall of 1966. The first single off the album was "Hungry," which climbed to #1 in Vancouver and #6 on the Billboard Hot 100. The next single off the album was "The Great Airplane Strike".
With the success of their singles and albums the band was Columbia Records top selling recording act in 1967. However, Phil Volk, Drake Levin and Michael "Smitty" Smith left Paul Revere And The Raiders in 1967 to form Brotherhood. Volk went on to become bass player for Rick Nelson. Jim "Harpo" Valley left to pursue a solo career. Valley had a Top 20 hit on both CFUN and CKLG with "Try, Try, Try" when Paul Revere and the Raiders had their next Top Ten hit in Vancouver called "I Had A Dream".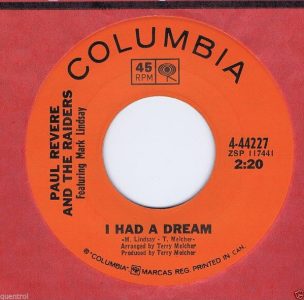 "I Had A Dream" is a song about a man having a recurrent dream after the breakup of a relationship. In the dream he is alone, high up on a mountain. From his perch he looks up at the sky and sees pictures of his ex-lover. At this point he looks into their eyes. In an article, Candice Jalili writes about various reasons an ex appears in a dream. She asked dream analyst Lauri Quinn Lowenberg about various scenarios. One dream is falling in love again for the first time, and your ex shows up in the dream. Another may be a dream about your ex that underlies the need to resolve issues of holding on, of hoping you'll get back together. Some people dream that their ex tells them they're sorry and want to get back together. Lowenberg advises that this is really your dream. "That's you wanting that. That's you exploring that. That's you doing a dress rehearsal with what you hoped was a possibility."
Another dream where an ex appears is they reject you, another involves having a conflict with your ex. Others dream about sharing child-raising responsibilities, and sometimes the dream is about a fight over how to take care of the children. Some dreams involve having sex with the ex, and some drag up some toxic element of the relationship that gets revisited in the dream. Some dream about an off-putting habit the ex has. While others dream about rescuing an ex, while some involve noticing the ex is in danger and choosing not to rescue them. An exaggerated form of this type of dream is a nightmare where your ex is trying to kill you, or you are killing your ex. Lowenberg advises, "Death in a dream is about something ending or changing. Murder is a forced end or change. So, if you're ex is murdering you, ask yourself, how did the breakup change you unwillingly? Did it kill off your spirit? Did it kill off your ability to trust? Did it kill off your confidence? What did that relationship kill off in you? Then, how can you help bring it back to life?"
Others dream their ex is dating someone else. This can be a sign your subconscious is advising you to move on, since your ex is already dating someone else. And some people after a breakup dream about being with an ex's family. Lowenberg concludes that whatever the dream about an ex, "In a nutshell, the ex appeared in your dream to bring you a message you need to know right now. Our past shapes who we are in the present. The dreams about our exes bring us reminders that, in order for our current or future relationships to be healthy, we must let go of the pain and negativity, but hold onto the lesson."
In the case of "I Had A Dream", the guy is having the same dream almost every day. He still feels attached to her, as the singer sings "baby, baby." "I Had A Dream" peaked at #1 in Omaha (NE), #2 in San Diego, Birmingham (AL) Tulsa (OK) and Toronto, and #3 in Vancouver (BC), Sioux Falls (SD) and Louisville (KY). It climbed to #4 in Fort Worth (TX) and Atlanta, #5 in St. Louis, Honolulu and New Haven (CT), #6 in Kansas City, Dallas and Memphis, #7 in Seattle, Boise (ID), Phoenix and New Orleans, and #8 in Chicago, Milwaukee, Orlando, Arlington (VA), Montreal, Toldeo and Canton (OH). In 18 states in the USA "I Had A Dream" received little or no airplay.
Paul Revere And The Raiders next single was a double-sided hit, "Peace Of Mind"/"Do Unto Others", which climbed to #4 in December '67.
Next, Paul Revere and Mark Lindsay co-hosted a show that ran after American Bandstand in 1968 called Happening '68. Revere and Lindsay added new musicians to their lineup. In 1969 the band had their first gold record with "Let Me", a song that peaked at #20 on the Billboard Hot 100, but climbed to #2 in Vancouver.
After their #1 hit with "Indian Reservation" in 1971, the band would release a few more singles with mixed success. By 1973 they were passé as progressive rock groups like Yes, folk-rock singers like Jim Croce and James Taylor, and evolving soul sounds from Marvin Gaye, Eddie Kendricks, Stevie Wonder and Billy Paul pushed the band out of the Top 40. Shortly after Mark Lindsay, who had already recorded several solo hits, left the band. In 1976 Paul Revere called it quits. However, the band was back on tour in 1978 as 60s revival tours got them bookings well into the 2000s. Paul Revere died in 2014.
Michael "Smitty" Smith moved to Hawaii and was badly injured in a car crash. In 2000 he was working in a lumberyard in Kona and playing in a band at night. But he was rushed to hospital with internal bleeding and died at the age of 58. Jim "Harpo" Valley was only in the recording studio with Paul Revere And The Raiders for The Spirit of '67. Disappointed with his lack of opportunity to shape the band's sound, he went on to a solo career early in 1967. Over the years Jim Valley has performed in a variety of settings including hospital wards for children. He lives in Gig Harbor, Washington.
Drake Levin went on to play with Lee Michaels and with Emitt Rhodes (formerly of the Merry-Go-Round). He died of cancer in San Francisco at the age of 62. Phil Volk's band, Fang and the Gang, released covers of old Paul Revere And The Raiders hits on the album, Fang Reveres The Raiders, in 2005.
As of June 2019, Paul Revere's Raiders, are led by Paul Revere's son, Jamie Revere. In mid-February 2019, the band performed in the lineup on a Where The Action Is Caribbean cruise. Other performers include The Buckinghams, Joey Molland's Badfinger, Peter Rivera (Original Lead Singer of Rare Earth 69/75), Gary Lewis & The Playboys, the 1910 Fruitgum Company and Danny & The Juniors.
April 21, 2019
Ray McGinnis
References:
Music in Washington, Seattle and Beyond (Images of America) (1st ed.). Arcadia Publishing, Charleston, SC, 2007.
Daniel Kreps, "Raiders Leader Paul Revere Dead at 76," Rolling Stone Magazine, October 5, 2014.
Paul Duchene, "So long, 'mad wizard': Raiders' drummer Michael 'Smitty' Smith dies in Hawaii," Portland Tribune, May 29, 2000.
Hizzoner the Penguin, Batman, ABC, 1966.
Paul Revere's Raiders.com.
"The Fun Forty," CFUN 1410 AM, Vancouver, BC, September 9, 1967.
"The Fun Ten," CFUN 1410 AM, Vancouver, BC, September 16, 1967.
Candice Jalili, "Dreaming About an Ex? An Expert Explores 20 Reasons Why," The Cut, December 18, 2018.
For more song reviews visit the Countdown.