#776: I Have A Boyfriend by The Chiffons
Peak Month: December 1963
9 weeks on Vancouver's CFUN chart
Peak Position #5
Peak Position on Billboard Hot 100 ~ #36
YouTube.com: "I Have A Boyfriend"
"I Have A Boyfriend" lyrics
Formed in 1960, The Chiffons were a girl-group from the Bronx. The group consisted of three classmates from James Monroe High School, Patricia Bennett, Barbara Lee and lead singer, Judy Craig. Songwriter, Ronnie Mack, who wrote the groups first hit, "He's So Fine", suggested the group add Sylvia Peterson to make them a quartette in 1962. In March 1963, "He's So Fine" took the group to #1 for four weeks in on the Billboard charts and to #1 on the Vancouver pop charts for three weeks. The tune ended up being involved in a plagiarism lawsuit against former Beatle, George Harrison. A record by Harrison, "My Sweet Lord", was found to be a case of "subconscious plagiarism" by a US judge in 1976 in favor of Bright Tunes Music Corporation that owned the rights to "He's So Fine". The ruling involved U.S. Copyright Law where it was found that "substantial similarity" was proved, that a level of similarity between "He's So Fine" and "My Sweet Lord" existed to a degree necessary to show that copying had occurred.

The word, chiffon, can refer to a traditionally silk fabric that was translucent. Chiffon is typically used in evening wear as an overlay. A chiffon overlay gives an elegant and floating appearance to a gown. Chiffon became a popular fabric choice in the 19th century so that the development of excessively ornate lingerie during the Edwardian time was called "the cult of Chiffon." At that time people produced chiffon from silk only. Alternately, chiffon is the name of a light, fluffy cake invented by Harry Baker in 1927. It became a hit with Barbara Stanwyck and other celebrities.
Their follow-up to "He's So Fine" was a song co-written by Gerry Goffin and Carole King called "One Fine Day". A Brooklyn based doo-wop group, The Tokens, who had a #1 hit with "The Lion Sleeps Tonight" in 1961, wrote the third Top 20 hit for The Chiffons on the Vancouver pop chart titled "A Love So Fine". With that third hit DJ's sometimes referred to The Chiffons as "fine." DJ's would seek to find ways to ad that compliment, "fine," to the group that had the word "fine" in the title of their first three single releases. In 1963, The Chiffons were mighty fine!
"I Have a Boyfriend" was their fourth Top 20 hit in Vancouver in 1963. It too, was a fine record. But the word fine did not appear in the lyrics or song title.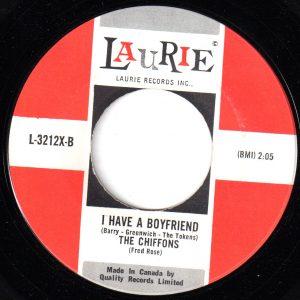 "I Have A Boyfriend" was co-written by Jeff Barry and Ellie Greenwich, with The Tokens. Jeff Barry's writing credits include "Tell Laura I Love Her", "Tell Me What He Said", "Sugar Sugar", "Montego Bay", "Lay A Little Loving On Me" and "I Honestly Love You." He co-wrote with Ellie Greenwich "Do Wah Diddy Diddy", "Maybe I Know", "Hanky Panky", "Leader of the Pack" and "I Can Hear Music". Barry and Greenwich teamed up with Phil Spector to co-write "Da Doo Ron Ron", "Then He Kissed Me", "Be My Baby" and "Chapel of Love".
"I Have A Boyfriend" concerns a girl who has met a guy who has become her boyfriend. The timeframe is short: she met him just one week ago. However, she's confident that he is her "forever." And after one week of dating he told her that she is his "forever." At the end of a week together he made a promise to her that he'll never make her cry. Each time she holds him tight he feels so good. His kisses are great too. She looks forward to walking down the aisle with him.
While the prospect of feeling like someone is your Mr. Right after one week of knowing him, in some cases couples have recalled years later that they had a hunch from the outset that this person was different, special, someone they didn't want to lose. Lenora Thompson writes in Huffington Post about a later-in-life relationship that began with online dating. A retired engineer sent her a message to her dating site. At first they spent time online corresponding. Then Lenora drove two hundred miles to meet her suitor. When they met she felt a deep sense of peace. They both concluded that the person sitting across the table from them was someone they "couldn't not marry."
For Vancouver listeners, in 1963, the idea of love at first sight must have had a strong appeal. The conviction of a lasting love after one week of dating sent radio listeners to the record stores in numbers. "I Have A Boyfriend" peaked at #5 in Vancouver, #36 on the Billboard charts and #32 on CHUM-AM in Toronto. The song charted best in the USA in New York (#4) and Reading, PA (#8).
Judy Craig was a senior in high school when "He's So Fine" went to the top of the charts in March 1963. She and the other Chiffons had fun wearing the fashions that went hand in hand with stardom. "We really had a ball doing it, because we got to go shop for our clothes. We took turns picking out matching dresses for all of us to wear. Some of the things we wore, we had made. One of the members, Patricia — her grandmother made some of our things. We got to wear nice clothes."
In 1964 the Chiffons opened for The Beatles first concert in the USA in Washington D.C. Judy Craig remembers, "we opened for them for the show they did at the Washington Coliseum (in 1964), but we did not get to meet them that night. It was so chaotic that night. Everyone would do their show and then get out. We didn't get to meet them until London in 1965. We got to meet them and the Rolling Stones and the different groups that were in England at the time."
In 1964 the group was the opening act for Gene Pitney's North American tour. In June 1966, The Chiffons shared the stage with Junior Walker & The All-Stars, The Shades of Blue, The Checkmates and The Young Rascals at a concert at New York City's Shea Stadium. After "Sweet Talking Guy" became a Top Ten hit The Chiffons went on tour in the UK and to several cities on continental Europe. However, due to a lack of hits after 1966 the group disbanded by the end of 1968.
In the USA, The Chiffons managed three songs to chart in the Top 30, all peaking in the Top Ten: "He's So Fine" (#1), "One Fine Day" (#5) and "Sweet Talking Guy" (#10). In Vancouver The Chiffons managed to chart five songs in the Top 20 and one more in the Top 30, making them more successful north of the border.
Judy Craig once again became the lead singer of The Chiffons in 1992 after Barbara Lee died. This was after Sylvia and Patricia pleaded with her to return to perform on stage, given The Chiffons had concert dates booked.
June 28, 2018
Ray McGinnis
References:
The Chiffons, History of Rock.com
Lenora Thompson, "Married After One Date," Huffington Post, February 10, 2016.
Mark Voger, Chiffons Singer Judy Craig: One Fine Voice, NJ.com, April 23, 2015
All the Information You Need to Know About Chiffon Fabric, Fsketcher.com
The Story of Chiffon Cake, Unicorn Love.com, December 21, 2012.
"C-FUNTASTIC FIFTY," CFUN 1410 AM, Vancouver, BC, December 21, 1963.
For more song reviews visit the Countdown.