#487: I Know I'm Losing You by Rod Stewart
Peak Month: December 1971
8 weeks on Vancouver's CKVN
Peak Position #1
1 week Preview
Peak Position on Billboard Hot 100 ~ #24
YouTube.com link: "I Know I'm Losing You"
Lyrics: "I Know I'm Losing You"
Roderick David Stewart was born in London, England, in 1945. In 1956 he got introduced to rock 'n roll when he saw Bill Haley and His Comets in concert, and heard Little Richard's "The Girl Can't Help It". He was given a guitar by his dad in 1959, and he learned to play the Kingston Trio's "A Worried Man". He quit school at age 15 and worked as a newspaper boy. He auditioned with Joe Meek in 1961, but didn't get a record deal. By 1963 he was part of an R&B band called The Dimensions. In 1965 he teamed up with Long John Baldry, Julie Driscoll and Brian Auger to form a blues band called Steampacket. This lasted another year. Eventually, Stewart became part of the Jeff Beck Group in 1967. When that band broke up in the fall of '68, Rod Stewart got invited to join the reformed Small Faces, who were now just called Faces.
The Faces played a rowdy, brawling brand of rock that could make a large arena seem like a corner bar. Rod Stewart's raspy, soulful vocals and the musicianship of other Faces bandmates made the group a rival live act to the Rolling Stones. Their onstage performances paved the way for punk bands like the Sex Pistols. They also were influences for roots bands decades later like the Georgia Satellites and the Black Crowes.
The Faces made four studio albums with A Nod Is as Good as a Wink… To a Blind Horse in 1971 their biggest seller. Their first hit single, "Stay With Me", went to #6 in the UK, #17 in the USA and #1 in Vancouver.
Meanwhile, Stewart also embarked on a parallel solo career. In 1970 he released Every Picture Tells A Story. The album was released with the double-sided hit number one hit "Maggie May" and "Reason To Believe". The followup single from the album was a cover of a Temptations hit from the mid-sixties titled "(I Know) I'm Losing You".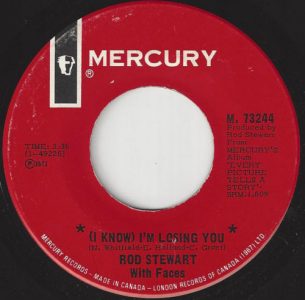 "(I Know) I'm Losing You" is a song written by Cornelius Grant, Norman Whitfield and Edward Holland Jr. It was a #8 hit on the Hot 100 for The Temptations in 1966, and peaked at #1 on the R&B chart in the USA. In 1970 the song was covered by Rare Earth and peaked at #7 in the Billboard Hot 100. Cornelius Grant was born in 1943 in a small town 80 miles south of Dallas. He learned to play guitar and was playing professionally by the age of fifteen in Detroit. He was part of Mary Wells backing band, and then worked with Marvin Gaye. He was hired by The Temptations in 1964 as a guitar player and musical arranger. At the time Grant was 21 years old. Grant also co-wrote "You're My Everything" for the Temptations, and played as a session musician for Gladys Knight and The Pips 1967 recording of "I Heard It Through The Grapevine". In 1983 Cornelius Grant left his work as a musician and arranger, and began writing columns for the Hollywood Reporter.
Norman Whitfield produced and co-wrote many hit songs at Motown. These include "Pride And Joy" for Marvin Gaye, "Too Many Fish In The Sea" for the Marvelettes, "Ain't Too Proud To Beg", "Beauty Is Only Skin Deep", "You're My Everything", "I Wish It Would Rain", "Cloud Nine", "Runaway Child Running Wild", "I Can't Get Next To You", "Ball Of Confusion", "Psychedelic Shack", "Just My Imagination", "Papa Was A Rollin' Stone" and "Masterpiece" for the Temptations; "I Heard It Through The Grapevine" for Gladys Knight & The Pips and later Marvin Gaye; "War" for Edwin Starr; "Smiling Faces Sometimes" for the Undisputed Truth; "Car Wash" for Rose Royce and others. Whitfield was born in 1940 in Harlem. He died in 2008 at the age of 68.
Edward Holland Jr. was born in Detroit in 1939. From 1958 to 1964 he recorded about 15 singles. But his star as a recording artist never shone brightly. Aside from "Jaime", a #6 R&B hit on the Billboard charts in 1961, success as a recording artist eluded him. But as a songwriter, Edward Holland Jr. shone. His credits include "Heat Wave", "Quicksand", "Nowhere To Run" and "Jimmy Mack" for Martha & The Vandellas; "Mickey's Monkey" and "(Come Round Here) I'm The One You Need" for the Miracles; "Baby I Need Your Lovin'", "I Can't Help Myself (Sugar Pie, Honey Bunch)", "It's The Same Old Song", "Something About You", "Shake Me, Wake Me (When It's Over)", "Reach Out I'll Be There", "Bernadette" and "Standing In The Shadows Of Love" for the Four Tops; "Where Did Our Love Go", "Baby Love", "Come See About Me", "Stop! In The Name Of Love", "Back In My Arms Again", "I Hear A Symphony", "My World Is Empty Without You", "Love Is Like An Itching In My Heart", "You Can't Hurry Love", "You Keep Me Hanging On", "Love Is Here And Now You're Gone", "The Happening" and "Reflections" for The Supremes; "Love Gone Bad" for Chris Clark; "Give Me Just A Little More Time" for Chairmen Of The Board; "Band Of Gold" for Freda Payne; "All I Need" for the Temptations and "Please Mr. Postman" and "Playboy" for the Marvelettes. Eddie Holland is 80 years old and has stayed connected to the music business.
"(I Know) I'm Losing You" is a song about someone who can feel in their bones that the love they've shared with their romantic partner has evaporated. They can feel in their bones that they've been replaced by someone else. There are numerous signs: the flatness with which their lover speaks their name, the lack of affection in their touch, and the air they breath is filled with the palpable sense that there is "another man" in her life. The sense of imminence is so real, he predicts "any day you'll be up and gone."
In an article written by Bibi Dietz tilted "12 Clues Your Partner Wants To End Your Relationship," cites things to track as symptoms a relationship is coming to an end. They include 1) You are no longer a priority. Your partner is busy all the time, but not busy spending time with you. 2) They're a million miles away. You may be sitting on the same couch, but your partner is emotionally distant. Conversations are less authentic and plans to do things together become "maybes." 3) They're slowly pulling back. Text and phone calls are shorter. You start to feel like you're an afterthought. 4) They don't ask about your day. When there is a lack of interest in how your day is going, that is a warning sign. 5) There is a constant feeling of dread that your partner is going to break up with you. As the song's lyrics suggest, "it's in the air, it's there everywhere." 6) No more hot dates. The flame has died. 7) They are irritable and pick fights. 8) They're defensive and withdrawn. A solution to this trajectory is to have a direct conversation about what is going on and being specific about your partner's behavior. If the relationship is worth saving, there may be a way to change the dynamics. Otherwise, you'll both lose each other.
The upside to losing someone who doesn't want to be in a relationship with you is you can be free to meet someone who wants to be in your company. Is there is a constant sense that there is someone else who your partner is seeing? Do you think they just keep you hanging on because they don't know how to dump you? Cut to the chase and find out what's going on. Otherwise, it is a toxic deceitful situation, and you both lose by ignoring the elephant in the room.
Rod Stewart's version of "(I Know) I'm Losing You" peaked at #1 in Vancouver (BC), #2 in Salt Lake City, #3 in Escondido (CA), Miami, #4 in Rochester (NY), #5 in Minneapolis/St. Paul, #6 in New Haven (CT) and St. Louis, and #9 in Olympia (WA).
In the fall of 1972 Stewart's single from Never A Dull Moment, "You Wear It Well", peaked at #8 in Vancouver (BC), #1 in the UK, and #13 on the Billboard Hot 100. It also became his second chart topping single in the UK. Between 1973 and 1975 Stewart charted four singles into the Top Ten on the UK charts: "Oh! No Not My Baby", the medley "Farewell/Bring It On Home To Me/You Send Me", a cover of the Isley Brothers "This Old Heart Of Mine"; And a number one hit in England titled "Sailing", later covered by Joan Baez on her Blowin' Away album in 1977.
But Stewart waited for four years to return to the Top Ten in most North American radio markets in 1976 with "Tonight's The Night", from his A Night On The Town album. He was a common Top Ten feature in Vancouver (BC). In 1977-78 Rod Stewart had Top 30 hits starting with "You're In My Heart", "Hot Legs", and "I Was Only Joking".
Stewart continued to have chart successes in the late 70s, and into the 80s with "Do You Think I'm Sexy?", "Ain't Love A Bitch", "Passion", "Young Turks", "Tonight I'm Yours (Don't Hurt Me)", "Baby Jane", "Infatuation", "Love Touch", "Forever Young", "My Heart Can't Tell You No", "Crazy About Her", "This Old Heart Of Mine", "Downtown Train", "Broken Arrow", "Rhythm Of My Heart" and "The Motown Song".
In 1993 Stewart recorded a song with Sting and Bryan Adams titled "All For Love", which climbed to #1 in many countries. Since 1977 Rod Stewart has mounted over thirty tours. He has sold over 200 million records. He has been nominated fifteen times for a Grammy Award, and won once in the category of Best Traditional Pop Vocal Album for Stardust: The Great American Song Book Volume III, in 2004. He has also been nominated seven times for a Juno Award in Canada. He also has a star on the Hollywood Walk of Fame.
On October 1, 1977, April 14th and 15th, 1979, December 7, 1981, July 11 and 12, 1984, August 20, 1988, and December 11, 1993, Rod Stewart appeared in concert each time at the Pacific Coliseum. Amongst these concerts, On July 16, 1989, and December 9, 1991, Stewart performed at BC Place Stadium.
Rod Stewart performed in concert in Vancouver each time at General Motors Place on the following dates: April 15, 1996, September 11, 1998, May 4, 1999, June 1, 2001, March 17, 2004, March 10, 2007, and August 8, 2009. Subsequently, at Rogers Arena, Rod Stewart appeared in Vancouver on April 22, 2011; August 2, 2014, and later on April 10, 2018. Rod Stewart has nearly 50 concert dates scheduled from mid-February 2020 to the end of the year.
February 12, 2020
Ray McGinnis
References:
John Walsh, "The Saturday Profile: Rod Stewart, Rock Star: Do ya Still think I'm Sexy?," Independent, UK, December 5, 1998.
"Stewart Goes Beneath the Covers," BBC, December 23, 2006.
Matthew Taylor, "Five decades of rocking and 62 hits earn Rod CBE," Guardian, December 30, 2006.
"Cornelius Grant," corneliusgrant.com.
"Eddie Holland," wikipedia.org.
Dave Laing, "Norman Whitfield: He Co-wrote and Produced Some of Motown's Greatest Hits," Guardian, September 19, 2008.
Bibi Dietz, "12 Clues Your Partner Wants To End Your Relationship," Bustle.com, April 5, 2016.
"West Coast Music Survey," CKVN 1410 AM, Vancouver, BC, December 24, 1971.
For more song reviews visit the Countdown.