#29: I Love Onions by Susan Christie
City: Edmonton, AB
Radio Station: CJCA
Peak Month: July 1966
Peak Position in Edmonton: #3
Peak position in Vancouver ~ did not chart
Peak Position on Billboard Hot 100 ~ #63
YouTube: "I Love Onions"
Lyrics: "I Love Onions"
Susan Christie was born in 1942 in Philadelphia. She studied music at Berkelee College of Music in Boston. John Hill, who Christie met as part of a junior high school play production, went with her to Cameo-Parkway Records. At the time, Hill and Christie were part of a folk group called The Highlanders that was on the folk festival circuit in New England. In 1966, Susan Christie released a single titled "No One Can Hear You Cry". The haunting jazz-pop influenced single was a commercial flop.
Next up, Susan Christie recorded "I Love Onions".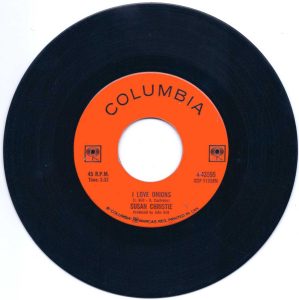 "I Love Onions" featured Christie's breathy vocals with a chorus of kazoo, harmonica, and backup singers. The last verse is recited in an Elmer Fudd type of voice. The song contains a list of things the narrator of the song doesn't like: snails, toads, frogs, dancing with "crazy Ted," rain, snow, hail, Moby Dick the whale, "shoes that pinch your toes," or "people who squirt you with a garden hose." However, she is effusive about onions, who were "prized by the ancient Egyptian pharaohs."
"I Love Onions" peaked at #2 in Fort Worth (TX), #3 in Edmonton (AB) and Cartersville (GA), #5 in Toronto, #9 in Hamilton (ON), and Seattle, #10 in Kingston (ON), and #13 in Buffalo. On the RPM Canadian singles chart, "I Love Onions" climbed to #19, but stalled at #63 on the Billboard Hot 100. The song appeared on several episodes of the children's TV show Captain Kangaroo.
A popular recipe with onions is Onion Soup. If you sing along to "I Love Onions" and concur, you may enjoy this recipe. Find an onion soup recipe online, or from your favorite cookbook!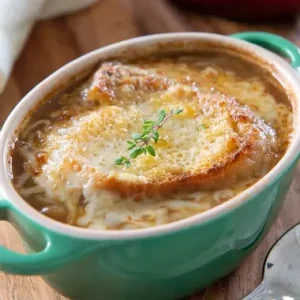 Or just order some onion rings at a restaurant.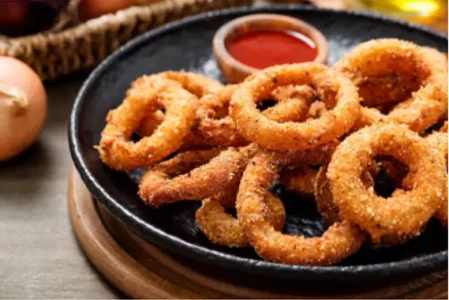 In 1967, Christie had a minor hit titled "Tonight You Belong To Me". It was a #10 hit in Berwick (PA), and #13 in Lansing (MI). A sweet-natured cover of the Everly Brothers' "All I Have To Do Is Dream" failed to chart.
Christie recorded an album in 1970, Paint a Lady. Described as "psychedelic folk music", the album went unreleased by Columbia, which considered it to be non-commercial, and Christie was dropped from the label. The album, of which only three vinyl copies were ever pressed, languished in obscurity until 2006, when Manchester-based DJ Andy Votel received a copy and brought the album renewed attention and a CD release. SPIN magazine described the album as "funky free folk" filled with "brilliantly original songs" and Christie as a "dark, strange songbird". One of her finest tracks was her cover of "Ghost Riders In The Sky".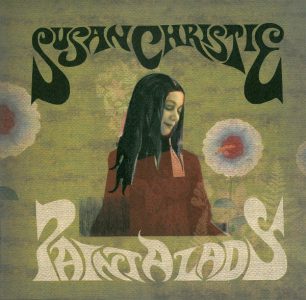 Susan Christie began to raise a family and turned to recording jingles as a way of making a living. In 1980 she recorded a Turtles chocolate bar commercial. The ad was a riff from "I Love Onions". The packaging for Turtles features Mr. Turtle who wears a tuxedo, a top hat, and a monocle. In 2000 "I Love Onions" was reviewed in Steve Otfiniski's book The Golden Age of Novelty Songs.
Christie participated in the 2008 "Lost Ladies of Folk" project spearheaded by Votel and his spouse, recording artist Jane Weaver, performing in concert at Queen Elizabeth Hall in London and appearing on the compilation album Bearded Ladies. The Guardian reported on the concert on January 2, 2008. Susan Christie described what happened after she recorded Paint a Lady. "I had decided against being a normal singer because jingle work was easier to fit around the children. I sang about bladder control, detergents, diet Pepsi and Maxwell House coffee. But performance requires so much practice, the requirement to be available, to travel. I didn't perform live until last year, at the Lost Ladies of Folk concert. My son played with me, and you could sense he was seeing this different side of his mother. I was overwhelmed at the welcome I was given. I'm 65. Now, to get that sense of something new happening now is really extraordinary."
In 2010 Christie appeared as a guest artist on Weaver's album The Fallen By Watch Bird. In 2022, Susan Christie's "Rainy Day" from her 1970 was featured in the film Everything Everywhere All At Once.
November 13, 2023
Ray McGinnis
References:
"Susan Christie," psychedelicized.com.
Jude Rogers, "Lie back and think of ukuleles," Guardian, January 2, 2008.
Susan Christie, "Turtles Chocolate Commercial," 1980.
Susan Christie, "Rainy Day," Everything Everywhere All At Once, 2022.
Steve Otfinofski, The Golden Age of Novelty Songs, (Watson-Guptill, 2000).
Susan Christie," No One Can Hear You Cry", Chante Records, 1966.