#1425: I Symbolize You by The Last Words
Peak Month: December 1966
6 weeks on the C-FUN-TASTIC FIFTY
Peak Position: #19
9 weeks on Vancouver's CFUN ALL CANADIAN TOP TEN chart
Peak Position #1
Peak Position on Billboard Hot 100 ~ did not chart
YouTube.com link: "I Symbolize You"
In the early 60's three high school friends from Clarkson, Ontario, formed a band called The Beachcombers. They were guitar player Graeme Box, piano player Noel Campbell and drummer Ron Gunther. In 1963 Graeme Box met Bill Dureen while attending an art school. Dureen played keyboards and the foursome soon billed themselves as The Nighthawks. Sometime in 1964 Noel Campbell left the band, but his younger brother Brad was added on bass, while Dureen took over piano/keyboards. The band changed their name again to The Shamokins. In 1965 the band wanted to try to make a record. Graeme Box's father, Keith Box, introduced the band to Dave Marden, the former leader of Jack London and The Sparrows. The Sparrows latter became known as Steppenwolf. Marden became the band's manager and, together with Keith Box, named them The Last Words. As Dave Marden was known in the music business, he arranged for The Last Words to get gigs at clubs in Toronto's trendy Yorkville.

Bill Dureen wrote, or co-wrote, all three of the bands single releases. The first, "The Laugh's On Me", was recorded and released on RCA in late 1965. It failed to chart. The Last Words anticipated great things with a US tour. But plans for the tour fell apart. In the aftermath, Keith Box helped the band get a deal with Columbia Records in 1966. They recorded their second single, "I Symbolize You".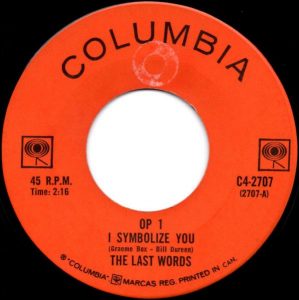 "I Symbolize You" is a song arguing that not all men want to tear up the town and let their date "down." To symbolize is synonymous with to encapsulate, to exemplify, to embody or epitomize. The singer is telling the woman he is dating that despite the behavior of other guys he wants to "symbolize" her. It seems he wants to be in synch with her and move toward her perspective and way of being concerning expectations about dating and romance.
"I Symbolize You" climbed to #14 CHUM-AM in Toronto, spending eight weeks on the chart. It peaked at #10 on CKOC in Hamilton, Ontario, during a nine-week chart run in the steel town. It also climbed to #19 on CFUN in Vancouver. In Vancouver "I Symbolize You" also climbed to #1 on the CFUN ALL CANADIAN TOP TEN. The tune also charted in Sault Ste. Marie and Lindsay, Ontario, and in Edmonton, Alberta.
On November 20, 1966, The Last Words opened a concert headlined by The Beach Boys, with Peter and Gordon also appearing on stage, as well as local Toronto band The Ugly Ducklings. Other venues for The Last Words included El Patio Coffee House, The Hummingbird Theatre and Massey Hall.
In 1967, their last single, "Give Me Time", climbed to #4 in Belleville, Ontario, #18 in Hamilton and #20 in Toronto. Although The Last Words signed a new record deal with ARC who connected them with Brian Ahearn, nothing emerged from the recording studio. Ahearn went on to produce Anne Murray.
With their wheels spinning, The Last Words added former Paupers vocalist/guitarist Bill Meisner and guitarist Neil Mattice. But the new lineup soon ran into disputes concerning the band's musical direction. Consequently, The Last Words played their last concert on July 1, 1967, in London, Ontario. Bill Dureen split from the band, leaving Box, Campbell and Gunther to find common ground with Meisner and Mattice. This lasted only a short time, bassist Brad Campbell left and joined The Paupers who were relocating from Toronto to New York City. In the Big Apple, The Paupers hooked up with Bob Dylan's manager, Albert Grossman. As Grossman happened to also manage Janis Joplin, Brad Campbell left The Paupers to play bass for Janis Joplin's Kosmic Blues Band. He stayed on when her backing band morphed into The Full Tilt Boogie Band. Brad Campbell was one of the personnel on Janis Joplin's albums I Got Dem Ol' Kozmic Blues Again Mama (1969) and Pearl (1971). The latter album was recorded between September 5 and October 4, 1970. Janis Joplin died later on October 4, and Campbell came back to Toronto.
Joe Knapp wrote in 2012 "The Last Words got together again in the 1980's to back vocalist Gerry Arpa as The Flashbacks, and played the Ontario bar circuit until 1990… Members of The Last Words are still good friends and jam frequently."
July 13, 2019
Ray McGinnis
References:
Joe Knapp, "New Oldies – 'Give Me Time' by The Last Words," Mastermusicoldies.com, February 1, 2012.
"ALL CANADIAN TOP TEN," CFUN 1410 AM, Vancouver, BC, December 3, 1966.
For more song reviews visit the Countdown.