#416: I Thank You by ZZ Top
Peak Month: March 1980
12 weeks on CFUN's Vancouver Chart
Peak Position ~ #6
Peak Position on Billboard Hot 100 ~ #34
YouTube: "I Thank You"
Lyrics: "I Thank You"
ZZ Top was formed in 1969 in Houston, Texas. The band has had three members since it began. Guitar player, Billy Gibbons, is the lead vocalist for the trio. Dusty Hill also shared lead vocals and plays bass guitar. The bands' drummer is Frank Beard. Gibbons and Hill wear beards, however Frank Beard is clean-shaven. The band has sold over 25 million records of their blues-rock infused recordings. They were inducted into the Rock and Roll Hall of Fame in 2004. They credit the rock group Cream as one of their major influences. William Frederick Gibbons was born in Houston (TX) in December 1949. He saw Elvis Presley in concert when he was just five years old in 1955, when Elvis was with Sun Records. In 1957 Billy Gibbons was taken to a recording studio to hear BB King. Gibbons learned to play percussion and got his first electric guitar in 1963 while he was still 13-years-old. He was in a number of bands while in art college in Hollywood. Back in Houston, Gibbons founded a psychedelic band named The Moving Sidewalks, who opened a concert for the Jimi Hendrix Experience and also The Doors.
Joseph Michael "Dusty" Hill was born in Dallas in 1949. Frank Lee Beard was also born in 1949, in a small town in East Texas. He learned to play the drums and joined The Cellar Dwellers, The Hustlers, The Warlocks, and American Blues, before joining ZZ Top. Beard was also part of a fake band called The Zombies who played hits by the original Zombies from England, without their permission. Hill also played in The Cellar Dwellers, The Warlocks and American Blues between 1966-68. ZZ Top formed in 1969 after a lineup change after morphing from the Moving Sidewalks.
Among their early singles was "La Grange", in 1973. This was a song about a brothel actually called the Chicken Shack on the outskirts of La Grange, Texas, from 1905 to 1973. The Chicken Shack was the basis for a play called The Best Little Whorehouse in Texas that debuted on Broadway in 1978. The song peaked at #41 on the Billboard Hot 100, but did not chart in Vancouver.
In 1975, ZZ Top released their single titled "Tush". It climbed to #20 in the USA and #11 in Vancouver. They toured internationally and their fan base grew steadily. In 1979 they released their sixth studio album titled Degüello. "Degüello" means "decapitation" or, idiomatically, when something is said to be done "a degüello" means "no surrender" or a "fight to the death." The first single release from the album was "Cheap Sunglasses". The followup single was a cover of a mid-60s Sam And Dave soul tune titled "I Thank You".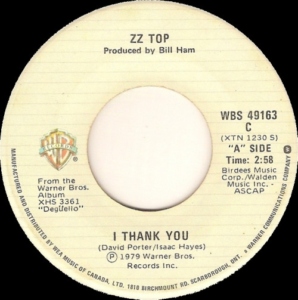 "I Thank You" was co-written by Issac Hayes and David Porter. The songwriting duo also wrote "You Don't Know Like I Know", "Soul Man", "Hold On! I'm Comin'" for Sam & Dave. They also wrote hit R&B records for Carla Thomas, Johnny Taylor, Rufus Thomas, William Bell, James and Bobby Purify, and Mabel John.
David Porter was born in 1941 in Memphis, the ninth of twelve children. He was a close friend and high school classmate of Maurice White, the founder of Earth, Wind and Fire. One afternoon in the late '50s, Porter walked across the street from the grocery store he was employed to the office of Satellite Records. He wanted to know if they'd be interested in recording some soul music, in addition to the country music they were known for. This opened the door to a relationship with Satellite and then Stax Records. Porter also wrote some minor hits for Earth, Wind and Fire, and Lou Rawls. Porter also recorded a number of his own albums with Stax between 1965 and 1974, while writing songs for other recording artists. In 2005 Porter was inducted into the Songwriters Hall of Fame. In 2015, Rolling Stone named Porter (together with Issac Hayes) at #75 on its list of the 100 Greatest Songwriters of All Time.
Issac Hayes was born in 1942 in Covington, Tennessee, 42 miles from Memphis. He was the child of a sharecropper and grew up working on farms. In his childhood he taught himself to play the organ, flute and saxophone. In his late teens he was a paid performer in R&B and blues clubs in Memphis. He went on to become a session musician for Stax Records. Hayes met David Porter in 1963 and the pair began to write songs. In addition to co-writing songs with David Porter, Hayes wrote his number one hit from 1971, "Theme From Shaft", an Academy Award winner for Best Original Song and Best Music in 1972. The album Shaft won a Grammy Award in 1972. In addition to Shaft, Hayes first won acclaim for Hot Buttered Soul in 1969. He won a Grammy again in 1973 for his album Black Moses. He also wrote songs for Dionne Warwick and Charles Wright & the Watts 103rd Street Rhythm Band. Between 1968 and 1995 Issac Hayes recorded over twenty studio albums. As an actor, Hayes appeared in nearly fifty TV and film productions, most notably in 136 episodes of South Park (1997-2006) doing the voice of Chef.
"I Thank You" is a song of adoration from one lover to another. The lover who is the object of praise for the sizzling sex. The singer confides "You didn't have to love me like you did, but you did, but you did, and I thank you." Moreover, they compliment their lover for the way they kiss, the way they "squeeze it," the way they "hold it," and the way they "shake it." The song was originally a hit for Sam & Dave in 1968 where it peaked at #9 on the Billboard Hot 100, and #15 on the CKLG Boss 30 in Vancouver (BC).
In 1980 ZZ Top's cover of "I Thank You" peaked at #6 in Vancouver (BC), #9 in Toronto, and #13 in Kansas City (MO).
In 1981 ZZ Top released their seventh studio album, El Loco. The Spanish phrase means "they crazy one" in English. One of the singles from the album was "Tube Snake Boogie".
In the mid-80's, ZZ Top scored two top ten hits on the Billboard Hot 100: "Legs" and "Sleeping Bag". The former was from their album, Eliminator, and the latter was from their album Afterburner. From Afterburner ZZ Top released seven singles. The fourth was "Rough Boy".
Supporting their album and single releases, ZZ Top launched their Afterburner World Tour on December 2, 1985, in Toronto. They played two dates in Vancouver: December 15 and 16, both at the Pacific Coliseum. In total, they performed 193 times by their finale in Honolulu on March 21, 1987. In 1990, ZZ Top was featured as a band at a party in the film, Back To The Future III. In July 2009, ZZ Top appeared as hosts of a World Wrestling Federation show. Their song, "Sharp Dressed Man", is a theme song for the TV show Duck Dynasty.
To date ZZ Top has released twelve studio albums.
In the fall and winter of 2019, ZZ Top performed in 36 venues across twenty-one states in the USA. ZZ Top has performed in Vancouver on July 25, 1981, at the Pacific Coliseum in Vancouver on September 17, 1982, December 16, 1985, October 2, 1990 and September 3, 1994; On June 1, 1997 at the Rogers Arena; August 23, 2007 at the Rogers Arena with the Pretenders and the Stray Cats; on August 8, 2008, at the Doug Mitchell Thunderbird Sports Centre in Vancouver on June 5, 2010; the Queen Elizabeth Theatre in Vancouver (BC) on March 22, 2014; In Abbotsford (BC) on November 22, 2009 and April 7, 2016; At the PNE in Vancouver (BC) on August 25, 2017 and on August 18, 2019.
September 11, 2020
Ray McGinnis
References:
ZZ Top bio, Rolling Stone.
ZZ Top Afterburner World Tour: December 2, 1985 – March 21, 1987, Wikipedia.org.
Legendary Rock Band Makes Surprise Appearance on Final Episode of 'Duck Dynasty', Country Rebel
ZZ Top tour, ZZ Top.com
"#75: Issac Hayes and David Porter," 100 Greatest Songwriters of All Time, Rolling Stone, December 14, 2015.
"ZZ Top Concert Archives," concert archives.org.
"CFUN Top 30," CFUN 1410 AM, Vancouver, BC, March 15, 1980.
For more song reviews visit the Countdown.