#247: I Threw It All Away by Bob Dylan
Peak Month: June 1969
9 weeks on Vancouver's CKLG chart
Peak Position #2
1 week Hit Bound
Peak Position on Billboard Hot 100 ~ #85
YouTube: "I Threw It All Away"
Lyrics: "I Threw It All Away"
Robert Allen Zimmerman was born in Duluth, Minnesota, in 1941. In his childhood he took up piano and guitar. He was fond of poetry as well as music, especially Elvis Presley and Jerry Lee Lewis. In university he studied the poetry of Dylan Thomas. When he began to perform folk music in public, Zimmerman chose the name Bob Dylan as a tribute to Dylan Thomas. He moved to New York City and hung out in Greenwich Village, playing in folk clubs. In 1962 he released a self-titled album that reached #13 on the UK albums chart. However, back in North America the album got little notice. But when he released The Freewheelin' Bob Dylan in May 1963. One of the tracks from the album was "Blowin' In The Wind", a #2 hit for two weeks for Peter, Paul and Mary on the Billboard Hot 100 in August '63. President John F. Kennedy has signed the Limited Nuclear Test Ban Treaty with the USSR on August 5, 1963. And on September 23, by a vote of 80-19, the United States Senate approved the treaty. "Blowin' In The Wind" was on the Hot 100 throughout the push to ratify the treaty.
Other tracks from his second album included "Girl From The North Country" which became a Top Ten hit for Tom Northcott in Vancouver in 1968. "A Hard Rain's Gonna Fall" was praised by music critics as an epic achievement. Dylan said to Studs Terkel on the radio in 1963 "No, it's not atomic rain, it's just a hard rain. It isn't the fallout rain. I mean some sort of end that's just gotta happen … In the last verse, when I say, 'the pellets of poison are flooding the waters', that means all the lies that people get told on their radios and in their newspapers." The song was sung by Dylan ahead of the Cuban Missile Crisis and was emblematic of a growing anti-establishment view among the younger generation. As was his "Masters Of War" in which he sang of the military leaders "… a world war can be won, you want me to believe." The Freewheelin' Bob Dylan topped the UK album charts for two weeks in May 1964.
Dylan also recorded outtakes that were not included in the final version of The Freewheelin' Bob Dylan. One of these was "The Death of Emmett Till", a ballad about the the murder of Emmett Till. Till was a 14-year-old African-American who was killed on August 28, 1955, by Roy Bryant and his half-brother, J.W. Milam, reportedly after flirting with a white woman. In the song's lyrics, Dylan recounts the murder and trial. Till was abducted by Bryant and Milam. They took him away and beat and mutilated him before shooting him in the head and sinking his body in the Tallahatchie River. Bob Dylan first sang the song on the Cynthia Gooding radio show in New York City called Folksinger's Choice in 1962. One other outtake of note Bob Dylan recorded was his "Talkin' John Birch Paranoid Blues". The song took aim at anti-communist paranoia, in this case expressed in the John Birch Society.
Bob Dylan's third studio album, released in 1964, was The Times They Are a-Changin'. The title track climbed to #9 as a single by Dylan on the UK pop chart. The song was covered by many recording artists including The Seekers. Another track from the album, "With God On Our Side", offered a critique of people who think the divine picks favorites when countries go to war.
That same year Dylan released his fourth album, Another Side of Bob Dylan, featured "All I Really Want To Do" and "My Back Pages", both covered by The Byrds. Another track, "It Ain't Me Babe" was covered by The Turtles. Just seven months later, in March 1965, Dylan released his fifth studio album titled Bringing It All Back Home. It became his second #1 album on the UK charts. It featured "Subterranean Homesick Blues" which climbed to #38 on CKLG's Silver Dollar Survey in Vancouver (BC). Another track titled "Mr. Tambourine Man" was a #1 hit for The Byrds in 1965. On April 9, 1965, Bob Dylan made his first concert appearance in Vancouver at the Queen Elizabeth Theatre.
Five months later Dylan released Highway 61 Revisited. The album featured "Like A Rolling Stone" which climbed to #1 on the Cashbox Pop Singles chart in the USA on September 18, 1965.
On March 26, 1966, Dylan gave a concert in Vancouver at the PNE Agrodome. In 1966 Bob Dylan's seventh studio album, Blonde On Blonde, became his third Top Ten album in the USA. It featured his second Top Ten hit on the Billboard Hot 100 with "Rainy Day Women #12 & 35". In between his sixth and seventh studio albums, Dylan released the single "Positively Fourth Street", another Top Ten hit for him in the USA.
Dylan had a near fatal motorcycle accident in 1966. He recovered in 1967 and released a greatest hits album. At the end of the year he released John Wesley Harding. The album contained "All Along The Watchtower" which was successfully covered by Jimi Hendrix, a #6 charting song in Vancouver (BC). In 1969 Dylan released his ninth studio album, Nashville Skyline. It featured the single release "I Threw It All Away".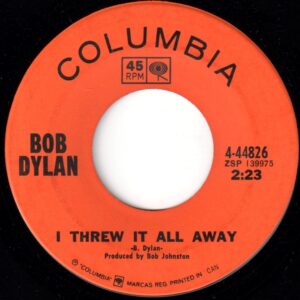 "I Threw It All Away" is a song written by Bob Dylan. In the song Dylan sings about a love that he has lost by being cruel and angry. There has been some speculation on whom Dylan is referring to in the song. Many have speculated that it could be about a number of women including Suze Rotolo, Joan Baez, and Edie Sedgwick. Unlike many songs Dylan wrote about failed relationships, such as "Don't Think Twice, It's All Right", and "It Ain't Me Babe", Dylan takes responsibility for the failure of the relationship in this song.
Before he throws away the relationship, things are at a point where "she said she would always stay." Now that Dylan's heart is hurting, he gives listeners this advise: "So if you find someone that gives you all of her love. Take it to your heart, don't let it stray."
"I Threw It All Away" climbed to #2 in Vancouver (BC), #4 in Tucson (AZ), and #6 in Denver.
Dylan's next release from the album was "Lay Lady Lay", a #7 hit on the Billboard Hot 100 that never charted in Vancouver. In 1970 Bob Dylan released his tenth studio album in eight years, Self Portrait. It contained the single release "Copper Kettle".
Next, Bob Dylan released his eleventh studio album titled New Morning. The album was the sixth and final chart-topping release on the UK album chart. The album included "If Not For You" which was recorded subsequently by George Harrison, and became a Top 30 hit for Olivia Newton-John in 1971. Two years later Dylan released his twelfth studio album titled Pat Garrett & Billy the Kid. The single from the album, "Knocking On Heaven's Door", climbed to #12 on the Billboard Hot 100 and #15 on CKLG in Vancouver (BC).
Through the 1970s Bob Dylan released eleven studio albums, one greatest hits album and two live albums. Among the songs he recorded, one of the most enduring is "Hurricane" about the trial and imprisonment of African-American middleweight boxer Rubin "Hurricane" Carter. Carter and a man named John Artis had been charged with a triple murder at the Lafayette Grill in Paterson, New Jersey, in 1966. The following year Carter and Artis were found guilty of the murders, which were widely reported as racially motivated. In the years that followed, a substantial amount of controversy emerged over the case, ranging from allegations of faulty evidence and questionable eyewitness testimony to an unfair trial.
In his autobiography, Carter maintained his innocence, and after reading it, Dylan visited him in Rahway State Prison in Woodbridge Township, New Jersey. Bob Dylan's song brought the case of "Hurricane" Carter's case before the public. Dylan gave several concerts to fundraise for Carter, who was convicted a second time at a re-trial. At a third trial in 1985 Federal Judge H. Lee Sarokin of the United States District Court for the District of New Jersey ruled that Carter had not received a fair trial and overturned the conviction, resulting in Carter's release and the granting of a writ of habeas corpus to Carter, commenting that the prosecution had been "based on racism rather than reason and concealment rather than disclosure."
On November 11, 1978, Bob Dylan appeared in concert in Vancouver at the Pacific Coliseum; And returned ten years later to the same venue on August 21, 1988. On May 14, 1998, as part of his Never Ending Tour, Bob Dylan gave a concert in Vancouver at General Motors Place; and the following year on June 11, 1999. He returned in 2005, on July 19th, 20th and 21st, Bob Dylan had a three-night-stand at the Orpheum in Vancouver. On October 11, 2006, Bob Dylan was in concert at the Pacific Coliseum in Vancouver. On October 24, 2008, Dylan gave a concert in Vancouver at General Motors Place. On October 12, 2012, Bob Dylan performed in concert at Rogers Arena in Vancouver.
Over his career Bob Dylan has released 39 studio albums. He's also released 13 live albums, 14 bootleg albums and 19 compilation albums.
In 2016 Bob Dylan won the Nobel Prize for Literature. On December 10, Patty Smith sang "A Hard Rain's Gonna Fall" when she accepted the prize in Sweden in Dylan's absence, due to prior commitments. Possibly overcome by nerves she sang "I saw the babe that was just bleedin'", the wrong words to the second verse and became unable to continue. She stopped, and asked the conductor to start the verse over. Then she said to the audience "I'm sorry. I apologize. I'm so nervous." Then she resumed the song, which earned her sustained applause at the end.
On July 25, 2017, Bob Dylan appeared in concert at Rogers Arena in Vancouver.
In 2020 Bob Dylan released his 39th studio album Rough and Rowdy Ways. It included the 16-minute long "Murder Most Foul". In it Dylan comments on the assassination of President John F. Kennedy on November 22, 1963, in Dallas, Texas.
Then they blew off his head while he was still in the car,
Shot down like a dog in broad daylight,
was a matter of timing and the timing was right…
We're gonna kill you with hatred, without any respect.
We'll mock you and shock you and we'll grin in your face.
We've already got someone here to take your place.
The day they blew out the brains of the king,
thousands were watching, no one saw a thing.
It happened so quickly, so quick, by surprise.
right there in front of everyone's eyes.
Greatest magic trick ever under the sun,
perfectly executed, skillfully done.
Dylan's lyrics also refer to the cover-up autopsy at the Bethesda Naval Hospital in Maryland, where the president's skull was altered and the photos were tampered; The Parkland Hospital in Dallas, and the magic bullet. On November 23, 1963, the New York Times reported about the assassination in "Kennedy Is Killed by Sniper as He Rides in Car in Dallas." In the article it was reported "Mr. Kennedy was hit by a bullet in the throat, just below the Adam's apple [Dr. Malcolm Perry and Dr. Kemp Clark] said. This wound had the appearance of a bullet's entry."
In his book Trauma Room One, published in 2001, Dr. Charles Crenshaw writes about the medical cover-up of JFK's fatal wounds. "The 'official' autopsy photos do not depict the same wounds I saw in Trauma Room One at Parkland. The wounds I saw were wounds of entrance, and thus they could not have come from the rifle of Lee Harvey Oswald." Crenshaw chronicles how doctors in Parkland Hospital worked to save Kennedy's life. And that all the doctors in Trauma Room One, including Dr. Jim Carrico, Dr. Malcolm Perry, Dr. Charles Baxter, Dr. Kemp Clark, Dr. Robert McClelland, and Dr. Ronald Jones, that the entrance wound was from into the front of the president's throat. However, Secret Service agents arrived at Trauma Room One and "took President Kennedy's body out of Parkland at gun point."
On November 23, 1963, Dr. Malcolm Perry stated at a press conference at Parkland Hospital "The wound appeared to be an entrance wound in the front of the throat; yes, that is correct." And on March 21, 1964, Dr. Robert McClelland told the Warren Commission "the wound in the neck, the anterior part of the neck, was an entrance wound and that it had perhaps taken a trajectory off the anterior vertebral body and again into the skull itself, exiting out the back, to produce the massive injury in the head. However…it was much easier to explain the apparent trajectory by means of two bullets [entering from the front by the throat]… than by just one …" However, as the Warren Commission didn't want to hear this information, they decided to coverup the evidence and concluded the entrance wound was from the back of the president's head.
Rough and Rowdy Ways topped the album charts in Austria, Germany, Ireland, the Netherlands, New Zealand, Norway, Portugal, Scotland, Switzerland and the UK. It also made the Top Ten on album charts in Australia, Belgium, Czech Republic, Denmark, France, Italy, Spain, Sweden and the USA.
October 18, 2021
Ray McGinnis
References:
"Nuclear Test Ban Treaty," JFK Library.org.
Tony Attwood, Girl From the North Country: the Meaning of the Lyrics and the Music, bob-dylan.org.uk, London, UK, July 18, 2015
William Grimes, "Suze Rotolo, a Face, With Bob Dylan, of 60s Music, Is Dead at 67," New York Times, March 1, 2011.
Alan Light, "The Freewheelin' Bob Dylan': Inside His First Classic," Rolling Stone, May 27, 2016.
Clinton Heylin, Bob Dylan: Behind The Shades Revisited, (HarperCollins, 2003), 314.
"Whiskey Rebellion," History.com, September 13, 2019.
Geoffrey Robertson, "Rubin 'Hurricane' Carter's Life Story is a Warning to us About Racism and Revenge," Guardian, April 21, 2014.
Ben Sisario, Alexandra Alter and Sewell Chan, "Bob Dylan Wins Nobel Prize, Redefining Boundaries of Literature," New York Times, October 13, 2016.
"Patti Smith Performs Bob Dylan's "A Hard Rain's Gonna Fall", Nobel Prize for Literature, Stockholm Concert Hall, Stockholm, Sweden, December 10, 2016.
Amanda Petrusich,"A Transcendent Patti Smith Accepts Bob Dylan's Nobel Prize," New Yorker, December 10, 2016.
Dr. Charles Crenshaw, Trauma Room One: The JFK Medical Coverup Exposed, (Paraview Press, 2001).
"Bob Dylan Concert Dates – Canada," setlist.fm.
"Boss 30," CKLG 730 AM, Vancouver, BC, June 27, 1969.
For more song reviews visit the Countdown.