#1112: I Turn To You by Spring
Peak Month: February 1972
9 weeks on Vancouver's CKVN chart
Peak Position #13
Peak Position on Billboard Hot 100 ~ did not chart
After receiving his Bachelor of Music degree in Composition from the University of British Columbia, Terry Frewer did post graduate studies in ethnomusicology, specializing in the music of the First Nations, Japan and India. He also did advanced training in jazz orchestration at the Banff School of Fine Arts. He quickly launched into a highly successful career beginning with playing (along with drummer Ross Turney) as a late addition to the Classics, the CBC Let's Go house band.* The Classics line-up was fronted by Howie Vickers on vocals, with reed player Claire Lawrence and bass player Glenn Miller. The Classics went on to become The Collectors who then morphed into Chilliwack. Meanwhile, in 1968 Terry Frewer helped found the Vancouver band Spring. This quartet scored a huge local hit in 1971 with "A Country Boy Named Willie". The song peaked at #2 on CKVN for two weeks. Other primary members of Spring included Bob Buckley (vocals, keyboard, sax, woodwinds), Pete McKinnon (bass), and Kat Hendrikse (drums).
The debut recording by Spring was a funk-rock tune called "Bring Yourself Down to Earth, Lovin' Blues Baby." It was included in 1969 on the Cool Aid Benefit Album, a various-artists charity compilation. In 1970 Spring released their debut single, "As Feelings Go". As it happened, the original master was lost when the wrong button was hit by someone during a replay session. So what was felt by the band to be a mediocre recording that ended up charting into the Top 30 in Vancouver. A second single, "It's a New Day", was pressed as a promotional copy only. But got passed over. After the success of "A Country Boy Named Willy" in the spring of 1971, Spring was being touted as an eclectic mix of the Hollies, the Small Faces and the Byrds. as well. Frewer's crisp, clean style is definitely to be admired.
Their third commercial single release came out at the end of the year called "I Turn To You". The introspective song offers a picture of what another person's love can do, stripping things down to what is essential and most important in life.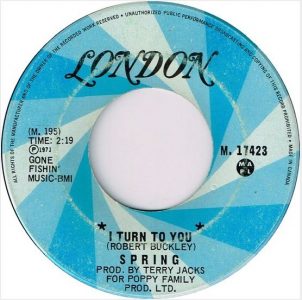 Missed out on a lot of things when I was younger,
many feelings passed me by.
And when I look around I start to wonder,
how could I have been so blind.
Now I'm learning something new everyday,
I learn from you, you learn from me.
Yes, I'm feeling something new everyday,
I turn to you, you turn to me.
You helped me see the good in everything around me,
you helped me understand.
And now that love has come and finally found me,
you've made a child out of a man.
Now I'm learning something new everyday,
I learn from you, you learn from me.
Yes, I'm feeling something new everyday,
I turn to you, you turn to me.
I turn to you, you turn to me.
"I Turn To You" was written by Robert "Bob" Buckley, one of the band's members. It was produced by Terry Jacks. At the time Jacks was mostly known for his membership in The Poppy Family who had an international hit in 1969-70 called "Which Way Is Goin' Billy?" Jacks would later have further international success, most notably with "Seasons In The Sun" in 1974. But in 1971, he had only released one single the previous year, a local Top Ten hit called "I'm Gonna Capture You".
Progressive musicians, Spring performed in concert with the Vancouver Symphony Orchestra at the Queen Elizabeth Theatre. Their show was entitled Son of Zonk, and included notable local jazz great Fraser MacPherson and local classical music and opera composer, Lloyd Burritt. (Burritt's "Overdose," featured in the program that Spring integrated into this performance on March 27, 1971, was first premiered by Ottawa National Arts Centre Orchestra and Calgary Philharmonic).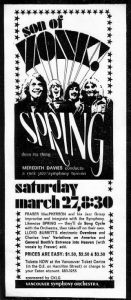 Spring continued to perform in concert until 1975. They opened for Fleetwood Mac and other performing artists appearing in Vancouver. The band toured back and forth across British Columbia, often in front of drunken audiences. The thrill of driving through snowstorms for another one night stand got to be a drag. The hoped-for wider recognition Spring sought never manifested. They sought a record deal to record an album. But that fell through. By the mid-70s the band split up and went their separate ways.
Over his career, while playing with Spring and then becoming a session musician, Terry Frewer played as a guitarist with Diana Ross and the Supremes, Fifth Dimension, Paul Horn, The Irish Rovers, Dionne Warwick, Gladys Knight, Wolfman Jack, Chaka Khan, Tom Jones, Paul Anka, Natalie Cole, Lou Rawls, Phoebe Snow, Jerry Lee Lewis and many others. Often this was as a musician for a backing band for these recording artists on tour who were performing in concert at a Vancouver venue.
Frewer has appeared as a vocalist and guitarist with the Vancouver and Edmonton Symphonies as well as with the Vancouver Bach Choir. Since dedicating his career towards film scoring, to date he has worked on over 20 television series, as well as 20 feature films and television movies. This includes the 1989 film, My American Boyfriend. In 2004 Terry Frewer won a Genie Award for Best Achievement in Music ~ Original Score, for the Canadian-British war-drama film, Head In The Clouds, starring Penelope Cruz and Charlize Theron. Terry also holds a Gemini award for his work on the PBS documentary, Over Canada.
Spring's primary drummer, Kat Hendrikse, recalls how he first got acquainted with the drum as an instrument when he was sixteen years old. Hendrikse recalls, "the way it happened was sort of by accident. There was a set of school drums and I, against the law, borrowed them for the summer holidays. I returned them again in the fall, but in the meantime I had three months of practice. And I was terrible–just the worst. But things happened anyway, and I started playing professionally about a year later." From there Hendriske got proper drum lessons from Jim Blackley, who also taught Duris Maxwell who became a drummer for Bobby Taylor and The Vancouvers and the Powder Blues Band. Kendriske became a member of a nine-piece R&B band called The Playboys, who toured across Canada in the 60s. He became the drummer for Spring and later, Papa Bear's Medicine Show. He was one of the drummers in the studio for the recording of the breakthrough Dreamboat Annie album for Heart. He played drums on both singles "Dreamboat Annie" and "Crazy On You".
Over the years Kat Hendriske has performed on the Rene Simard Show, Wolfman Jack Show and Paul Horn Show. Since 2005 Hendrikse has been doing mostly work in studio. Hendriske says of studio work, "I like the studio because it's a controlled situation. If there's something you don't like you can either go back and fix it up, or you just get to do it again. And the money is really good–the hourly rate is what makes it happen. It's professionalism. You know, if you're a doctor you do your best work in front of half a dozen other people, and that's sort of the way it is with studio work too. It doesn't matter if there's not a whole bunch of people applauding every time you do something. The thanks is going in to listen to a really good tape, where you played really good and everybody's happy. And then when the cheque comes in, that's a thanks too." When he is not in the studio, Hendriske has been playing with West Coast music bands Skywalk and the Wildroot Orchestra.
Robert "Bob" Buckley had already been making his mark in other music circles while part of Spring. Starting in the late 60s he arranged three singles for Tom Northcott, including "Suzanne" and "Spaceship Races". Buckley did some session work with Howie Vickers of the Collectors. Than Buckley moved on to Toronto and formed a band called Dogstar. They were great, except for the name. Their label changed their name to Straight Lines. In 1981 the band had a Top Ten hit in Canada called "Letting Go" that peaked in Ottawa at #1. Over the years Buckley has produced Susan Jacks, Nightrider, The Cult, Motley Crue, Celine Dion, Michael Buble, Bryan Adams, Our Lady Peace, Terry Jacks and The Tragically Hip. Buckley has made a name for himself in the world of TV and film. He was scored numbers of award-winning shows for Disney, Alliance, ABC, FOX, CBS, PBS, CBC and the Cartoon Network. Among Buckley's other accomplishments are large-scale contemporary dance and musical events for the Calgary Olympics, the Victoria Commonwealth Games, the Vancouver Olympics and the FIFA World Cup Opening Ceremony with Cirque Du Soleil.
April 19, 2017
Ray McGinnis
References:
Bob Buckley bio, Bob Buckley.com
Fraser MacPherson, Wikipedia.org
Lloyd Burritt, Lloyd Burrito.com
Wildroot Orchestra, YouTube.com
Head in the Clouds, YouTube.com
Pieta Wooley, "The West's Genie Quest," Georgia Straight, Vancouver, BC, March 24, 2005.
Terry Frewer – Credits, Encyclopedia.com
Dreamboat Annie – Personnel, Wikipedia.org
Richard Skelly correspondence regarding background on Terry Frewer's membership in The Classics.
"West Coast Music Survey," CKVN 1410 AM, Vancouver, BC, February 11, 1972.
For more song reviews visit the Countdown.