#76: I Wanna Be A Cowboy by Boys Don't Cry
Peak Month: June 1986
12 weeks on Vancouver's CKLG Chart
Peak Position #1
Peak Position on Billboard Hot 100 ~ #12
YouTube.com: "I Wanna Be A Cowboy"
Lyrics: "I Wanna Be A Cowboy"
Boys Don't Cry was a band formed in 1983 in the UK. It was the brainchild of lead vocalist/keyboardist Nick Richards, who had just purchased Maison Rouge Recording Studios in London. An early version of the group (featuring Richards, guitarist Richard Taee and drummer Steve Creese, augmented by session musicians) released their debut EP Don't Talk to Strangers on independent UK label Legacy Records in Britain in 1983. By the mid-1980s, the band's line-up had stabilised around principal members Richards and keyboardist Brian Chatton (one of the session players on the debut EP), along with Jeff Seopardi on drums, Nico Ramsden on guitar, and Mark Smith on bass. Chatton had previously had a brief stint on keyboards with 1970s progressive band Jackson Heights, contributing heavily to their Ragamuffin's Fool album.
Nick Richards was born in 1960. In 1975, he formed a band called Acid 4. As a solo artist known as Nikki Richards, at the age of 18, he released the singles "If I Could Tell the World" and "I Wonder What You're Doing Tonight" on Ember Records in 1978. A third single, "Oh Boy!", followed in 1979. Richards then moved to RCA Records for three more singles; "Tokyo Rising", "Factory Girl" and "Hot Love" in 1980. Brian Chatton was born in 1948 in the town of Farnworth in Lancashire, UK. At the age of eleven, Chatton was in a band named The Three Jets. From 1964 to 1967, he played in a band called the Warriors with future lead singer of Yes, Jon Anderson. Next, Chatton formed a group named Hickory with drummer and singer Phil Collins. They subsequently changed their name in 1969 to Flaming Youth. Then Chatton joined ex-bassist of The Nice, Lee Jackson, when the latter formed the second lineup of the progressive rock band Jackson Heights.
Mark Smith, guitarist for Boys Don't Cry, was born in 1960 in Battersea, Greater London. He got his first professional break in music playing with legendary London band Komomo when their bass player, Alan Spenner, went off on the road with Roxy Music. There followed stints with other London based bands such as Gonzalez and Morrisey Mullen. Notable projects were with Mickey Hart of The Grateful Dead and David Gray.
Jeff Seopardi on was with the psychedelic rock band Orang-Utan in 1971. He was a session musician for a number of recording artists in the 1970s, including Maxine Nightingale. In 1977, Seopardi was with the New Zealand hard rock band Pacific Eardrum. He continued as a session musician into the 1980s, appearing on albums for Sad Cafe, Modern English and others.
Nico Ramsden was part of a country-progressive rock band called Byzantium in 1971. He appeared on two Mike Oldfield albums at the end of the 1970s. He released a solo self-titled album in 1981. He was a writer and musician on recordings for Sandie Shaw, Miguel Rios, Leslie Duncan, Rick Wakeman, The Proclaimers and others.
Boys Don't Cry were discovered by Paul Oakenfold, who was a talent scout for Profile Records in London in the mid-'80s. Best known for being Run-DMCs record label at the time, Profile signed the band for the US market and Legacy retained the rights to the band's UK releases. Mercury Records won the bidding for Canada and Intercord Tonträger GmbH handled their releases in Germany.
Richards recalled in a 2011 interview, "BDC came together…and were basically (an) in-house studio band. We recorded in dead time at the studio, which was very rare as it was always so busy. Sundays were the normal days when it was quiet. We got the band's name from a line in the 10cc song "I'm Not In Love" not the Cure song! [the whispered line, "be quiet… big boys don't cry"].
In 1983, Boys Don't Cry released a mini-album and the single "Hearts Bin Broken". A followup, "Don't Talk To Strangers", was released in the UK only. Neither single charted. The band released a few non-album singles in 1984 that were included in their self-titled 1986 album Boys Don't Cry. These were "Turn Over", "Josephine", and "Lipstick".
In 1985 the band recorded "I Wanna Be A Cowboy".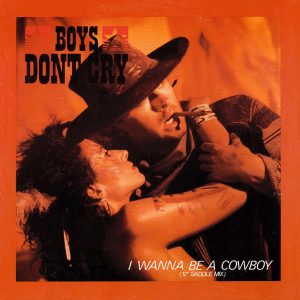 "I Wanna Be A Cowboy" was written by Nick Richards, Brian Chatton, Jeff Seopardi and Nico Ramsden. Richards recalls "I had spent a Saturday night watching Clint Eastwood cowboy movies like For a Few Dollars More. We had the next day Sunday booked in studio and I had this saying in my head, "I wanna be a cowboy and you can be my cowgirl". Everybody loved it and we decided to put it to a piece of music that Brian Chatton had written a year earlier. I had failed to come up with a lyric for it before. I wrote the new lyrics with help and ideas from Nico Ramsden (guitars) and Jeff Seopardie (drums) within an hour and recorded it straight away. I was not very happy with myself singing all four verses as it sounded too boring. So Jeff's girlfriend, Heidi Lea, who was with us at the time, performed verse two. We mixed it that day in about 3 hours. It was never mixed again!'
"I'm absolutely addicted to spaghetti Westerns. We had that harmonica sound on the synthesizer right at the front, and that intro kept reminding me of spaghetti Westerns. I just came up with this phrase, 'I wanna be a cowboy, and you can be my cowgirl.' It was so banal that we loved it. So we said, 'Let's make everything as banal as possible'–for the hell of it, basically. We didn't think anyone else would laugh, but it was making us laugh."
A Spaghetti Western is a subgenre of Western film. The phrase "Spaghetti Western" was coined by Spanish journalist Alfonso Sánchez in reference to the Italian pasta, spaghetti. Spaghetti Westerns are also known as Italian Westerns or, primarily in Japan as Macaroni Westerns. Spaghetti Westerns are often described as having eschewed, criticized, or even "demythologized" many of the conventions of traditional U.S. Westerns.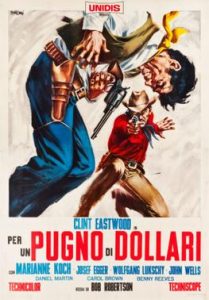 The 1964 film that inspired Nick Richards to write "I Wanna Be A Cowboy" was Fistful of Dollars. The film opens with an unnamed stranger arriving at the little town of San Miguel, on the U.S-Mexican border. Silvanito, the town's innkeeper, tells the Stranger about a feud between two smuggler families vying to gain control of the town: the Rojo brothers (Don Miguel, Esteban & Ramón), and the family comprising the town sheriff John Baxter, his matriarchal wife Consuelo, and their son Antonio. The Stranger (in order to make money) decides to play these families against each other. He demonstrates his speed and accuracy with his gun, to both sides, by shooting with ease the four men who insulted him as he entered the town.

The Stranger seizes an opportunity when he sees the Rojos massacre a detachment of Mexican soldiers who were escorting a chest of gold (which they had planned to exchange for a shipment of new rifles). He takes two of the dead bodies to a nearby cemetery and sells information to each of the two groups, saying that two Mexican soldiers survived the attack. Each faction races to the cemetery, the Baxters to get the supposed survivors to testify against the Rojos and the Rojos to silence them; they engage in a gunfight, with Ramón appearing to kill the supposed survivors and Esteban capturing Antonio Baxter.
The Stranger approaches Marisol, a woman whose family has been caught in the crossfire between the feuding families, to go with Ramón, and for her husband Julio to take their young son Jesús home. He learns from Silvanito that Ramón framed Julio as a cheat during a card game and took Marisol prisoner, forcing her to live with him. That night, while the Rojos are celebrating, the Stranger rides out and frees Marisol, shooting the guards and wrecking the house in which she is being held to create the appearance of an attack by the Baxters. He gives money to Marisol, urging her and her family to leave the town.
When the Rojos discover the Stranger has freed Marisol, they capture and torture him; nevertheless, he escapes them. Believing he is being protected by the Baxters, the Rojos set fire to the Baxter home, massacring them as they flee the burning building. After pretending he will spare their lives, Ramón kills the pleading John and Antonio Baxter. Consuelo, appearing and finding her family dead, curses the Rojos for killing unarmed men. She is then shot dead by Esteban.
With help from Piripero, the local coffin-maker, the Stranger escapes town by hiding in a coffin. He convalesces inside a nearby mine, but when Piripero tells him that Silvanito has been captured and is being tortured by the Rojos for information on the Stranger's whereabouts, he returns to town to confront them.
A Fistful Of Dollars starred Clint Eastwood. But, he was chosen after Henry Fonda, Charles Bronson and Steve Reeves turned down the film. Released in Europe in 1964, it was released in North America in 1967. Eventually, the film grossed over 20 million dollars.
Whoever the hero was in a Spaghetti Western, he would join an outlaw gang to further his own secret agenda, as in A Pistol for Ringo, Blood for a Silver Dollar, Vengeance Is a Dish Served Cold, Renegade Riders, and others. While Beyond the Law has a bandit infiltrate society and become a sheriff. Spaghetti Westerns featured a flamboyant Mexican bandit, and a grumpy old man—more often than not an undertaker, to serve as a sidekick for the hero. For love interest, rancher's daughters, schoolmarms and barroom maidens were overshadowed by young Latin women desired by dangerous men. The terror of the villains against their defenseless victims becomes ruthless. And the villians brutalization of the hero when his treachery is disclosed is merciless. While the hero gets his revenge by the end of the movie. Django Unchained is a more recent example of a Spaghetti Western, which was a box office success in 2013.
In the lyrics for "I Wanna Be A Cowboy", the cowboy is named Ted. The incongruous name conjures maybe Teddy Roosevelt, and not a hero of a Western film. The cowgirl is effusive about "riding on the chuck wagon, following my man…" She confides, "Camping on the prairie plays havoc with my hair. Makes me feel quite dirty. Though we all do sometimes." While the band sings in the background "Ted gets to dirty," suggesting not just dirt from the prairie, but sex. Ted rides on the range. He's got his a) saddle, b) horse (named Trigger, of course), c) boots (dusty), d) hat, e) six-gun, f) chewing tobacco, g) a horizon, and h) "Indians on the warpath." As in the Spaghetti Western, "I Wanna Be A Cowboy" pokes fun at the Western film genre and its unsurprising stereotypes.
"I Wanna Be A Cowboy" peaked at #1 in Vancouver, #2 in Hamilton (ON), #3 in Ottawa (ON), Buffalo, Moose Jaw (SK), and Saskatoon (SK), #4 in Los Angeles, and Lethbridge (AB), #5 in Garden City (NY), and Montreal, #7 in Sacramento (CA), and Calgary (AB), #10 in Toronto, San Francisco, Minneapolis/St. Paul, St. Louis, and Atlanta, #11 in Philadelphia, Rockford (IL), and Regina (SK), #12 in Detroit, and Naples (FL), and #13 in Boston. Internationally, the single peaked at #1 in New Zealand, #4 in Australia, #11 in South Africa, #12 on the Billboard Hot 100, #19 in Canada, #24 in Belgium, #41 in West Germany, though stalling at #77 on the UK Singles chart.
Boys Don't Cry appeared in concert at the Expo Theatre in Vancouver on July 14, 1986.
Nick Richards recalls what happened next. "The head of Profile Records decided that "Cities On Fire" should be the next single as he did not want us to be a novelty band. We had recorded it months later because we were one track short of finishing the album. I had disagreed with him over this choice, as radio was starting to play "Hearts Bin Broken" from the album, which is what the promo team was pushing. I fell out with him very badly over this matter and it caused the split between Legacy and Profile. He had made a huge mistake and cost us huge amounts of album sales. The album only peaked at #55, when another hit from it would have made me a lot of money! After a failed next album with Atlantic, we all went our separate ways. We did not feel that Boys Don't Cry could go any where else, and Legacy was starting to struggle financially. I was working on new talent every day."
The 1987 titled Who the Am Dam Do You Think You Am was a commercial failure. And none of the single releases got much attention. In 1987, Nico Ramsden formed a UK-Japanese duo named Burning the Bridge. By 1988 the band officially split up, though this was already apparent during 1987.
In 2011, Nick Richards said in an interview, "We have put out a new single in March on my label Microrich. I wrote it with my eldest son James, who is also in the new line up. Mike Licata is on drums, Aaron McLain is on guitars with James and Doug Gild is on bass. The new single is called "Don't Go Jumping With Frogs". Our brand new website is now up www.boysdontcryandfriends.com [not active anymore] too. We are working on bringing the Boys Don't Cry and Friends '80s Party to a residency in Las Vegas right now. Fingers crossed! This would be my ultimate ambition."
Over the years, Mark Smith played bass guitar on recordings for The Waterboys, and was also a member of the band for a number of years. Smith also recorded for Percy Sledge, Leo Sayer, Barbara Dickson, Shania Twain, Nineh Cherry, Lionel Ritchie, Malcolm McLaren, Van Morrison, George Michael and others. Mark Smith was found dead in his Battersea home in November 2009, at the age of 49. His death was due to unknown causes.
In 2020, Brian Chatton published his autobiography, Rolling with Rock Royalty. Over the decades, Brian Chatton collaborated with The Hollies, Joe Cocker, Albert Lee, Cream guitarist Jack Bruce and drummer Ginger Baker, Oasis drummer Alan White, Peter Frampton, Levon Helm, Vanilla Fudge guitarist Tim Bogert and drummer Carmine Appice, Deep Purple drummer Ian Paice and lead singer Ritchie Blackmore, Robin Gibb of the Bee Gees, Alvin Lee of Ten Years After, Mick Ralphs of Bad Company, Chris DeBurgh, Jethro Tull drummer Clive Bunker, and many others.
January 2, 2023
Ray McGinnis
References:
Nick Richards, "Mark Smith: One of the Greats," Music Goulash, November 3, 2009.
"Interview with Nick Richards of Boys Don't Cry," rediscoverthe80s.com, December 11, 2011.
Martin Hutchinson, "Local lad Brian Chatton speaks about his 'Crazy Daze' with Jimi Hendrix, Jon Anderson and Phil Collins," Bolton News, October 30, 2015.
Tom Popsn, "Boys Don`t Cry Hit Trail, Counter `Cowboy` Image," Chicago Tribune, August 15, 1986.
Peter Bradshaw, "A Fistful of Dollars Review – Punk-Rock Western as Fabulous as Ever," Guardian, April 13, 2018.
Bilge Ebiri, "Why Django Unchained's Slavery Tale Had to Be a Spaghetti Western," Vulture, January 2, 2013.
"Boys Don't Cry – concerts – Vancouver," Setlist.fm.
"CKLG Top Thirty," CKLG 730 AM, Vancouver, BC, June 18, 1986.
For more song reviews visit the Countdown.