#581: (I Wanna) Testify by The Parliaments
Peak Month: August 1967
7 weeks on CKLG's Vancouver Charts
Peak Position ~ #3
1 week Hit Bound
Peak Position on Billboard Hot 100 ~ #20
YouTube.com: "(I Wanna) Testify"
Lyrics: "(I Wanna) Testify"
George Edward Clinton was born in Kanapolis, North Carolina, in 1941. At the age of 14 he formed a doo-wop group in the winter of 1955, in Plainfield, New Jersey. They called themselves The Parliaments. The group originated as a barbershop quintet in the back room of a barber shop on West 3rd Street. Shortly after formation, they quickly fashioned their sound after the newly popular Frankie Lymon & The Teenagers whose "Why Do Fools Fall In Love" was a breakout hit on the R&B and Pop charts in February 1956. Other founding members were Ray Davis, Fuzzy Haskins, Calvin Simon and Grady Thomas.

Ray Davis was born in Sumter, South Carolina in 1940. Fuzzy Haskins was born in Elkins, West Virgina in 1941. Calvin Simon was born in Beckley, West Virginia in 1942. In 1966 he was drafted into the United States Army and fought in the Vietnam War in 1967-68. Grady Thomas was the fifth original member of The Parliaments. He was born in Newark, New Jersey, in 1941.
They group released "Poor Willie" in 1959 on APT Records. The song, which included Clinton and Grady as co-writers, was not a hit. They released "Lonely Island" on Flipp Records in 1960. George Clinton collaborated to write "You're Not Hurting Him (You're Hurting Me)" with Jobete Records which was released in 1963. The Parliaments recorded "This Was My Girl", another Clinton-penned song, on the Golden World label in 1966. It got some airplay on Top 40 pop radio in Cleveland.
But in 1967 George Clinton struck gold with his song "(I Wanna) Testify". The Parliaments had their first record on the national R&B and pop charts.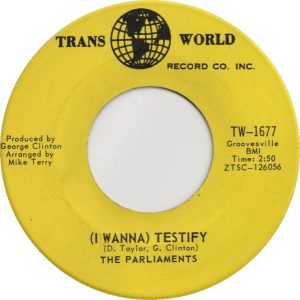 "(I Wanna) Testify" is a song contrasting the change in the lyrics' subject. In the past they were "doggone low", felt "incomplete" and considered themselves an "empty shell." But then someone walked into their life and everything changed. Now they're surrounded by happiness and testify to all who are willing to hear "what your love has done for me." The song is a gospel-influenced testimony to the difference love and romance can make in someone's life. According to an article by Michigan Rock and Roll Legends, George "Clinton was the only member of the group to appear on "Testify", as the other Parliaments were unable to travel to Detroit for the recording; and as a result, local session singers and musicians rounded out the hit recording."
Testifying is an age-old tradition in African-American churches. When testifying, parishioners speak truthfully about what they have experienced and seen, offering it to the community for the benefit of all. The practice of testifying requires that there be witnesses who give testimony and others to receive and evaluate/interpret what they have heard.
"(I Wanna) Testify" peaked at #1 in Los Angeles, Detroit and Ann Arbor (MI), #2 in Cleveland, Louisville (KY), Philadelphia and Pittsburgh, #3 in Vancouver, Montreal and New York, #4 in Windsor, New Haven (CT), Baltimore, Raleigh (NC) and Tucson (AZ), #5 in San Francisco and Minneapolis/St. Paul, #6 in Toledo (OH) and Newark (NJ), #7 in Boston and #8 in Toronto. But in over a dozen states in the USA "(I Wanna) Testify" got almost no airplay. Consequently, it stalled at #20 in the Billboard Hot 100.
In 1968 and 1969 the Parliaments released several more singles. Only one of these made the Billboard Hot 100, "All Your Goodies Are Gone (The Loser's Seat)" peaking at #80. The tune made the Top 20 on CKLW in Windsor. CKLW also saw "Look What I Almost Missed" and "Good Old Music" both peak at #5 in the following months.
In early 1970 the Parliaments merged into a new George Clinton inspired Parliament-Funkadelic band. All five original members of The Parliaments joined Parliament-Funkadelic. The band was a fusion of psychedelic rock and R&B. The band released 13 studio albums between 1970 and 1981. Author William Echard wrote a book titled Psychedelic Popular Music: A History through Musical Topic Theory in 2018. He viewed Parliament-Funkadelic's impact on psychedelic funk was "a shift in the balance toward groove and texture and away from song form… more raw sexuality and more obvious politics… pointed humor." Echard notes different songs on the early Parliament-Funkadelic albums included fuzz guitar, and "ongoing interplay between multiple voices" in sections of the tracks. The vocals drew on the call-and-response from Black gospel, jazz and psychedelic rock forms. And the lyrics/vocals evoked appeals to sexual expression, ideals of pastoral living, appeals to transformative spiritual experiences, freedom and transcendence (personal and political). The linguistic experimentation in Parliament-Funkadelic's songs reflected an interest in free-flowing creative forms and resistance to the status quo.
A specific example of the shift away from the song form is the 1970 track "Mommy, What's A Funkadelic?" William Echard notes at the opening of the song listeners hear "…rhythmically panned speaking voices, moist mouth noises with heavy sexual overtones, and other sexually suggestive sounds (gasps, etc.) coming and going throughout." Unlike some songs where a novel opening gives way to a straight-up song with verses and a chorus, "Mummy, What's A Funkadelic?" proceeds with multilayered voices throughout the track where vocalized lyrics are just one part of the emerging soundscape. Other examples of this newer genre of psychedelic funk included songs like Curtis Mayfield's "Get Down", "I Want To Take You Higher" by Sly & The Family Stone, and "Doin' It To Death" by Fred Wesley & The J.B.'s.
In 1976 Fuzzy Haskins released a solo album titled A Whole Nother Thang. In 1977 George Clinton had a dispute with several bandmates, including three of the original Parliaments: Simon, Haskins and Thomas. The trio went out on their own and released an album billing themselves as Funkadelic, but not the same as Parliament-Funkadelic.
In the 1990's Davis, Haskins, Simon and Thomas formed the Original P's and showcased their catalogue of both 60's and 70's hits from The Parliaments and Parliament. Clinton, Haskins, Thomas, Davis and Simon were all inducted into the Rock and Roll Hall of Fame in 1997, along with ten other members of the funk band. Fuzzy Haskins went on to be a member of the Temptations after original Temptations member, Melvin Franklin, died in 1995. Meanwhile, Calvin Simon started his own label named Simon Says Records. In June 2004 he released a gospel album called Share the News. It peaked at #32 on the Billboard Top Gospel Albums chart.
Raymond Davis died in 2005 of respiratory issues. Thomas Grady remains the only original member of the Parliaments who still performs with the Original P. He is joined with 12 other bandmates.
George Clinton released ten studio albums between 1982 and 2008, as well as six live albums, the most recent from 2015. In 1982 his single "Atomic Dog" peaked at #1 on the Billboard Hot Black Singles chart. George Clinton has continued to perform with Parliament-Funkadelic until 2019. In 2017, under the billing of Parliament for the first time in 38 years, George Clinton released a song titled "I'm Gon Make U Sick O' Me". The funk group were awarded the Grammy Lifetime Achievement Award in May 2019.
July 31, 2019
Ray McGinnis
References:
Kory Grow, "Black Sabbath, George Clinton to Get Lifetime Achievement Grammys," Rolling Stone, December 19, 2018.
William Echard, Psychedelic Popular Music: A History through Musical Topic Theory, (Indiana University Press, 2017) 117-125.
"MRRL Hall of Fame: Parliament-Funkadelic," Michiganrockandrolllegends.com.
Daniel Kreps, "Hear Parliament's First New Song in Decades 'I'm Gon Make U Sick O'Me'," Rolling Stone, January 17, 2017.
"Boss 30," CKLG 730 AM, Vancouver, BC, August 12, 1967.
For more song reviews visit the Countdown.