#1295: I Will by Billy Fury
Peak Month: July 1964
6 weeks on Vancouver's CFUN chart
Peak Position #9
Peak Position on Billboard Hot 100 ~ did not chart
YouTube.com link: "I Will"
"I Will" lyrics
Billy Fury was born Ronald Wycherley on April 17, 1940, in Dingle, England. An impromptu audition in a Birkenhead dressing room of the Essoldo Theatre in 1958 resulted in Wycherley joining Larry Parnes' management stable. The entrepreneur provided the suitably enigmatic stage name, and added Billy Fury to the bill of a current package tour. Fury enjoyed a UK Top 20 hit with his debut single, "Maybe Tomorrow", in 1959. His first Top Ten hit was an Everly Brothers sound-alike tune, "Colette", that peaked at #9 in 1959. The following year he completed The Sound Of Fury, which consisted entirely of the artist's own songs. Some of these were credited to Billy Fury and others to Fury's pseudonym, Wilbur Wilberforce. Arguably Britain's finest example of the rockabilly genre, it owed much of its authenticity to the support from guitarist Joe Brown, while the Four Jays provided backing vocals.

However, Fury found his greatest success with a series of dramatic ballads that, in suggesting vulnerability, enhanced the singer's undoubted sex appeal. His stylish good looks complimented a vocal prowess blossoming in 1961 with a cover version of Tony Orlando's "Halfway To Paradise." This superior single that climbed to #3 on the UK singles chart was arranged and scored by Ivor Raymonde. It established a pattern that provided Fury with 16 further UK Top 30 hits. In all fury had eleven Top Ten hits on the UK Singles chart. Fury confessed in 1961 to the British magazine, New Musical Express, that "I want people to think of me simply as a singer – and not, more specifically, as a rock singer. I'm growing up, and I want to broaden my scope. I shall continue to sing rock songs, but at the same time my stage act is not going to be as wild in the future."
Other Top Ten hits in the UK included "Jealousy" peaking at #2 (1961), "Last Night Was Made For Love" a #4 charting tune (1962), "Like I've Never Been Gone" climbing to #3 (1963) and "It's Only Make Believe" peaking at #10 (1964). His last Top Ten single, "In Thoughts Of You", peaked at #9 (1965). Fury also completed two exploitative pop movies, Play It Cool (1962) and I've Gotta Horse (1965) and remained one of Britain's leading in-concert attractions throughout the early 60s. Supported initially by the Tornadoes, then the Gamblers, Billy Fury showed a wider repertoire live than his label would allow on record. Challenged by ill health and overtaken by changing musical fashions, Fury's final hit in the UK came in 1965 with "Give Me Your Word".
Between 1960 and 1967 Billy Fury had 24 songs reach the UK Singles chart. In contrast, The Beatles had 23 singles reach the UK Singles chart between 1961 and 1969. Of Fury's hits in Britain, "I Will" peaked at #14 in 1964.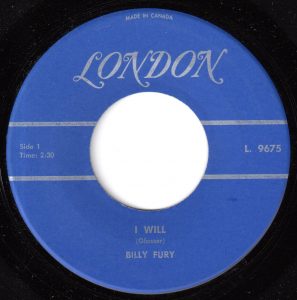 "I Will" concerns Billy Fury's classic honest, vulnerable, self-expression. In this case by a guy who let's his ex-girlfriend know exactly how he feels. He let's her know that he will miss her, cry his eyes out and that he's not ashamed to let her know how much he still loves her. He let's her know he's the one who will love her forever, for her information. "I Will" was a hit for Dean Martin in America peaking at #10 and landing him at #91 for the Cashbox Magazine Top 100 singles of 1966.
In Vancouver "I Will" peaked at #9, #13 in Fall River (MA), cracked the Top 40 in Halifax (NS) and got some airplay in Honolulu.
Fury left Decca Records for Parlophone, debuting with a Peter and Gordon song, "Hurtin' Is Lovin'" in 1966. Later singles included David Bowie's "Silly Boy Blue", the Bee Gees' "One Minute Woman" (both 1968) and Carole King's "Why Are You Leaving" (1970). However, none of Fury's eleven singles between 1967 and 1970 on Parlophone Records entered the UK Singles Chart. In 1971 he underwent open-heart surgery. But he recovered to record "Will The Real Man Stand Up" on his own Fury label, a song that also didn't crack the UK Singles chart. In 1973 Fury played the part of Stormy Tempest in the early Beatles themed film That'll Be The Day.
In the mid-70's Fury went on a tour with fellow early 60's British teen idol, Marty Wilde. A second major operation in 1976 forced Billy to retire again, but he re-emerged at the end of the decade with new recordings of his best-known songs, and several live and television appearances. In 1981 Fury struck a new deal with Polydor, but his health was rapidly deteriorating and on 28 January 1983 he died from a heart attack. Unlike many of his pre-Beatles contemporaries, his reputation has grown over the years. Billy Fury is now viewed in the UK as one of the finest rock 'n' roll singers Britain ever produced.
October 31, 2016
Ray McGinnis
References:
Paul DuNoyer, Halfway to Paradise: Billy Fury: 17 April 1941 – 28 January 1983, Paul DuNoyer.com
Richard Osley, Singing Superstar's Fans call for Return of Billy Fury Mural, Camden New Times, Camden Town, London, UK, April 5, 2018.
"C-FUNTASTIC FIFTY," CFUN 1410 AM, Vancouver, BC, July 11, 1964.
For more song reviews visit the Countdown.