#1325: I Will by Rock & Hyde
Peak Month: July 1987
6 weeks on Vancouver's CKLG chart
Peak Position #15
Peak Position on Billboard Hot 100 ~ did not chart
YouTube: "I Will"
Paul Hyde was born in 1955 in Yorkshire, England. He me Bob Rock, born in Winnipeg, Manitoba, in 1954, later when Rock was high school in Langford, British Columbia. Hyde introduced Rock to the new musical genre of punk rock, popular in England. They formed a garage band and Bob Rock got a job at Vancouver's Little Mountain Sound Studios as a recording engineer. This enabled The Payola$ to record, in the late 70s, punk rock songs "Money for Hype" and "China Boys" on independent labels. They solds singles at their performances and through local record shops. This led to a contract with A&M Records.
A four-song EP entitled Introducing Payola$ was released in 1980. The band's name was a reference to previous payola scandals in the U.S. in which record companies would offer bribes to radio stations to air songs. These scandals nearly derailed the careers of Alan Freed and Dick Clark. One deejay admitted to accepting $22,000 to air a single. The success of the Payola$' EP gave A&M confidence enough to release a full-length album the following year, In a Place Like This. The album garnered praise from critics but flopped commercially. As new wave was replacing punk in Britain and was becoming the predominant musical force west of the Atlantic, the band made a genre-switch and line-up change.
In 1982, the album No Stranger to Danger was released, and its "Eyes of a Stranger" was a huge success, winning for the band the Juno for Song of the Year, beating out Rush, Loverboy, and Toronto. Junos were also awarded to the band for song-writing, Most Promising Group, and Bob Rock's recording work. The album went platinum and The Payolas went on tour with The Go-Gos. Two subsequent albums for The Payolas were less successful.
In 1985, songwriting duo, Rock and Hyde, teamed up with Bryan Adams, David Foster, Rachel Paiement and Jim Vallance to co-write a song to raise money in Canada in response to the ongoing famine in Ethiopia (1983-85). The song, "Tears Are Not Enough" was a number one single in Canada for the year 1985. It was recorded with cameo appearances from many celebrities of the Canadian pop music scene as Northern Lights. Gordon Lightfoot, Burton Cummings, Anne Murray, Joni Mitchell, Dan Hill, Neil Young and Bryan Adams were among the artists lending cameo solos during the songs' opening verse. Later in the song Carol Pope and Paul Hyde sang a few lines as a duet.
Paul Hyde and Bob Rock continued their partnership and changed their name to Rock and Hyde. In 1987, they released Under the Volcano on Capitol Records. From the album came the two singles. "Dirty Water" began to chart in Vancouver in March 1987, and "I Will" debuted in late June.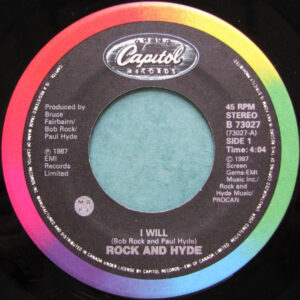 "I Will" was cowritten by Rock and Hyde. The song is narrated by a guy who wants he sweetheart to know that no matter what unfolds in life, he'll be the one who steps up to the plate and keeps her company.
"I Will" peaked at #15 in Vancouver.
Bob Rock, who was already a producer and recording engineer when he joined the Payola$, has continued work with recording artists. He has produced recordings by Cher, Loverboy, The Cult, David Lee Roth, Bryan Adams, Bon Jovi, the Tragically Hip, Jann Arden, Michael Bublé, Nelly Furtado, Metallica and Motley Crue. Rock has also contributed his talents to the soundtrack for St. Elmo's Fire (1985) and Mission: Impossible II (2000). In 2008 Bob Rock was a Gemini Award nominee in the category for Best Sound in a Comedy, Variety or Performing Arts Program or Series (At The Concert Hall).
Meanwhile, Paul Hyde released his latest album, Peace Sign, in 2009. He continues to perform.
January 15, 2022
Ray McGinnis
References:
Payola$ biography, Canadian Bands.com.
"CKLG Top Thirty," CKLG 730 AM, Vancouver, BC, July 15, 1987.
For more song reviews visit the Countdown.