#1413: If You Want This Love by Sonny Knight
Peak Month: October 1964
6 weeks on CFUN's Vancouver Chart
Peak Position ~ #14
Peak Position on Billboard Hot 100 ~ #91
YouTube: "If You Want This Love"
Lyrics: "If You Want This Love"
Joseph Coleman Smith was born in 1934, in the western Chicago suburb of Maywood. His family moved to Los Angeles in the early 1950's. In 1953 Joseph Smith signed with Aladdin Records and recorded a novelty tune he wrote titled "But Officer". The song was a humorous response to police stopping young African-Americans back in the early 50's. Do things ever change? Joseph C. Smith chose to record "But Officer" under the pseudonym Sonny Knight. Aladdin was interested in him after he penned "Vicious, Vicious Vodka". The tune was one Amos Milburn went on to record in 1954. Sonny Knight went on to record a few records on the Specialty label in 1955.
In 1955 he became acquainted with Dorlinda and Heit Morgan, songwriters who lived in Pasadena. He recorded Dorlinda Morgan's song "Confidential" in 1956. The single peaked at #3 in Vancouver (BC) in December 1956.
Sonny Knight released a diverse assortment of singles in the following years. His 1957 release of "Short Walk" was infused with R&B vibes. In 1958 Knight released "Lipstick Kisses", a pop tune that could have been a hit. He made the Top 30 in Boston in 1959 with "Barbara". "Once In Awhile" resembled some of the hits Roy Hamilton, Brook Benton, Sam Cooke, Jimmy Charles and Dee Clark were recording in '59-'60. But it got little attention. Several of these, "Short Walk", "Jailbait" and "Teenage Party" were written by her spouse Hite Morgan. She wrote several of his single releases in 1957-58: "Worthless And Lowdown" and "So Wonderful".
Sonny Knight also was a backing vocalist in the recording studio in late 50's for Sam Cooke. He also wrote some material for Ernie Freeman.
Knight switched record labels almost yearly. Beginning with Aladdin in '53, he moved on to Cal-West in '55 where he recorded under his birth name, Joe Smith. He went on later that year to record under his pseudonym, Sonny Knight, with Specialty Records. In '56 he recorded with the Vita label before moving on too Dot. By 1957 he had switched labels to Starla. In 1958 he was with the Eastman label recording as Sonny Knight and the Cleeshays. During his time with Eastman Knight recorded a song he wrote titled "Barbara". By the end of '59 he recorded a single with Original Sound Records. In 1961 Knight was recording on the Fifo label. He recorded on single on the Swingin' label before signing in 1962 with Mercury Records. The following year he switched again to A&M. In this period he dabbled with country, doowop, soul and pop.
By 1964 he had further refined his soul sound and recorded "If You Want This Love" on the Aura label.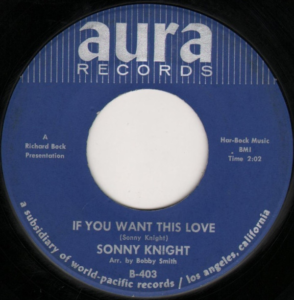 Sonny Knight composed "If You Want This Love". He appeared on American Bandstand to perform the song on February 27, 1965, months after it had a minor chart run for three weeks at #91 on the Billboard Hot 100 in October 1964. In the year of Beatlemania and the British Invasion, Sonny Knight's R&B single found it hard to get much attention beyond a few regional breakouts.
"If You Want This Love" is a list song, outlining a series of ways to collaborate if you want the love of this particular person. The list begins with requests to be gentle, kind, and not bad or mean. Regarding affection, he sings "cuddle close and don't resist."
"If You Want This Love" peaked at #1 in Fresno (CA) and Houston (TX), #2 in Corpus Christi (TX), #3 in Seattle (WA), Sacramento, San Bernardino and San Jose (CA), #4 in Tulsa (OK), #5 in San Francisco, #6 in Los Angeles, #8 in Bakersfield (CA), #9 in San Diego, #10 in Oxnard (CA), Phoenix (AZ) and Erie (PA), #11 in Oklahoma City and #14 in Vancouver BC). But in over 35 states in the USA the single got little airplay.
Knight followed up with "Love Me (As Though There Were No Tomorrow)" which peaked at #100 on the Billboard Hot 100.
In 1965 Knight recorded a jazz single "Let's Get It On", no relation to the Marvin Gaye hit in 1973. In 1966 Sonny Knight did a cover of the 1956 Top Ten R&B hit by Little Willie John, "Need Your Love So Bad". The next year he recorded one more single that became an obscure regional hit in Houston, Texas. After 1967 Sonny Knight left the recording business. In the early 70's he moved to Hawaii and kept up club appearances into the mid-90's.
In 1981, using his birth name, Joseph C. Smith, he wrote a novel about the music industry titled The Day The Music Died. Rock critic Griel Marcus wrote this about the novel: "[it is] the bitterest book ever written about how rock'n'roll came to be and what it turned into; its theme is racism….[W]hat really interests Smith is how a rich version of American black culture is transformed into a horrible, enormously profitable white parody of itself: as white labels sign black artists only to ensure their oblivion and keep those blacks they can't control penned up in the ghetto of the black charts; as white America, faced with something good, responds with a poison that will ultimately ruin even honest men… There is no question that much of what Smith describes took place…. But.. driven by its bitterness, Smith's story runs away from itself…"
Sonny Knight (Joseph C. Smith) died in 1998 at the age of 64 in Maui, several years after suffering from a stroke. He was writing a book about Jimi Hendrix before he died.
August 10, 2020
Ray McGinnis
References:
Nick Talevski, Rock Obituaries: Knocking On Heaven's Door, (Omnibus Press, 2006) 344.
Griel Marcus, Dead Elvis: A Chronicle of a Cultural Obsession, (Harvard University Press, 1999) 100-104.
Bob Dylan, The Bootleg Series Vol. 11: The Basement Tapes Complete, Columbia, 2014. Recorded between June and October 1967. "Confidential" is Track 23 on Disc 5.
Jim Murphy, "Dorinda & Hite Morgan Discography," Becomingthebeachboys.com, August 4, 2015.
"Sonny Knight," Black Cat Rockabilly.
Ritchie Unterberger, "Ernie Freeman Biography," All Music.com.
"Plas Johnson bio," Wikipedia.org.
"C-FUNTASTIC FIFTY," CFUN 1410 AM, Vancouver, BC, October 3, 1964.
For more song reviews visit the Countdown.