#596: I'll Never Fall In Love Again by Tom Jones
Peak Month: October 1967
7 weeks on CKLG's Vancouver Chart
Peak Position ~ #4
1 week Hit Bound
Peak Position on Billboard Hot 100 ~ #49
YouTube.com: "I'll Never Fall In Love Again"
Lyrics: "I'll Never Fall In Love Again"
Thomas John Woodward was born in Wales in 1940. His father was a coal miner. Young Tom began singing at an early age and was in a children's choir. At age 12 he had tuberculosis. While convalescing he spent more time developing an interest in music and listening to records. In 1963 he was the lead singer for the Welsh band Tommy Scott and the Senators. They had a record made with Tornados producer Joe Meek. In 1964 Jones was heard by a manager in the music industry based in London. Jones was brought to London and renamed Tom Jones. This was a strategy to get his attention after the successful musical Tom Jones won four Academy Awards in 1963, including Best Director and Best Picture.
In 1965 Tom Jones became a hit sensation with hit Top Ten appearances of "It's Not Unusual" and "What's New Pussycat". The latter was the theme song for the film What's New Pussycat, with a screenplay written by a new talent named Woody Allen. That year Jones also sang the theme songs for the James Bond spy film Thunderball and the comedy Promise Her Anything. In 1966 Tom Jones was awarded a Grammy for Best New Artist. In 1967 Jones began with a pop-country hit "Green, Green Grass Of Home". The single reached #11 on the Billboard Hot 100 and #1 in Vancouver and the UK.
In the UK Jones had several more Top Ten hits in 1967, "Detroit City", "Funny Familiar Forgotten Feelings", "I'll Never Fall In Love Again" and "I'm Coming Home". While "Detroit City" climbed to #12 in Vancouver, it was "I'll Never Fall In Love Again" that was his next biggest hit after "Green, Green Grass Of Home".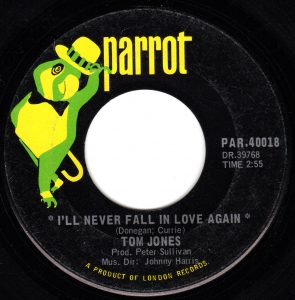 "I'll Never Fall In Love Again" was written by Jimmie Currie and Lonnie Donegan. Anthony James Donegan was born in Glasgow, Scotland, in 1931. His dad was a violinist in the Glasgow-based Scottish National Orchestra. Donegan became a fan of swing jazz and country music as he grew. When he was fourteen he got his first guitar. In the late forties "Tony" Donegan had learned how to play the banjo. Bandleader Chris Barber heard Donegan and had him audition for his Trad Jazz band. Tony Donegan played with the Trad Jazz band for a few years until he was called up for National Service that included three months of military training. While in the National Service in Southampton, England, Donegan played drum in Ken Grinyer's Wolverines Jazz Band. In 1952 he began the Tony Donegan Jazzband. On June 28, 1952, Donegan's band opened a concert for Lonnie Johnson at the Royal Festival Hall in London. Johnson was an American jazz and blues singer and pioneer of jazz guitar and jazz violin. Tony Donegan decided to bill himself as Lonnie Donegan in tribute to Lonnie Johnson.
In the late '50's and early '60's Lonnie Donegan had a string of Top Ten hits in the UK. These include "Stewball", "The Grand Coulee Dam", "Tom Dooley" (#3 for Donegan and #5 for the Kingston Trio), "The Battle Of New Orleans" (#2 Donegan and #16 Johnny Horton), "I Wanna Go Home (Wreck Of The John B)" and "Don't You Rock Me Daddy-O". He also had three #1 hits beginning with "Cumberland Gap" and "Gamblin' Man" in 1957 and "My Old Man's A Dustman" in 1960. The latter was also a #1 hit in Vancouver in 1960. Lonnie Donegan's skiffle sound inspired John Lennon to form The Quarrymen in 1957 as a skiffle band before they morphed into the Silver Beatles and finally The Beatles.
Donegan scored his second Top Ten hit in the USA with "Does Your Chewing Gum Lose Its Flavor (On The Bedpost Overnight)" which was a #3 hit in the UK and peaked at #14 in Vancouver in 1961. Donegan had another Top Ten hit in Vancouver in the summer of 1961 with "Have A Drink On Me".
"I'll Never Fall In Love Again" climbed to #4 in Vancouver in October '67, and #2 in Toronto and Jackson (TN), and #4 in Johannesburg, South Africa.
The song is about someone who'd dated often. But after falling in love with someone who cheated on them, they vow to never fall in love again. Natalia Lusinski writes in Bustle about "How To Trust Again After You've Been Cheated On, Because Patience Is Key." She asked psychotherapist and author, Tina B. Tessina, PhD, to comment. Tessina observes, "Discovering your partner has been unfaithful is a terrible blow – it changes your whole set of expectations and beliefs about your relationship. Suddenly, you have a whole set of questions you may not have ever thought of before. Why didn't I know? Did my partner ever love me? How can I ever trust my partner again? Can our relationship survive this?"
A study by Kayla Knapp at Denver University found that 32 percent of unmarried 18-35 year olds confessed to cheating, and 45 percent cheated in a later relationship. So the likelihood of someone you are in a relationship with who has cheated on you repeating in the future is almost 50/50. If you've been in a relationship that ends after someone has cheated on you, experts advise you take a break from dating and work on being healthy and balanced again.
Lusinski suggests, "think of some friends of yours who were cheated on. I bet you can think of someone. How did they get past it? What tips and advice can they give you? Chances are, after lots of tears, coping mechanisms… they survived, have moved on, and now have the best partner ever. That can be you, too! But, in the meantime, let their success stories motivate you to keep on healing and having faith that this is survivable, not everyone cheats, you'll meet someone even better than the person who stepped out on you (I swear!), and you will stop crying someday (I swear!). All in all, you'll feel whole again and that you've found your ability to trust someone again."
In 1967 Tom Jones appeared for the first time in Las Vegas. His performances increasingly featured his open, half-unbuttoned shirts and tight trousers. His shows became a magnet for women who started throwing their Las Vegas hotel room keys onto the stage. At the Copacabana, Jones had female audience members toss underwear onto the stage. Off stage Tom Jones was having multiple affairs and, including an extra-marital relationship with Mary Wilson of the Supremes.
Several more songs were released the next year, with "Delilah" being his most successful. In 1969 Tom Jones received a Golden Globe Award for Best Actor – Television Series Musical or Comedy for This Is Tom Jones. The series ran on ABC from 1969 to 1971. In 1969 "I'll Never Fall In Love Again" was reissued in the USA and shot to the #6. Jones returned to the Top 20 with a number of songs in the early '70's, with "She's A Lady" becoming his biggest hit.
On August 26, 1971, Jones performed in Vancouver at the Pacific Coliseum. But after 1971 Tom Jones started to fall off the pop charts. Nonetheless, he kept on touring. He gave a four-night-stand at the Queen Elizabeth Theatre from July 18th to 21st in 1979 in Vancouver.
In the early 1980's he had some success making records that crossed over to the Billboard Country chart. And on October 2nd and 3rd, 1982, Tom Jones gave two concerts at the Queen Elizabeth Theatre. In 1987 Tom Jones had a #2 hit with the song "A Boy From Nowhere". The song was from the London musical Matador. On January 18, 1990, Tom Jones came to Vancouver to perform at the Queen Elizabeth Theatre.
On August 30, 1996, Tom Jones gave a concert at the Pacific Coliseum. On April 11, 1998, Tom Jones performed at the Orpheum in Vancouver. In 1999 Jones received the Order of the British Empire (OBE) and in 2006 was knighted by Queen Elizabeth II. In 1999 Jones had a UK singles Top Ten hit with his cover of the Talking Heads tune "Burning Down The House". On September 6, 1999, Tom Jones came to the Orpheum in Vancouver for a concert.
The following year he returned to the Top Ten on the UK singles chart with a cover of the Three Dog Night tune, "Mama Told Me Not To Come", and "Sex Bomb". The latter song made it into the top three chart positions in the UK, Austria, Belgium and Germany, and #1 in Switzerland. On March 30, 2004, Tom Jones performed at the Orpheum in Vancouver. On June 17, 2005, Tom Jones gave a concert in Vancouver at General Motors Place.
On May 31, 2008, Tom Jones appeared in concert at the Centre For the Performing Arts in Vancouver.
In 2009 Jones teamed up with Robin Gibb and Welsh performers Ruth Jones and Rob Brydon in a cover of "Islands In The Stream". The single climbed to #1 on the UK singles chart. Over the years Tom Jones has released 37 studio albums. In 2015 he released his autobiography.
Currently, Tom Jones has over thirty concert dates scheduled including appearances in the UK, Croatia, Slovenia, Slovakia, Hungary, Bulgaria, Romania, Israel, Austria, Switzerland, Germany, Portugal and Finland.
June 10, 2019
Ray McGinnis
References:
Natalia Lusinski, "How To Trust Again After You've Been Cheated On, Because Patience Is Key," Bustle.com, December 5, 2016.
"Tom Jones: 'On The Voice I was Pressured into Picking Singers I Didn't Like'," Telegraph, April 11, 2016.
"Tom Jones interview: I was Typecast, in a Tux," New Zealand Herald, March 12, 2016.
Tom Jones, Over The Top and Back: The Autobiography, 2015.
"Tom Jones – Concerts in Canada," setlist.fm.
"Boss 30," CKLG 730 AM, Vancouver, BC, October 28, 1967.
For more song reviews visit the Countdown.