#838: I'm Free by the Soup Dragons
Peak Month: April 1991
10 weeks on CKLG's Vancouver Chart
Peak Position ~ #11
Peak Position on Billboard Hot 100 ~ #79
YouTube: "I'm Free" ~ Soup Dragons
YouTube: "I'm Free" ~ Rolling Stones
Lyrics: "I'm Free"
In 1982 Sean Dickson, Jim McCullough and Sushil K. Dade were bandmates in the Scottish indie-pop group BMX Bandits. Though they continued to perform with the band, the trio decided to form the Soup Dragons in 1985. They were an alternative rock band from Bellshill, Scotland. The Soup Dragons released Hang Ten in 1986. Two singles from the album, "Whole Wide World" and "Hang Ten" climbed to #2 on the UK Indie singles chart. a second studio album, This Is Our Art, in 1988. From the album came "Can't Take No More", which climbed to number-one on the UK Indie singles chart. Another single from the album, "Soft As Your Face", had a more accessible sound for the UK Pop singles chart. Both of these single releases cracked the Top 70 on the pop chart. A third single, "The Majestic Head", became the sixth single to peak in the Top 5 on the UK Indie chart. Up to this point the band had an indie rock sound.
In 1990 they released their third studio album, Lovegod. This marked a departure from their earlier sound, as they embraced a rock-dance crossover sound that was popular with what were being called raves. Their seventh Top 5 single on the UK Indie chart, "Backwards Dog", helped spur further interest.
At the time the band consisted of original vocalist, songwriter and guitarist Sean Dickson, original backing vocalist and guitarist Jim McCulloch, original bass guitarist Sushil Dade, and on drums and percussion recent band member Paul Quinn.
Lovegod climbed to #7 on the UK Album chart. The band released several more singles from the album. But it was their fourth single, "I'm Free", that gave them international exposure.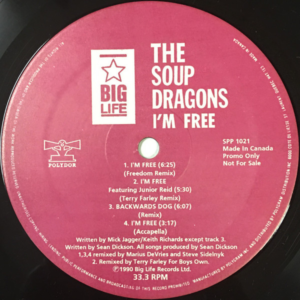 "I'm Free" is a song cowritten by Keith Richards and Mick Jagger. It was released on the UK version of the Rolling Stones' third studio album release in that country Out Of Our Heads. (In North America Out Of Our Heads was the fourth studio release). In North America the Rolling Stones "I'm Free" was the B-side to "Get Off Of My Cloud". The B-side "I'm Free" peaked at #1 in San Bernardino (CA), but was passed over by most radio markets who stuck with only the A-side.
Michael Philip Jagger was born in Dartford, Kent, England, in 1943, some 18 miles east of London. Though his father and grandfather were both teachers by profession, and he was encouraged to be a teacher, the boy had different aspirations. "I always sang as a child. I was one of those kids who just liked to sing. Some kids sing in choirs; others like to show off in front of the mirror. I was in the church choir and I also loved listening to singers on the radio–the BBC or Radio Luxembourg –or watching them on TV and in the movies." In 1950 Mick Jagger met Keith Richards while attending primary school. They became good friends until the summer of 1954 when the Jagger family moved to the village of Wilmington, a mile south of Dartford. The pair bumped into each other at a train station in 1961 and resumed their friendship.
Keith Richards was also born in Dartford, Kent, England, in 1943. From the age of two Keith sang along with his mother to songs on the radio in perfect pitch. Richards maternal grandfather, Augustus Theodore "Gus" Dupree, led a jazz band named Gus Dupree and His Boys. Dupree played saxophone, fiddle and guitar. It was his maternal grandfather who gave young Keith his first guitar. He also introduced Keith to the British Music Hall genre, a cousin of American Vaudeville. Keith took an interest in music while attending Dartford Technical High School for Boys from 1955 to 1959. He was recruited to be part of a trio of boy sopranos who performed at Westminster Abbey as part of a special concert for Queen Elizabeth II. Keith became interested in rock 'n roll, skiffle and rhythm and blues. Richards remembers playing tunes by Johnny Cash and "Blue Moon Of Kentucky".
Jagger and Richards went on to form the Rolling Stones, along with Brian Jones and Bill Wyman in 1962. Charlie Watts would join the band in 1963. Along with the Beatles, the Dave Clark Five, Herman's Hermits, Petula Clark , the Zombie, the Animals and the Hollies, the Rolling Stones were a big part of the British Invasion of pop culture in North America in the 1960s. From 1963 to the mid-80s the band had numerous hit records. These include "(I Can't Get No) Satisfaction", "Get Off My Cloud","Paint It Black", "Ruby Tuesday", "She's A Rainbow", "Jumping Jack Flash", "Honky Tonk Women", "Gimmie Shelter", "Brown Sugar", "Angie", "Miss You", "Start Me Up" and "Emotional Rescue".
In the lyrics of "I'm Free" the Rolling Stones sing that they're free 1) to do what they want any old time, 2) to "sing my song though it gets out of time," and 3) to choose what I please. In the Soup Dragons version Sean Dickson sings that he's free 1) to do what he wants, and 2) to be who I choose, to get my booze. In both cases the chorus is "love me, hold me, 'cause I'm free."
In 1964 the Rolling Stones' lyrics were part of a sexual revolution espousing freedom from the shackles of conformity and restrictive sexual mores: "love me, hold me" was an anthem. In 1991 the Soup Dragons opened the song with a call by guest recording artist Junior Reid, the lead singer of Black Uhuru: "Don't be afraid of your freedom." Delroy "Junior" Reid was born in Kingston, Jamaica, in 1963. In 1976 he released a single titled "Speak The Truth". When he joined Black Uhuru in the 1980s, the reggae band received a Grammy Award nomination in 1986 for their album Brutal. Over the years Junio Reid has collaborated with Alicia Keys, Lil Wayne, Ludacris, Rick Ross, Wu-Tang Clan and others. Apart from Black Uhuru, Junior Reid released twenty albums between 1980 and 2015. In the middle of the Soup Dragons "I'm Free", Junior Reid raps about his grandfather advising that there is "nothing in this world like when a man know he free."
The Soup Dragons "I'm Free" peaked at #5 in the UK, #6 in New Zealand, #9 in Australia and #15 in Ireland. In Vancouver (BC), the song peaked at #11. In other radio markets like Toronto, the song only appeared on the Alternate Rock stations. In the USA the single stalled at #79 on the Billboard Hot 100.
In 2013 the Soup Dragons' "I'm Free" was featured in the science fiction-comedy film The World's End.
After Lovegod, the Soup Dragons released Hotwired. The album featured several alternative dance tracks – "Divine Thing" and "Pleasure" – that became modest hits in the USA in 1992. After the album McCulloch, Dade and Quinn all quit the band. Quinn joined the Scottish alternative rock band Teenage Fanclub into the early 2000s. In 2003 Paul Quinn formed a pop band in Glasgow called The Primary 5, which remained intact until 2010.
Sushil K. Dade went on to form Glasgow indie band Future Pilot A.K.A. In 1994 he formed a Glasgow rock band called the Telstar Ponies. From 2006 to 2012 Dade was a member of the Scottish-Canadian folk band The Burns Unit. More recently Dade has been a producer for BBC Radio 3. McCulloch left to join the guitar band Superstar in 1996, remaining with them until they split up in 2000. In 2011 McCulloch formed a fork-rock band called Snowgoose, who have released several albums, most recently in 2020.
Sean Dickson remained with the Soup Dragons, gathering new musicians around him, and recording a final studio album, Hydrophonic. The commercial and critical response to the 1994 album was poor. Dickson disbanded Soup Dragons and founded a rock band called The High Fidelity in 1995. The band went on to record two albums before splitting up in 2001. Dickson told the Guardian what happened next: he admitted to himself he was gay and came out. He recalls, "I was consumed with guilt because I'd hurt people I loved. I cut friends off because I assumed everyone blamed me. I stopped doing music. For two years I lived in a fire-damaged council flat, not fixing anything up… then eventually I had a breakdown."
In June 2020 Junior Reid was giving gifts of bags of rice and flour, tinned goods and hand sanitizers at neighborhoods in Kingston, Jamaica. Of his efforts during the coronavirus pandemic, Reid said "if there was no people, there would be no Junior Reid… it's not about just being an artiste, it's jus' having a heart."
October 3, 2020
Ray McGinnis
References:
Joe Muggs, "Hifi Sean: 'I was Consumed with Guilt Because I'd Hurt People'," Guardian, April 16, 2017.
Gus Ironside, "Snowgoose: The Making of You – Album Review," Louderthanwar.com, July 12, 2020.
"Sean Dickson and Jim McCulloch of the Soup Dragons Interview," Transmission, BBC, August 8, 1989.
"Soup Dragons Live," Late Night with David Letterman, NBC, February 15, 1992.
"Junior Reid Bio," Welcome to Jam Rock Reggae Cruise, 2020.
"Junior Reid Keeps it Positive," Jamaica Observer, June 2, 2020.
Tony Sanchez, Up and Down with The Rolling Stones: My Rollercoaster Ride With Keith Richards. (John Blake, 2011).
Rich Cohen, The Sun, The Moon & The Rolling Stones, (Spiegel & Grau, 2017).
Victor Bockris, Keith Richards: The Biography, (Da Capo Press, 2003).
"CKLG Top 40," CKLG 730 AM, Vancouver, BC, April 15, 1991.
For more song reviews visit the Countdown.