#879: I'm The Lonely One by Cliff Richard and The Shadows
Peak Month: May 1964
10 weeks on Vancouver's CFUN chart
Peak Position #12
Peak Position on Billboard Hot 100 ~ #92
CFUN Twin Pick Hit of the Week ~ April 4, 1964
YouTube.com: "I'm The Lonely One"
Lyrics: "I'm The Lonely One"
Cliff Richard was born Harry Roger Webb on October 14, 1940, in the city of Lucknow in Uttar Pradesh, India. In 1940 Lucknow was part of the British Raj, as India was not yet an independent country. Webb's father worked on as a catering manager for the Indian Railways. His mother raised Harry and his three sisters. In 1948, when India had become independent, the Webb family took a boat to Essex, England, and began a new chapter. At the age of 16 Harry Webb was given a guitar by his father. Harry then formed a vocal group called the Quintones. Webb was interested in skiffle music, a type of jug band music, popularized by "The King of Skiffle," Scottish singer Lonnie Donegan who had an international hit in 1955 called "Rock Island Line."
In 1958 Webb became the lead singer of a British rock group named the Drifters. It was during this time that Harry Greatorex, who was promoting the band, gave Harry Webb the stage name, Cliff Richard. As rock and roll made some people think of rocks, Greatorex reasoned that "Cliff" would be a rock solid name for the young 18 year old Harry Webb. Cliff Richard would go on to record nearly 150 singles that made it onto the UK charts. While his popularity in the USA was erratic, he was a big seller in Vancouver. On this survey he appears on 22 occasions.
Cliff Richard had his first single on the Vancouver charts peak at number one in the fall of 1959. "Living Doll" became an auspicious beginning for a recording artist that fans in Vancouver were wild about for Richards early string of hits between 1959 and 1966, and again in the late 70s onward. In the UK Cliff Richard had 26 of his first 28 singles, from 1958 reach the Top Ten, which included a record of 23 Top Ten singles in a row, ending in the middle of 1965. Of these 15 singles were non-album singles. One of these was "I'm The Lonely One".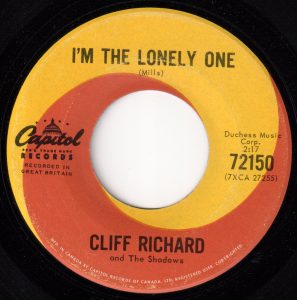 "I'm The Lonely One" was one of a couple of non-album singles released between Cliff Richard's movies Summer Holiday (1963) and Wonderful Life (July 1964). "I'm The Lonely One" seems to be a song about a guy who broke off a dating relationship 'cause he was afraid of the possibility of being rejected should he ask his date if they loved him. He recalls a rainy day where he ended the relationship with these words: "please set me free 'cos I don't want to know!" We may infer that he left in haste, not even letting his date have a chance to respond. In her Psychology Today article, The Pattern of Thinking That Can Ruin Relationships, Susan Krauss Whitbourne writes "preventing hurt by cutting yourself off from your partner seems to be a very poor strategy for ensuring a successful relationship." Cutting off a relationship to retain independence in order to avoid the possibility of being hurt or rejected prevents at least two things from unfolding. One, the partner you are afraid may hurt or reject you, may be trying to find a way to let you know they love you despite all your insecurities. Two, sticking around for a difficult conversation, even one that reveals your dating partner actually does want to dump you, can be a way to help you discover – unpleasant as it is to hear this – that you will recover.
In the case of "I'm The Lonely One", it is even more emotionally mixed up. The person the guy is cutting off the relationship with is someone he's "left.. to cry." This might be a first clue that this partner he is leaving actually cares for him. Otherwise why the tears? Now, with some time and space he recognizes that he's the lonely one and he misses and loves them. He hopes and prays that they'll come back to him. But he is making no effort to pick up the phone or communicate how much he loves and misses them. Rick Nauert, in another article about relationships states "passive immobility," expecting your partner to be a mind-reader" is another indicator of anxiety in the person who is not being transparent about their wishes, needs, expectations or thoughts regarding the relationship. If this guy in the song wants their ex-partner to know how much they love and miss them, hoping and praying isn't going to make them come back. Instead of expecting someone who was left to cry to assume the person who left them actually loves them, but is too chicken to tell them, the person to broke things off needs to pick up the phone and start a new conversation. Otherwise, they'll both end up being lonely. Unless, of course, the person who was left to cry picks themselves up and starts dating someone new.
Like the Cliff Richard, the songwriter of "I'm The Lonely One", Gordon Mills, was born in India. Mills formed a band called the Vicounts who had a couple of minor hits in the early 60's in the UK. Mills wrote a #4 hit in 1963 called "I'll Never Get Over You", by Johnny Kidd & The Pirates. After "I'm The Lonely One" made #8 in the UK in 1964, Mills went on to his biggest success when Tom Jones had a #1 hit in the UK with "It's Not Unusual". Mills later discovered both Arnold George Dorsey (stage name: Engelbert Humperdinck) and Raymond Edward O'Sullivan (stage name: Gilbert O'Sullivan). Mills managed Tom Jones, Engelbert Humperdinck and Gilbert O' Sullivan. He produced O'Sullivan's hit "Clair."
It would seem with the coming of the British Invasion that Cliff Richard would be discovered by the American record-buying public. However, it was not to be. Richard remained almost completely off the radar in the USA until his Top Ten hit in 1976 on the Billboard Hot 100 called "Devil Woman". Cliff Richard built on his resurgence in the mid-70's and into the 1980's he had several more hits in Vancouver, in particular with "We Don't Talk Anymore" and "Dreamin'." Richard was among the performers at the Diamond Jubilee concert held outside Buckingham Palace in June 2012. Then, on June 30, 2012, he helped to carry the Olympic torch from Derby to Birmingham as part of the torch relay for the 2012 Summer Olympics in London. Cliff Richard has also been active as a philanthropist. In October 2015 he went on tour at the age of 75.
February 23, 2018
Ray McGinnis
References:
Cliff's Career, Cliff Richard.org.
Dr. Susan Krauss Whitbourne, "The Pattern of Thinking That Can Ruin Relationships," Psychology Today, June 14, 2016.
Rick Nauert, "Withdrawal or Expecting Lover to Read Your Mind Harms Relationship," Psych Central.com, January 1, 2015.
"C-FUNTASTIC FIFTY," CFUN 1410 AM, Vancouver, BC, May 23, 1964
For more song reviews visit the Countdown.