#1304: I'm Ready by The Hometown Band
Peak Month: January 1977
7 weeks on Vancouver's CKLG chart
Peak Position #14
Peak Position on Billboard Hot 100 ~ did not chart
YouTube.com link: "I'm Ready"
Claire Lawrence was a member of local Vancouver group, The Collectors. That band morphed into Chilliwack. By late 1971 Lawrence left Chilliwack and founded Haida Records, with BC folk singer Valdy it's marquee recording artist. Valdy's music was featured in a 1972 Steve McQueen new film noir crime movie called The Getaway. Valdy appeared on a CBC TV show called The Beachcomber's as the character Halibut Stu. Though he initially appeared on stage for the first few years by himself, Lawrence put together a touring back-up band for Valdy.
The new band assembled in 1975 consisted of Claire Lawrence on saxophone with Shari Ulrich on lead vocals, flute and fiddle. Rounding out the band were Geoff Eyre on drums and vocals, Robbie King on organ, piano and keyboard bass and Doug Edwards on guitar, keyboards and bass. In addition to being Valdy's back-up band while he was on tour, they recorded a studio album, Flying. The album spawned two local hit singles, the title track, "Flying," and "I'm Ready."
Each song was co-written by Joe Mock and Shari Ulrich. Joe Mock had been a member of psychedelic rock band from Vancouver, Mock Duck, who had a minor hit on the CKLG chart in 1968 called Do Re Mi. The group disbanded in 1971. Mock went on to found a folk group called The Pied Pumkin String Ensemble, together with Rick Scott and Shari Ulrich. Both "Flying" and "I'm Ready" had been performed by Pied Pumpkin prior to The Hometown Band recording them.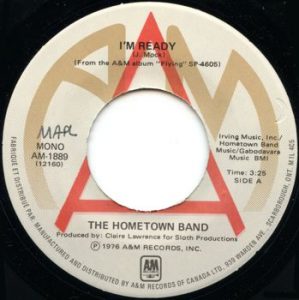 "I'm Ready" is a song about an attitude and approach to life:
Life is just a road,
leading me to heaven knows,
and I know I'm ready,
I'm ready.
Take a step, come on in,
there ain't no hurry,
just make yourself a friend
and I know I'm ready,
I'm ready.
With a melody in your heart
you'll never be alone
for that walk in the dark
and I know I'm ready,
I'm ready.
Their anthem to openness and trust in stepping into life and embracing community was infectious. Listeners on CKLG sent the song to #14, spending 7 weeks on the chart. The song got some airplay in other Canadian radio markets and climbed to #64 on Canada's RPM chart. But this was mostly due to The Hometown Band's chart run into January 1977 in Vancouver.
The Hometown Band also worked with Valdy also produced one album, Valdy & The Hometown Band, released in 1976. In 1977 The Hometown Band released their second studio album, The Hometown Band, an effort without Valdy. For the album a new member of the group was Edward Patterson. He played guitar, wrote two tracks, and co-wrote four of the seven remaining tracks on the album. Though equally as excellent as their first album with catchy tunes like "Feel Good", there was no hit single. The Hometown Band won a Juno Award at the 1978 awards ceremony for Most Promising Group of the Year. Shortly after the group disbanded.
Singer Shari Ulrich went on to have a successful solo career with seven studio albums and one "best of" album released between 1980 and 2014. During her musical career she has written music for the TV show Sesame Street. A multi-instrumentalist, she continues to perform in concert. She lives on Bowen Island in beautiful Howe Sound northwest of Vancouver.
October 27, 2016
Ray McGinnis
References:
Jim Park and Sheri Ulrich, The Hometown Band bio, Canadian Bands.com
Shari Ulrich bio, Shari Ulrich.com
Mike Devlin, Hometown Band Deciding Whether it will Play More Shows, Times Colonist, Victoria, BC, August 4, 2016.
Valdy and The Hometown Band ~ 40th Anniversary Reunion, Vancouver Island Music Festival, islandmusicfest.com.
"Vancouver's Official Music Survey," CKLG 730 AM, Vancouver, BC, January 4, 1977.
For more song reviews visit the Countdown.