#1: I'm So Lonely by Bobby Jameson
City: Chatham, Ontario
Radio Station: CFCO
Peak Month: September 1964
Peak Position in Chatham ~ #3
Peak position in Vancouver ~ did not chart
Peak Position on Billboard Hot 100 ~ did not chart
YouTube: "I'm So Lonely"
Lyrics: N/A
Robert Parker Jameson was born in 1945 in Geneva, Illinois. He grew up in Tucson, Arizona. He and his brother began to learn guitar and entered talent contests, before his parents divorced. In 1963, at the age of 17, he began to record under the name Bobby Jameson. His first single was "Let's Surf". In 1964, Jameson met Tony Alamo, who became his manager and promised to make him a star. Alamo mounted a major promotional campaign in the music press, describing the 19-year-old Jameson as "The Star Of The Century" and "The World's Next Phenomenon".
Jameson later wrote:
For some reason, that is still a mystery to me to this day, Tony just started promoting me in Billboard and Cashbox magazine without ever telling me he was going to do it. He just showed up one day in a coffee shop in Hollywood with a copy of both publications and I was in them. We had no contract, no agreement of any kind and no record. But there I was, world wide in both mags. I don't know what I can say to describe how weird it was to be nobody and then have that happen….The ads continued to run for 9 weeks doubling in size with each new edition. Half page, three quarter page, full page and so on. By the 8th week the ad ran in Billboard only and was a 4 page, full color fold out…
After this hype on the major music industry magazines, Bobby Jameson had a single release titled "I'm So Lonely".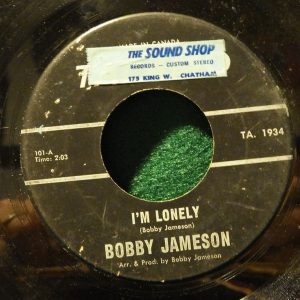 Bobby Jameson wrote "I'm So Lonely". The song is about a guy who is hung up on a woman who "don't know my name." He laments "she don't even care that I'm lonely." This would be hard for her, given she doesn't know him at all. But I digress. He wonders why she won't fall in love with him. Of course a desperate, lonely vibe might not be the best way to make himself attractive to anyone. He reveals, "everywhere I go, everybody knows that I'm lonely." The song ends with Jameson hitting an admirably high note, stressing how lonely he feels. He wants this woman who doesn't know who he is. How to shift from being lonely to asking her on a date is not raised in the lyrics.
"I'm So Lonely" peaked at #3 in Chatham (ON), #5 in Detroit, #6 in Windsor (ON), and #7 in Cleveland. The B-side of the 45 RPM was "I Wanna Love You", which climbed to #2 in San Bernardino (CA).
After the release of "I'm So Lonely", Bobby Jameson opened shows for the Beach Boys and Chubby Checker. Jameson was discovering his manager was very manipulative. (Tony Alamo later became an evangelical leader of a Christian cult in 1969). So Jameson moved to England later in 1965.
His followup release, "Okey Fanokey Baby" made the Top 50 in Honolulu, but got little attention elsewhere. While in March 1965, "Rum Rum (Mum Mum, Dif-Dif Dif)" got some chart action in Columbus (OH), and that was about all. Another release, "All I Want Is My Baby", made the Top 20 in Cleveland, in February 1965. Jameson returned to America and released Songs of Protest and Anti-Protest, credited to Chris Lucey. Recorded in the UK, the producer Randy Wood wrote up the record contract so that Jameson got no royalties from sales of the album. Nonetheless, over the years the album has developed a cult following.
Jameson writes the back story to how he ended up in England. "The circumstances in 1965, when Bobby Jameson first met with Randy Wood, were that Bobby Jameson was twenty years old, flat broke, and unrepresented by counsel or management…. Jameson didn't have more than five bucks to his name and no place to live. He was on the street. Randy Wood knew full well that Bobby Jameson was broke, homeless, and sleeping on people's couches. His only interest in Jameson was whether or not this 20 year old kid could write a song and sing it in in the studio, and do it well enough to put it on vinyl for the purpose of saving Mira Record's ass with the Surrey Record's launch." Mira Records had a deal with a recording artist named Chris Ducey that fell through. So, Wood planned to have the existing song titles on the record album remain, and have Bobby Jameson write new lyrics for each track – and sing them credited to Chris Lucey."
In 1966, Jameson released a protest song titled "Viet Nam". It got little promotion, though it was a commendable effort with excellent blues harmonica riffs. In 2010, the Guardian highlighted Jameson's accomplishment. In 1967, Jameson appeared in a documentary titled Mondo Hollywood. In it he said "This society is a propagandized machine. It controls you. If you believe in it, you are a robot. You have been hyped, hypnotized, and made to believe that you are free. I am not free. No one is free."
After Songs of Protest and Anti-Protest, he released only two more albums: Color Him In (1967), and an album of cover songs in 1969 titled Working. For much of the 1970s he was institutionalized or homeless, but eventually achieved sobriety. After 1985, he left the music business completely, and was rumored to be dead for many years. For the next twenty years, he lived quietly with his mother in the San Luis Obispo area, California, overcoming his alcoholism. He died at the age of 70 in 2015.
In 2003, Steve Stanley wrote a story for Mojo Magazine titled "The Return of an LA Legend."
"Now, the weathered 58-year-old Jameson lives in a central California trailer park with his 80-year-old mother, picking weeds and doing odd jobs, having severed all contact with the Sunset Strip lifestyle he once knew. Nearly everyone he knew back then assumes he's dead. It took a private investigator to track him down for this article. Now, he points to a picture of himself in a striped suit at age 19, looking like a cross between Keith Moon and Paul McCartney, and says, "That kid was filled with so much hope."
October 18, 2023
Ray McGinnis
References:
Bobby Jameson, "The Life and Times of Bobby Jameson," lifeandtimesofbobbyjameson.blogspot.com. May 19, 2012.
Jon Savage, "Bobby Jameson Rages Against the Viet Nam War," Guardian, November 10, 2010.
Bryan, "Remembering Mondo Hollywood's Bobby Jameson," Night Flight, May 20, 2015.
Judith Sims, "When Your Manager Turns Jesus Freak," Rolling Stone, October 26, 1972.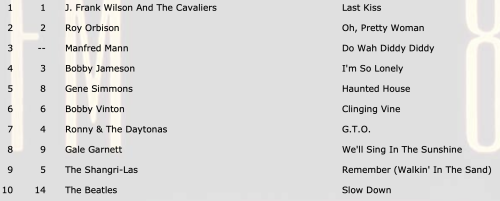 CFCO, 630 AM, Chatham (ON), September 21, 1964.