#359: I'm The Man by Joe Jackson
Peak Month: January 1980
9 weeks on Vancouver's CKLG Chart
2 weeks Playlist
Peak Position ~ #5
Peak Position on Billboard Hot 100 ~ did not chart
YouTube: "I'm The Man"
Lyrics: "I'm The Man"
Joe Jackson was born David Ian Jackson in 1954 in Burton upon Trent, England. In his teens he learned to play violin and piano. In 1970 when he was 16-years-old, Jackson was playing piano in bars and pubs. Out of high school he attended London's Royal Academy of Music. In the early 70s he formed a British band called Edward Bear (different from the Canadian band from Ontario), which soon changed its name to Arms and Legs. David Ian Jackson started getting the nickname "Joe" because some people thought he looked like the Charlie Brown character Snoopy in his "Joe Cool" persona.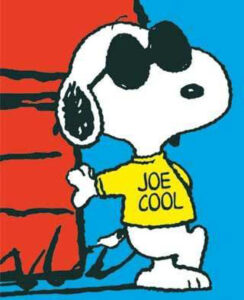 Over the next few years Jackson did gigs on the cabaret circuit and made some demos. In 1979 he released his debut album Look Sharp! His debut single release was "Is She Really Going Out with Him?". It was written as a humorous commentary on women dating unattractive men. Initially, the song got little attention, and two more tracks from the album were released as singles. However, as New Wave music became fashionable, Jackson's album got more attention. Like some punk and new wave recording acts, Jackson used reggae rhythms on occasion. "Is She Really Going Out with Him?" was re-released, charting into the Top Ten in Canada and Ireland, the Top 20 in Australia, New Zealand and the UK, and the Top 30 in the USA. For the song, in 1979 Jackson received a Grammy Award nomination in the Best Rock Vocal Performance – Male.
In October 1979, Joe Jackson released his second studio album, I'm The Man. The title track was released as a single.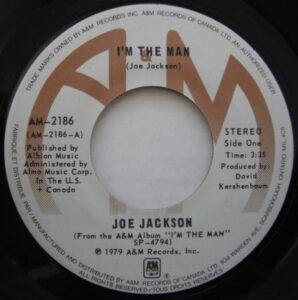 Joe Jackson wrote "I'm The Man". He characterized the image he was describing in "I'm The Man" as one of a conman who "always wears a gross polka-dot tie and a pencil-thin mustache, and he's always trying to sell you a watch, or something like that, real cheap." AllMusic critic Tom Maginnis writes that, in the song, "Jackson plays the role of media-savvy flimflam man, willing to promote any latest fad for a buck, like the shady street vendor of trinkets he portrays on the front cover [of the album]."
The song is told from the point of view of "the man" who decides what to market to consumers. The "man," based on the marketing data he's seen, knows he can make consumers buy anything: hula-hoops, yo-yo's, safety pins, pork pie hats, skateboards, Kung Fu lessons, and giant rubber sharks.
An article about historical advances in advertising states that in the 1970s "Technology helped agencies gather more detailed information, such as demographics, to analyze consumers, make projections and develop positioning for brands based on consumer behavior and perception. 1970's advertising switched the focus from very to-the-point messaging, to more emotional approaches… On of the most frowned-upon practices of 1970's advertising was subliminal messaging. Sexually charged words and photos were hidden in ice cubes, the folds of clothing, anywhere to get the target audience to associate the brand with innate desires."
"Conman" is a term from the 1840s where a "confidence man" tries to get his credulous victims to express confidence in him by giving him money or their watch rather than gaining their confidence in a more nuanced way. The original confidence man was Samuel Thompson (1821-1856 – born William Thompson) who went under the following aliases: Samuel Thompson, James Thompson, Samuel Thomas, Samuel Powel, Samuel Williams, William Evans, Samuel Willis, William Davis, and William Brown. Operating in New York City in the late 1840s, a genteelly dressed Thompson would approach an upper-class mark, pretending they knew each other, and begin a brief conversation. After initially gaining the mark's trust, Thompson would ask whether he had the confidence to lend Thompson his watch. Upon taking the watch, Thompson would depart, never returning the watch.
Thompson inspired Herman Melville to pen The Confidence-Man: His Masquerade in 1857. Among the confidence men in the novel is a herb-doctor who tries to sell "Omni-Balsamic-Reinvigorator" and "Samaritan Pain Dissuader". He tells those who purchase his products that he gives part of his earnings to "charity." Over time a "confidence man," or "conman" for short, became associated with someone who can get a dupe or sucker to buy anything from them – often of dubious worth or purpose – which the purchaser doesn't need. In "I'm The Man", Joe Jackson sings "Why don't you give me all your money 'cause I know you think I'm funny."
"I'm The Man" only charted as a single in Canada, failing to make the pop charts anywhere else. "I'm The Man" peaked at #5 in Vancouver (BC) and #6 in Toronto. While "I'm The Man" was on the pop charts in Vancouver, Joe Jackson performed at the Commodore Ballroom on November 2, 1979.
A second track from the album, "It's Different for Girls", was Joe Jackson's biggest single in the UK, peaking at #5.
In October 1980 Jackson released his third solo album, Beat Crazy. The album underperformed, as did the title track released as a single. Jackson reflected later "we tried to change the formula a bit without quite knowing how. It's darker than the first two, and the reggae influence is more pronounced." His fourth album released in May 1981, Joe Jackson's Jumpin' Jive, was an attempt to connect to an anticipated retro-swing revival which never really materialized until 1996. The title track peaked at #8 in Edmonton (AB) in October 1981.
Jackson's 1982 album Night and Day was Jackson's only studio album to reach either the United States or UK Top 10, peaking at No. 4 (US) and at No. 3 (UK). The tracks "Real Men" (a #6 hit in Australia) and "A Slow Song" pointed obliquely to New York City's early 1980s gay culture. Jackson's biggest hit single came from the album titled "Steppin' Out". The song won him two nominations for Grammy Awards in the categories Record of the Year and Best Pop Vocal Performance – Male. It peaked in the Top Ten in Canada, Ireland, the UK and USA. Another single "Breaking Us In Two" describes a couple in a state of dissonance. It climbed into the Top 20 in the USA and #13 in Vancouver.
In 1983 Jackson was nominated for a Grammy Award in the category Best Pop Instrumental Performance for the song "Breakdown".
In 1984 Jackson wrote the music for the neo-noir film Mike's Murder. From the soundtrack, "Memphis", was a #4 hit in Yellowknife (NWT), though it stalled at #85 on the Billboard Hot 100. In addition, Jackson released his seventh studio album, Body And Soul. It featured the Top 20 hit single "You Can't Get What You Want (Till You Know What You Want)". That year Joe Jackson appeared in concert at the Queen Elizabeth Theatre on May 14th.
In 1985 Joe Jackson played piano on all the tracks for Joan Armatrading's album Secret Secrets.
In 1986, Jackson collaborated with Suzanne Vega on the single "Left of Center" from the soundtrack for Pretty in Pink, with Vega singing and Jackson on piano. He came to help Vancouverites celebrate Expo '86 by performing at the Expo Theatre on June 20 & 21. Jackson went back to the studio releasing Big World and Will Power in 1986 and 1987.
In 1988 Jackson released the album, Tucker, which was the soundtrack for the film Tucker: The Man and His Dream, starring Jeff Bridges. Jackson was nominated for a Grammy Award for Best Album of Original Instrumental Background Score Written for a Motion Picture or TV. Also in 1988, Jackson released a live album titled Live 1980/86.
Blaze of Glory and Laughter & Lust were his next album releases in 1989 and 1991. Both were more successful in Europe than North America. In the 1990s Joe Jackson performed at the Orpheum in Vancouver on July 31, 1991, and again on April 25, 1995. Later, in 1998 he did a concert at the Vogue on February 2nd.
In 1999 Jackson's instrumental classical album, Symphony No. 1, earned him a Grammy Award for Best Pop Instrumental Album. Night and Day II, followed by Volume 4, became Jacksons' fourth and fifth non-charting albums in a row in either North American or European national album charts. However, in 2008 his album Rain climbed to #12 in the Netherlands. Joe Jackson performed in Vancouver on August 24, 2003, at the Commodore Ballroom.
In 2007 Joe Jackson's 1997 album, Heaven & Hell, was adapted in Boston as a jukebox musical Heaven & Hell: The Fantastical Temptation of the 7 Deadly Sins. It ran at the Boston Conservatory.
In 2012 Joe Jackson's The Duke topped the Billboard Top Jazz Album Chart. It was a tribute to Duke Ellington.
Although Joe Jackson has been off the radar on Top 40 AM radio since the early 80s, he has continued to record at a pace. In 2019 he released his 21st studio album Fool which climbed into the Top 20 on the album charts in Germany, the Netherlands and the UK. Jackson has also released eight live albums. He has also released 42 singles, the last to chart being "Obvious Song" in 1991.
In 2016 Jackson performed at the Queen Elizabeth Theatre on June 24.
Joe Jackson had published an autobiography titled A Cure For Gravity. In his book he identifies as bi-sexual. In 2001 he told the Irish Independent he was in a relationship with a male partner.
January 20, 2021
Ray McGinnis
References:
Jim Allen, "35 Years Ago: Joe Jackson Reinvents Himself on 'Night And Day'," Diffuser.fm, June 26, 2017.
James McNair, "Joe Jackson: Catching Up With the Maverick Singer-songwriter", The Independent, UK, February 11, 2008.
Joe Jackson, A Cure For Gravity: A Musical Pilgrimage, (De Capo Press, 2000).
Charles Schultz, "Joe Cool," Peanuts cartoon.
Tom Maginnis, "Song review: 'I'm The Man'," AllMusic.com.
"The Confidence Man," Wikipedia.org.
Kaitlyn Scott, "History of Advertising: The 1970s," mascola.com, New Haven, CT, August 7, 2020.
"CKLG Top 20," CKLG 730 AM, Vancouver, BC, January 10, 1980.
For more song reviews visit the Countdown.