#983: I'm Tired by Savoy Brown
Peak Month: February 1970
8 weeks on Vancouver's CKLG chart
Peak Position #6
Peak Position on Billboard Hot 100 ~ #74
YouTube.com: "I'm Tired"
Lyrics: "I'm Tired"
Savoy Brown, originally known as the Savoy Brown Blues Band, formed in 1965, in Battersea, South West London. The band was formed by Kim Simmonds who was a multi-instumentalist playing guitar, keyboards, harmonica and offering vocals. Simmonds collaborated with harmonica player John O'Leary to form the band. The pair had struck up a conversation at Transat Imports record shop in Lisle Street, Soho, in 1965. Savoy Brown went though constant lineup changes. This would continue with some periods of stability over the next five decades. Keyboard player Bob Hall joined shortly after the band's formation to provide some stability, and the band's debut album, Shake Down, showcased a collection of blues covers. In 1967 they released a single from the album, "Shake Em On Down," which made the Top 40 in Orlando, Florida.
In 1967 Chris Youlden became the band's new vocalist and "Lonesome" Dave Peverett a backing vocalist and 2nd guitarist. Drummer Roger Earl joined the band in 1968. This line-up recorded two albums in 1968, Getting to the Point, and Blue Matter. These albums got Youlden the attention of music critics for his skills as a vocalist and songwriter alongside Simmonds. In 1969 the band released the single "Train to Nowhere," which made the Top 40 in Los Angeles. By the time A Step Further was released later that year, bass player Tony Stevens had joined the band.
Their next single release at the end of 1969, "I'm Tired", was their most successful.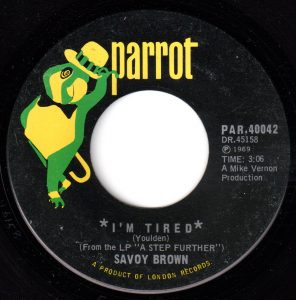 "I'm Tired" is a song about discovering how to be your own person and not conforming to others idea of who they think you should be. For teens and young adults who made up most of the record buying audience on Top 40 radio in 1970, the song appealed to their own challenges of living by other people's rules (parents, teachers, the boss at work). The world the singer finds themselves living in is not a world they made. It's not a world they want to fit in with, as they comment "I ain't gonna toe the line." There are others who want them to live up to their expectations. The singer has found that it just isn't working trying to become someone who they know they aren't. They note that there are people in society who bemoan people who are different and who don't easily fit into the molds and roles society offers. In response to that complaint Savoy Brown contends it would be worse "if we were all the same." We'd all have the same color of eyes, skin, accent, cuisine, musical tastes, fashion sense, politics, religion, hair styles etc. The world we live in would be inhabited by virtual duplicates. We'd all be able to finish each others sentences. For Savoy Brown, everyone being the same would be very, very boring, in fact, tiring. "I'm Tired" was a musical argument in favor of diversity.
"I'm Tired" was a single from Savoy Brown's fourth album, A Step Further. "I'm Tired" was a very successful single in Vancouver, peaking at #6, but only reaching #74 on the Billboard Hot 100. The only other North American radio markets where the song charted well was #7 in Victoria, BC, #7 in Seattle and #9 in Cincinnati, Ohio.
A follow up single release in the spring of 1970, "A Hard Way To Go", made the Top 20 in several radio markets in Michigan and Kentucky. And in the winter of 1971, Savoy Brown had their last regional hit with "Tell Mama", from their seventh album, Street Corner Talking. The song made the Top Ten in Wichita, Kansas, and Top 20 in Boston and San Diego.
On August 28, 1971, Savoy Brown performed in concert in Vancouver (BC) at the Kerrisdale Arena. The band returned to perform at the Agrodome on October 27, 1972.
The bands membership changed over the years and includes 62 former members and 17 guest musicians who were with the band a year or more. Savoy Brown has included members such as drummer Bill Brufford who went on to become the drummer for Yes. Dave Peverett who went on to be a singer and guitarist for Foghat until the late 1990's when he was diagnosed with cancer and died in February 2000. Tony Stevens also joined Foghat and later was a session musician for the British musical drama TV series, Rock Follies, in the late 1970's. Roger Earl was a third former Savoy Brown member to join Foghat in 1971. Earl has remained a member of Foghat, which continues to go on concert tours.
Bob Hall has been involved with a number of bands since he left Savoy Brown in 1970. He has been a sideman accompanying numbers of blues recording artists including John Lee Hooker, Howlin' Wolf, Little Walter, Jimmy Witherspoon, Chuck Berry, Homesick James, Lightnin' Slim, Lowell Fulsom, Charlie Musselwhite, Snooky Pryor, J. B. Hutto, Lazy Lester, Dave Peabody, Baby Boy Warren, Eddie "Guitar" Burns, Eddie Taylor, Big John Wrencher, Mickey Baker, and Eddy Clearwater.
Chris Youlden went solo in 1970 and has since released five albums between 1973 and 2006. Kim Simmonds has remained a member of Savoy Brown and continues to tour with the band. Savoy Brown has released 31 studio albums and eight live albums. On the 50th anniversary of the band's first album release in 1967, Savoy Brown mounted a tour in 2017. In an interview with the San Diego Tribune in 2015, Kim Simmonds observed "I don't think people can trace me or Savoy Brown, because there's almost nothing on YouTube about us. I have to live with the fact that much of what we did early on wasn't documented."
October 13, 2017
Ray McGinnis
References:
Dave Thompson, "Follow the tumultuous history of Savoy Brown," Goldmine Magazine, Iola, WI, February 24, 2008.
Savoy Brown – The Early Years, Savory Brown.com.
Kim Simmonds & Savoy Brown 50th Anniversary Tour, Ticket Fly.com, September 9, 2017.
George Varga, "Kim Simmonds on Savoy Brown at 50," San Diego Tribune, January 10, 2015.
"Boss 30," CKLG 730 AM, Vancouver, BC, January 30, 1970.
For more song reviews visit the Countdown.