#35: In A Big Country by Big Country
Peak Month: December 1983
17 weeks on Vancouver's CKLG chart
Peak Position #1 ~ CFUN
Peak Position on Billboard Hot 100 ~ #17
YouTube.com: "In A Big Country"
Lyrics: "In A Big Country"
William Stuart Adamson was born in 1958 in Manchester, England, and grew up in Fife, Scotland. He learned to play keyboards, guitar and basss guitar. In 1976 he formed a band called Tattoo, and in 1977 a punk rock band called the Skids. The Skids had a #10 hit on the UK Singles chart in 1979 titled "In The Valley", followed by "Masquerade" which peaked at #14 in the UK and #6 in Ireland. A third released in '79, "Working for the Yankee Dollar", also made the Top 20 in the UK. In 1981 Adamson formed Big Country. His co-founder, Bruce Watson, was born in Timmins, Ontario, in 1962, and moved with his family to Scotland while he was a toddler. In the late 70's, Watson was a member of Edinburgh area new wave bands the Delinquents and Eurosect. Watson was versatile with his musical skills in guitar, mandolin and sitar. Bass guitarist, Anthony "Tony" Butler, was born in 1957 in London. He was a member of the new wave band On The Air, who toured with the Skids in 1980. From that tour, Butler and Adamson became friends. Mark Brzezicki was born in the suburbs of Greater London in 1957. He learned to play the drums and was a member of On The Air.

Brzezicki was a session musician overlapping his time with Big Country. He played on recordings by The Cult, Midge Ure, Pete Townshend, Ultravox, Nick Kershaw, Joan Armatrading, Procol Harum, and others.
In 1982, Big Country released its debut single, "Harvest Home" which charted on the UK Singles Top 100.
In July 1983, Big Country released their debut album called The Crossing. In a review for Rolling Stone, Kurt Loder said of the album "Here's a big-noise guitar band from Britain that blows the knobs off all the synth-pop diddlers and fake-funk frauds who are cluttering up the charts these days. Big Country mops up the fops with an air-raid guitar sound that's unlike anything else around, anywhere … Like the Irish band U2 (with whom they share young, guitar-wise producer Steve Lillywhite), Big Country has no use for synthesizers, and their extraordinary twin-guitar sound should make The Crossing a must-own item for rock die-hards."
The debut single from the album was "Fields Of Fire", which peaked at #9 in Ireland, #10 in the UK, and #20 in Ottawa. The followup single was "In A Big Country".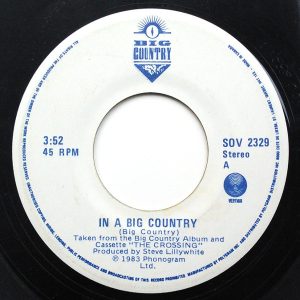 "In A Big Country" was written by the bandmates. It is a call to stay alive and to find ways to be resilient. The lyrics depict personal desperation at a young age in the face of promises failing to materialize, of the harshness of life: "I never took the smile away from anybody's face. And that's a desperate way to look for someone who is still a child." Painful events happen that rock people to their foundations. The singer observes "Because it's happened doesn't mean you've been discarded. Pull up your head off the floor, come up screaming. Cry out for everything you ever might have wanted." In other words, find a way to want to stay alive, to fight for a place for you to grow, even though the world around you is a desert. Find a way for your dreams to stay alive, the song tells us.
Depending on life circumstances, positive self-talk is easier of harder. Who among us know what we would do after being betrayed by someone we love? Or how we would handle a bomb shattering our home during war. It is easier at a distance to tell ourselves we can weather whatever storms come our way. But we are not all made the same. And for some people, the pain of particular circumstances is too hard to bear. In 2001, co-writer of the song, Stuart Adamson, died by suicide in a hotel in Hawaii. According to a local police report he had died by hanging himself with an electrical cord from a pole in a wardrobe. Adamson was faced with divorce proceedings and had been ordered to attend Alcoholics Anonymous.
On November 8, 1983, while "In A Big Country" was charting on both CFUN and CKLG, Big Country appeared in concert at the Commodore Ballroom in Vancouver.
"In A Big Country" peaked at #1 in Vancouver (BC), Regina (SK), #2 in Kitchener (ON), #3 in Ottawa (ON), and Calgary, #4 in Dallas, #5 in Hamilton (ON), Toronto, #6 in Detroit, St. Louis, #7 in Halifax (NS), Buffalo, Bangor (ME), Winnipeg (MB), and St. Cloud (MN), #8 in Pittsburgh, Los Angeles, Seattle, and Montreal, #9 in Saskatoon (SK), Chicago, and #10 in San Francisco and New Orleans. Internationally, "In A Big Country" peaked at #3 across Canada, #7 in Australia and #17 on the Billboard Hot 100.
"In A Big Country" was nominated for a Grammy in the category of Best Rock Performance By A Duo Or Group With Vocal, but lost out to "Synchronicity" by the Police.
A third single was the band's debut album, "Chance", was a #9 hit in the UK but didn't chart in North America. In 1984, the non-album single "Wonderland", was a #4 hit in Ireland and climbed to #8 in the UK. But in the USA it stalled at #86 on the Hot 100. A single from the Steeltown album, "East Of Eden", got airplay on CFOX in Vancouver in the fall of 1984.
In 1986 Big Country released The Steer. From the album came "Look Away" which peaked at #1 in Ireland, #7 in Finland and the UK, #11 in New Zealand and #14 on the Dutch pop charts. The single also charted in the Top 40 in Montreal. Several other singles were released, but got little attention outside Ireland and the UK.
In 1988, Peace in Our Time was released with the single "King Of Emotion". It made the Top 20 in Ireland and the UK, and peaked at #32 in Montreal.
Over the years Big Country has released nine studio albums. After 1988, the band continued to release over a dozen singles. But only two of these, "Alone" and "Ships (Where Were You)", cracked the Top 30 in the UK. And after 1989 the band failed to chart any singles on the Irish pop charts.
Big Country returned to perform in Vancouver at the Town Pump on November 11, 1993.
Tony Butler left Big Country after their reunion tour in 2012. In the years after he went solo and release the album Then Came The Great Divide. When Big Country toured across North America to support their album The Journey, the band returned to Vancouver for a third time to appear in concert at Venue on Granville Street on July 2, 2013.
April 19, 2023
Ray McGinnis
References:
"
'Spiritual home' pays tribute to rock legend Stuart Adamson with a little help from Wigan
,"
The Courier,
Dundee, Scotland, September 26, 2011.
Vicki Viotti, "
Death of rocker Adamson likely suicide, official says
,"
Honolulu Advertiser,
December 18, 2001.
Scott Rowley, "
Tony Butler: Why I Left Big Country After Over 30 years
," loudersound.com, November 18, 2017.
John Garratt, "
After The Flood: An Interview With Big Country
," July 9, 2013.
"
Steve Lillywhite On Big Country's 'The Crossing'
," NPR, November 6, 2008.
"
Big Country – Concert Dates – Canada
," setlist.fm.
"
CFUN Top Thirty
," CFUN 1410 AM, Vancouver, BC, December 3, 1983.