#560: In The Misty Moonlight by Jerry Wallace
Peak Month: July 1964
9 weeks on Vancouver's CFUN's chart
Peak Position #2
Peak Position on Billboard Hot 100 ~ #19
YouTube.com: "In The Misty Moonlight"
Lyrics: "In The Misty Moonlight"
Jerry Wallace was born in 1928 in Guilford, Missouri. He loved to sing and on June 1, 1952, he was one of the performers at the eighth Cavalcade of Jazz concert held at Wrigley Field in Los Angeles. Among the other performers was Roy Brown, who by that time had charted over a dozen Top Ten hits on the Billboard R&B chart. Child star Toni Harper, who recorded with Oscar Peterson, Harry James and Dizzy Gillespie in the '50's. And Louis Jordan who had 54 Top Ten hits on the Billboard R&B chart, eighteen of which climbed to #1, including "Caldonia". Also, jump blues singer Jimmy Witherspoon was there to sing his 1949 #1 hit "Ain't Nobody's Business", which stayed on the chart for 34 weeks. (It was first popularized in 1922 by Bessie Smith and also Alberta Hunter). Wallace's presence made the bill inter-racial that night.

He got a record contract with Mercury Records in 1952. It took him twelve single releases before he cracked the Billboard charts with what were mostly rockabilly tunes. In 1958 "How The Time Flies" climbed to #11. The following year he had his biggest hit in the USA with "Primrose Lane", which peaked at #8.
In the early sixties Jerry Wallace struggled to match the success of "Primrose Lane". He released another fifteen singles between 1960 and 1963. Of these, only "Shutters And Boards" cracked the Top 30 on the Billboard Hot 100. And ten of these single released didn't crack the Hot 100. But in 1964 Jerry Wallace was back in to Top 20 with a song written by Cindy Walker titled "In The Misty Moonlight".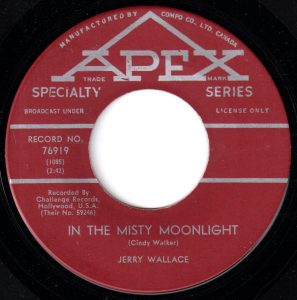 Songwriter Cindy Walker was born in 1918 in a small town of about 3,000 people, east of Waco, Texas. In her teens she began to write songs. In 1936, when she was 18 years-old, her "Casa de Mañana" was performed by the Paul Whiteman Orchestra in conjunction with Texas Centennial celebrations. By the end of the Great Depression Cindy Walker was performing on stage shows around the Lonestar State, singing and dancing. She joined her parents on a business trip to Los Angeles in 1940. She brought along the music for a new song she'd written. As they drove along Sunset Boulevard, Cindy Walker suggested to her parents that they visit the Bing Crosby Enterprises Building. Her parents were stunned at the suggestion, but drove up to the entrance. Walker went inside and met Larry Crosby, Bing's brother. She came back outside and asked her mother to accompany her on piano as she sang "Lone Star Trail". She recorded a demo after subsequently meeting Bing Crosby in person. The crooner had a Top Ten hit with the song.
After that, more doors swung open for Cindy Walker. She appeared on Gene Autry's 1940 western film Ride Tenderfoot Ride. And she sang "Seven Beers With The Wrong Man" with Texas Jim Lewis and His Lone Star Cowboys. She met Bob Wills and pitched her songs to him. Bob Willis and the Texas Playboys ended up recorded over 50 of Cindy Walker's songs. Most notable were "Cherokee Maiden" (1941), "Dusty Skies" (1941), "Miss Molly" (1942), "You're From Texas" (1944), "Sugar Moon" (1947) and "Bubbles in My Beer" (1948). She also wrote country hits for Al Dexter, Walter Shrum, Ernest Tubb, Eddy Arnold, Hank Snow, Jim Reeves, Webb Pierce and Sonny James. Her biggest royalty check came from writing "You Don't Know Me" in 1955. Over the years it was recorded by Eddy Arnold, Ray Charles, Jerry Vale, Lenny Welch, Elvis Presley, Mickey Gilley and others. She also wrote "Dream Baby" recorded by Roy Orbison.
"In The Misty Moonlight" is a song where the narrator testifies that they are happy with the person they love no matter the place or the circumstance. They promise "I could be rich or I could be poor," but as long as the love of their life was beside them, they'd be "satisfied" and they'd never "be blue." The song comprises of a list of possible settings were the couple could be together: misty moonlight, twinkling firelight, far-away land, tropic sea sand, mountain or a valley. They insist "I could be happy in one little room with only a table and a chair." For listeners of the song in the 21st Century, the minimalist appeal may only resonate with young people trying to squeeze their possessions into affordable micro-apartments in Vancouver's overheated real estate market. But for Cindy Walker, who grew up in the Great Depression and the dust bowl in Texas, the sentiment of living in one room with a table was taken from real life.
"In The Misty Moonlight" peaked at #1 in Regina (SK), Louisville and Nashville, #2 in St. Louis and Vancouver (BC), #3 in Seattle, #4 in San Diego and Fresno (CA), #5 in Pittsburgh, Tulsa (OK), Indianapolis, Milwaukee and Winnipeg (MB), #6 in Phoenix, Hamilton (ON) and Buffalo, #7 in Denver, Cincinnati and Dayton (OH), and #8 in San Francisco.
From the late 50's to early 1964 Jerry Wallace appeared on American Bandstand on ten occasions. He also opened a show for Dick Clark at the Hollywood Bowl. He also did vocals in the Disney film Flipper. In 1965 Jerry Wallace had his first charting single on the Billboard country chart titled "Life's Gone and Slipped Away".
In 1972 Jerry Wallace had his first number one hit, "If You Leave Me Tonight I'll Cry". The song climbed to #1 on the Billboard Country chart. That year the Country Music Association nominated him to receive the Award for Male Vocalist of the Year. He also got a nomination with his song "To Get To You" for Single of the Year. Charlie Pride won Male Vocalist of the Year and Donna Fargo won Single of the Year for "Happiest Girl In The Whole USA".
Through the 70s Wallace continued to have more Top Ten hits on the country charts in the USA and Canada. Among these were "Do You Know What It's Like to Be Lonesome", "Don't Give Up On Me" and "My Wife's House". Between 1965 and 1980 Jerry Wallace had 35 singles appear on the Billboard country chart. By the time he died in 2008 the New York Times would refer to him as a country singer.
September 16, 2019
Ray McGinnis
References:
Lydia Hutchinson, "Cindy Walker," Performing Songwriter.com, July 20, 2012.
"You Don't Know Me", Wikipedia.org.
"Dream Baby", Wikipedia.org.
"Jerry Wallace Interview," American Bandstand, September 5, 1964.
"Jerry Wallace, Country Singer, Dies at 79," New York Times, May 10, 2008.
"Jerry Wallace: 'Mr Smooth' of Country-pop," Independent, UK, June 16, 2008.
"C-FUNTASTIC FIFTY," CFUN 1410 AM, Vancouver, BC, July 25, 1964.
For more song reviews visit the Countdown.