#543: In Your Letter by REO Speedwagon
Peak Month: October 1981
9 weeks on CFUN's Vancouver Chart
Peak Position ~ #3
Peak Position on Billboard Hot 100 ~ #20
YouTube: "In Your Letter"
Lyrics: "In Your Letter"
Neal Allan Doughty was born in Evansville, Indiana, in 1946. Growing up he learned to play piano, organ and keyboards. He attended the University of Illinois in Champaign, Illinois, in 1966. At the start of the school year he met Alan Gratzer. Alan Franklin Gratzer was born in Syracuse, New York, in 1948. He learned to play drums when he was given a toy drum set at the age of seven. He was in several rock bands during high school before moving to Champaign for university. Gary Dean Richrath was born in Peoria, Illinois, in 1949. He learned to play saxophone and then switched to guitar, adding slide guitar to his resume. He joined REO Speedwagon in 1970. Kevin Patrick Cronin was born in 1951 in Oak Lawn, Illinois. He learned to play piano and guitar. He joined the band in 1972-73, and was invited back in 1976. Bruce William Hall was born in Champaign in 1953. He learned to play bass guitar in his teens and joined REO Speedwagon in 1977. These five musicians became the core of REO Speedwagon. But along the way there were ten other bandmates that came and went between 1967 and 1977.
When Doughty and Gratzer formed REO Speedwagon in 1967, they mostly played covers of "Light My Fire" by The Doors, and other rock hits of the late 60s. The band's name came from a high-speed truck. In 1971 the band signed with Epic Records. During the 70s they released eight studio albums, of which four were certified either Gold or Platinum for record sales.
But it was the bands' ninth studio album, High Infidelity, that gave them international success. The lead single from the album written by Gary Richrath was "Keep On Lovin' You". It was the first for the band to crack the Top 50 on the Billboard Hot 100. The record kept climbing until it landed in the number-one spot in March 1981. Their followup single release, "Take It on the Run", peaked at #5 on the Hot 100 in May 1981, and #2 in Vancouver (BC). In total, the band released six singles from the album. The third release, "Don't Let Him Go" peaked at #9 in Vancouver on CFUN. The fourth release was "In Your Letter".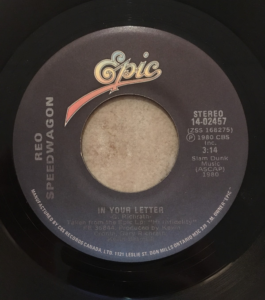 "In Your Letter" was written by Gary Richrath. He got the idea for the song based on bandmate Neal Doughty's experience of coming home and finding a letter from his wife on the kitchen table telling him that she'd left him for another man. The man she was having an affair with was the guy who was the band's dealer for illegal drugs. Bandmate Kevin Cronin recalls Doughty's first response to the letter was "I'm really gonna miss that guy." Casandra Armour of vintagerock.com says that lyrics contain "cutting accusations with cruel alliteration like 'But you hid behind your poison pen and his pride' and 'You could have left him only for an evening let him be lonely.'""
During World War II American soldiers began to get letters from their wives, or girlfriends, informing they they'd found someone else and gotten romantically involved. A letter might typically begin "Dear John, I have found someone else whom I think the world of. I think the only way out is for us to get a divorce." They usually began like that, those letters that told of infidelity on the part of the wives of servicemen… The soldiers referred to them as "Dear Johns." In the case of "In Your Letter", the actual letter that Neal Doughty received apparently was tinged with lines from a poison pen, meant to wound.
In contrast to the upsetting lyrical content, the tune was set to a late 50s-early 60s doo-wop melody. The song was later covered by the early 60s doo-wop group Randy and the Rainbows.
REO Speedwagon's "In Your Letter" peaked at #3 in Vancouver (BC) and Presque Isle (ME), #4 in Bangor (ME), #6 in San Bernardino (CA) and St. Cloud (MN), and #8 in Davenport (IA). It stalled at #20 on the Billboard Hot 100.
In 1982 REO Speedwagon released their tenth studio album, Good Trouble. From the album came the Top Ten Hot 100 single "Keep the Fire Burnin'". In 1984 the bands' eleventh studio album contained the number-one hit "Can't Fight This Feeling" – written by Gary Richrath – on the Billboard Hot 100 and CFMI in Vancouver. A followup release, "One Lonely Night", peaked at #10 in Vancouver in May '85. The final appearance on the Vancouver pop chart was in 1988 when "Here With Me" stalled at #31.
In 1988 Alan Gratzer left REO Speedwagon and retired in 1989. In '89 Gary Richrath left the band due to tensions with Kevin Cronin. Doughty, Cronin and Hall carried on with a mix of seven new musicians added to the band in a revolving door. Of those newly in the mix, guitarist Dave Amato and drummer Brian Hitt alone stuck with the new formation. A decline in record sales with the new lineup caused Epic to release numerous compilation albums.
Over the years REO Speedwagon has released 16 studio albums and ten live albums. In 2009 they released their latest studio album Not So Silent Night … Christmas with REO Speedwagon. In 2015 Gary Richrath died at the age of 65.
REO Speedwagon have toured constantly appearing in over 1,500 concerts since the early 70s. They appeared in concert in Vancouver (BC) at the PNE on August 31, 2013.
September 14, 2020
Ray McGinnis
References:
David Sheff, "Now It's Cheat to the Beat, as Reo Speedwagon Finally Arrives with 'hi Infidelity'," People, March 23, 1981.
Susan Alexander, "REO Speedwagon's Alan Gratzer," Modern Drummer, 1984.
Peter Larsen, "REO Speedwagon's Kevin Cronin Reveals Story of the Band's Biggest Hits Ahead of Southern California Shows," Orange County Register, January 28, 2020.
James Henke, "REO Speedwagon's Big Breakout," Rolling Stone, March 19, 1981.
Todd Leopold, "Gary Richrath, REO Speedwagon Writer/Guitarist, Dies at 65," CNN, September 14, 2015.
Gary James, "Gary James' Interview With Neal Doughty Of REO Speedwagon," ClassicBands.com, 2002.
"REO Speedwagon Concert Archives," concert archives.org.
Cassandra Amour, "REO Speedwagon | Hi Infidelity (30th Anniversary Edition)," Vintagerock.com, September 24, 2016.
"Timothy Finn, "REO Gives Midland Crowd Another Chance to Celebrate the Royals," Kansas City Star, November 6, 2015.
"CFUN Top 30," CFUN 1410 AM, Vancouver, BC, October 10, 1981.
For more song reviews visit the Countdown.